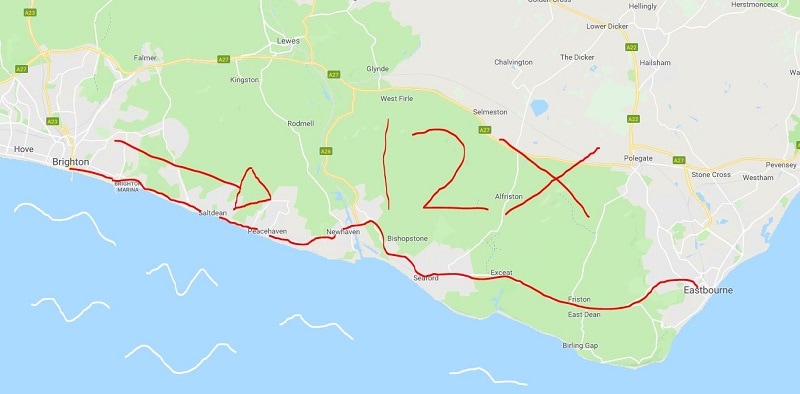 Route: 12X, Brighton to Eastbourne
Operator:Brighton & Hove Bus
Timetable: Every 10 minutes (when combined with the 12A)
Time: ~1h 20m
Cost: £10 Family NetworkSAVER
Date Of Trip: 31/10/18
Me and El have been planning to come down to Brighton for years. We stayed at a B&B here during the Big Daft Bus Trip back in 2002, and after having a great time on our brief stopover, we vowed to make a speedy return.
A mere 16 years later, we're back.
That previous visit coincided with the death of The Who bassist, John Entwistle, and with Brighton and the band being inextricably enmeshed in all things mod, we were in the right place to pay our respects.
Parka-wearing rascals riding Lambrettas along the prom aren't anywhere near as prominent 40-odd years on, which is just as well for me, as they'd no doubt be able to sense that I used to work in a biker pub and gut me with a shank.
Instead of poking around the shops of North Laine for a couple of hours, or properly exploring the nooks and crannies of England's best seaside city like any sensible couple would do, we take the questionable decision to catch a bus and head to Eastbourne for the afternoon.
"C'mon, it'll be loads of fun." I enthuse a little too enthusiastically to El. "Eastbourne might be great!"
We kick our heels at a bus stop just around the corner from our digs, in full view of Brighton Pier and the Sea Life Centre, where a 12A is the first bus to pull up.
"Eastbourne?" the driver says, cocking his head as quizzically as a blue tit after its feeder has run out of peanuts. "No you want the 12X for that. This one goes all around the houses."
Rather than admitting that being taken on a tour of the housing estates of East Sussex isn't such a bad outcome for us, we acquiesce and jump on its sister bus a few minutes later.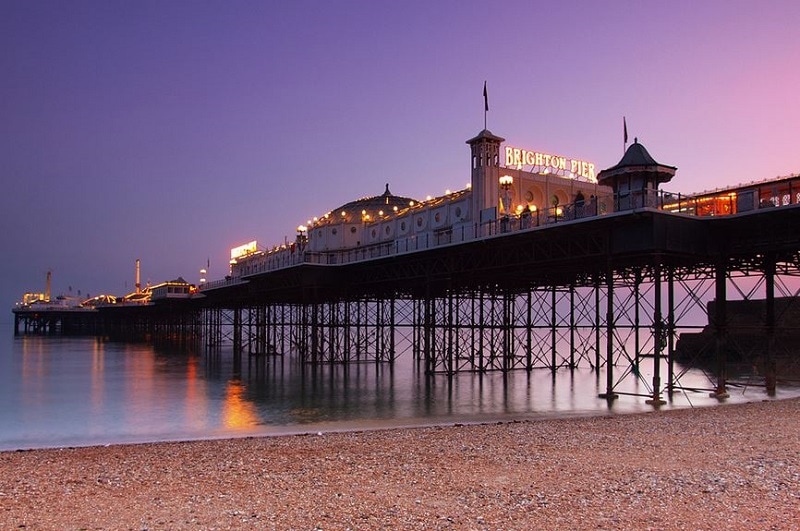 Despite the regularity of vehicles running the route, the double decker is absolutely hammered, and we take the final two seats upstairs, which are next to each other but separated by a slither of an aisle.
We chug up the chalk cliffs and look down to the swirling sea below, which on this cloudy day has taken on the shade of a pretty good cup of tea. Away to our left is Roedean School, an all-girls independent which churns out actors you've never heard of at a rate of knots, as well as a world champion at what is undoubtedly the most terrifying sport ever invented: free diving.
The goal of free diving is to swim as far beneath the surface of the water as possible – and crucially, to make it back up again – on a solitary lung full of air. There's none of this oxygen tank nonsense.
Tanya Streeter took up the sport in 1998 aged 25, and before the year was out, had broken the women's world record by descending to 113m (370 feet in old money). By comparison, Big Ben is measly 96m tall.
She topped this by breaking the men's record four years later, reaching a depth of 160m (525 feet) in the Turks And Caicos Islands.
She so enamoured herself to the islanders of this British Overseas Territory that they put her on a set of stamps in 2003. Even more remarkably, she undertook these feats of derring-do while being absolutely petrified of sharks, of which there is an absolute abundance lurking in briny depths of that part of the Caribbean.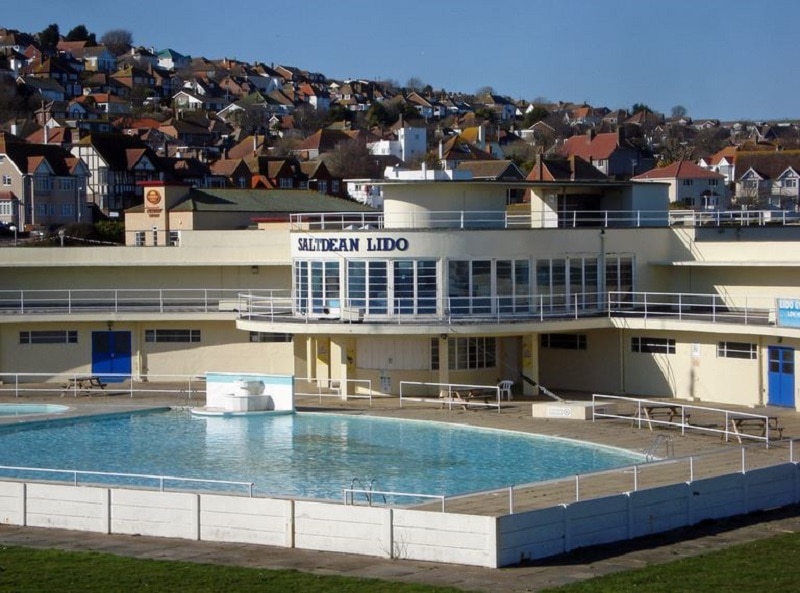 We reach Saltdean, where a pensioner frees up a seat, taking a pink 6th birthday balloon with him which bobs against the ceiling. He's gets off outside the town's elegant Art Deco lido, which was saved from destruction by the local community.
The lido closed for what looked like the final time in 2010, when the leaseholder drew up plans to tear this architectural gem down and build a load of flats on the site. Why let heritage and beauty get in the way of a few swanky pads, eh?
Very long story short, a passionate campaign was launched to save Saltdean Lido, with an upgraded Grade II* listed status being granted to it in 2011 being a key moment when the tide started to turn in favour of the residents.
Still, they still had to find the thick end of £10m to fully renovate the complex, and although that process is still ongoing, one of the UK's few remaining open air swimming pools re-opened to the public in 2017.
The excitement is too much to handle for one passenger right at the back of the bus, who launches into a Godzilla-sized snore as we make our way up to Peacehaven.
It's a classic "HYHKHKHKHKHKEEEERHKKKKK…suuuuuuuuu….HYHKHKHKHKHRRRGGHGmyeerr…….suuuuuuuuuu….ahem" rhythm as he flits in and out of the Land Of Nod.
The top deck rattles to his low-end vibrations, with barely stifled giggles and grins being swapped for the full ten minutes of his nasal orchestration.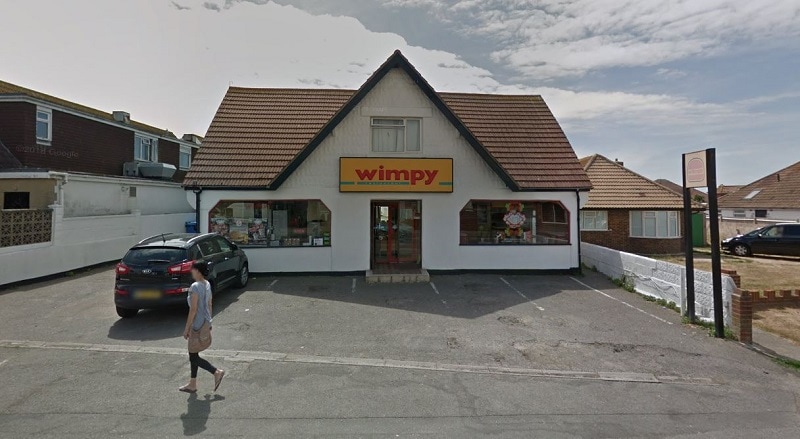 There must be more whitewashed bungalows in Peacehaven that anywhere else in the country. When combined with prominent mobility shops, funeral directors and cafés on the main drag, it feels like an extended retirement village for people who'd miss fish and chips too much if they moved to the Costas.
For that full 80s vibe, it even has one of the country's few remaining Wimpy's. While Essex remains a Wimpy stronghold, with 18 restaurants laughing in the face of the high street giants, this is the only one left in East Sussex.
In fact, not only is Peacehaven's Wimpy the sole survivor for miles around, it's also the closest one to the prime meridian. Imagine that.
This is because Peacehaven marks the spot where that imaginary, but very important line leaves the UK, before making landfall again in Villers-sur-Mer across the Channel in Normandy, on its north-south trip around the globe.
I'm sure we would've all waved fondly at it if we'd have known we were crossing it, but there is an obelisk marking its exit point overlooking the sea a couple of hundred yards to our right.
A few minutes along the A259, and we swing down into Newhaven, a dinky port town whose two sides face each other across the River Ouse. Ferries to Dieppe depart from here, taking around four-and-a-half hours to navigate this notoriously congested shipping route.
Anyone heading in from the continent is almost certainly going to give a Gallic shrug and dismissive "Bof" if this is their first sight of the UK. There are no bells or whistles to Newhaven whatsoever, with even the swing bridge connecting its east and west portions only offering up charmless views of industrial estates.
Newhaven owes its status to the misfortune of Seaford, a couple of miles down the road. The latter was a part of the illustrious Cinque Ports confederation, which greased all kinds of trade and militaristic poles in the early centuries of the previous millennium.
That didn't stop it getting raided by French ships on a semi-regular basis between 1350 and 1550, which ceased abruptly when the town's harbour essentially vanished overnight. A brutal storm decisively diverted an already shifting Ouse to the west, its outflow cutting a swathe through what was, back then, an even dinkier Newhaven instead.
If that wasn't enough, the longshore drift which kept the Seaford beach in a steady supply of fresh sand was stopped over time by the construction of a breakwater in, yep, Newhaven, and by the 1980s, anyone with a bucket and spade would've been filling it with jagged rocks and limpets.
Still, Seaford does alright. It's twice the size of its upstart neighbour, the beach's sand supply regularly gets topped up by the truckload to keep the holidaymakers sweet in the summer, and there's a gamut of family-owned shops running the length of its lively high street.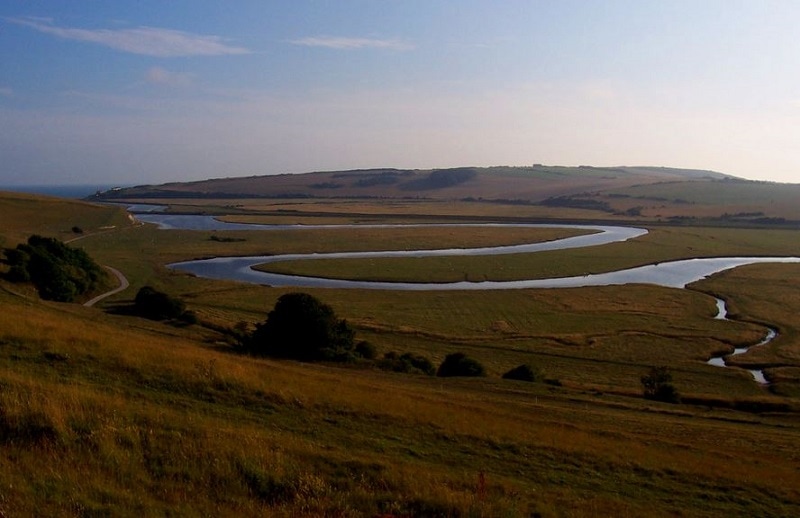 A green coastal plane suddenly unfolds itself as we round a bend just out of town, prompting a mass exodus from the 12X. We've reached Seven Sisters Country Park, named after the undulating cliffs which reach from here to Eastbourne.
As the famous white cliffs further down the coast at Dover are artificially stopped from eroding due to their proximity to Dover Port, they have become less brilliant over the years, and have to suffer the ignominy of having vegetation – vegetation! – being comfortable enough to take root.
There'll be bluebirds over, the sort of greenish cliffs of Dover.
The Seven Sisters are their suave stunt septuple. It's where nature is allowed to take its course and maintain the blinding cleanliness of the cliffs' chalky exterior. Not that you can see them from the bus, of course.
The views over the deep meanders of the River Cuckmere are stunning, and made all the better by a herd of sheep bounding over one of its channels onto even lusher pastures.
We gain altitude rapidly out of the valley, rapidly for a double-decker anyway, eventually reaching a plateau on the South Downs, by which time we are a couple of miles inland from Beachy Head and ears have popped all around us.
The trees which do cling on to existence in this exposed position are all gnarled into bizarre formations: one looks like it is fighting to open an umbrella, while another has a quiff the magnitude of which has only previously been seen on YouTubers unboxing some 'awesome' hair care products they've been paid obscene amounts to film themselves opening.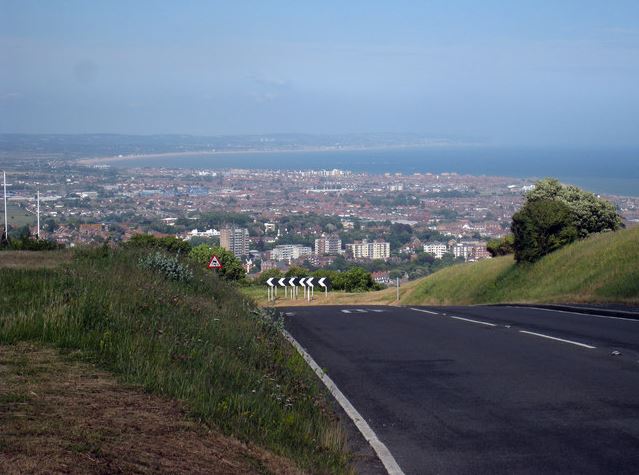 While I don't remember Eastbourne at all from our previous visit, one thing which did stick in my head was the sweeping view you get over the town as you make your way down East Dean Road. The glimpses are fleeting on the upper slopes, but they're arguably even better as you hit the outskirts of the town and see the jumble of houses in slightly sharper focus.
I'm a firm believer in pretty much everywhere in the UK having something good going for it, but Eastbourne isn't at its best this afternoon.
The town centre's roads all seem to be being excavated at once, and although a South American band are running through a cheerful repertoire of cumbia classics, most people either have a face of thunder or are having full blown disagreements as they bustle past.
"What's wrong with everyone?" I ask El, head spinning like a tawny owl in search of someone without a furrowed brow.
"I don't know," she replies, eyes darting, "but there's an atmosphere, isn't there?"
"Yeah, maybe everyone's on edge because it's Halloween."
"Hmmm. Shall we go back to Brighton?" she says in conjunction with an elongated sigh, pretending that I've said something that makes sense.
"Too right."
Despite our initial bad vibes about the place, we know we've not done Eastbourne justice. We didn't even see the sea, tromp along the prom, or doff our caps the tremendously camp statue of an officer from the Royal Sussex Regiment which stands whip-smart by the pier.
We'll no doubt be back to Eastbourne one day. Who know, maybe in another 16 years…