Route: 150, Hyde to the Trafford Centre
Operator: Stagecoach Manchester
Timetable: Every 30 minutes (Mon-Sat) Hourly (Sun)
Time: ~1h 25m
Cost: £4.80 Day Rider
Date Of Trip: 27/1/19
Many people give their partner a fancy present for their birthday. Some lucky souls even get whisked away for a surprise holiday. For Eleanor's [redacted]th birthday, I have cleverly managed to combine the two into one amazing slow travel gift.
Not only am I treating her to a trip on the new 150 bus route from Hyde to the Trafford Centre on its inaugural day of operation, but being the last of the old romantics, I'm even going to buy the day ticket for her, too.
"No you're not, Gingerface." she chides wearily, "I've already got a Megarider."
"I'll get you your tea in a bit, then."
"Yes you will."
The 150 has been introduced in a shake-up of buses across Greater Manchester, with our old pal the 168 being mercilessly axed. So irked are locals that a petition has been set up to rescue it from the flames, while one of the area's MPs, Angela Rayner, has predicted that its withdrawal will have a 'devasting impact'.
Stagecoach has promised replacement services for different parts of the route, but in true piss-up/brewery fashion, the timetables couldn't have been any more disjointed. Right down to the second.
For instance, someone wanting to go from Longsight to Ashton will now jump on the 150 to Gorton Market, getting off at precisely the same time the No.7 leaves for Ashton right on the other side of the complex. This leaves at least a 25 minute connection on what was previously a straight-through bus. It's the same story on the reverse journey.
All they'd have to do would be to schedule the 150 to run a few minutes earlier or later depending on the direction, but as things now stand, it's somehow quicker to go into Manchester city centre and out again – it's almost as though they've gone out of their way to inconvenience people.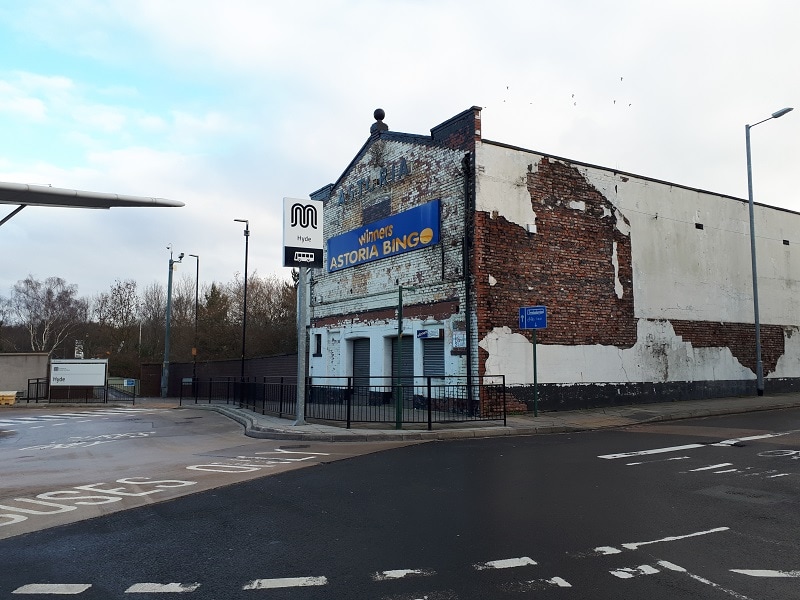 We're starting today's trip in Hyde, where at the top end of the town's bus station is the former Astoria Bingo Club. The gabled building is slowly shedding its paintwork and showing its age, but before its closure a decade ago (Feb 22nd is the 10th anniversary if you want to raise a glass), it was the premier hangout for ladies with tight perms and puckered lips in this part of Tameside.
It was also the place that I discovered I was a bingo master.
After her local club in Gorton was bulldozed, Me and El took my Nana Meg to the Astoria for a night of dabbing. Meg was well into her 90s by this point and shuffled along as best as she could with a walking stick, or, as she was 4'6", a walking twig. She had cataracts on both eyes, her hearing was muffled at best, and her fingers were gnarled into bonsai shapes after years of arthritis had robbed her of the dexterity which made her one of the country's top seamstresses.
However, she marched into the Astoria, bought a bewildering amount of strips, and set up her bingo playing field to precise measurements.
Eyes down.
"Nana, why've you got four strips?" I asked just before the caller took up his position at the far end of the room.
"Don't worry about me, Our E," she fired back without moving her gaze from the patchwork of squares in front of her, "you stick to one sheet until you get up to speed."
Just so you know, there are six sets of numbers on each strip. She was playing 24 games at once.
They don't mess about, these callers. This is serious bingo for trained eyes. There's no Two Fat Ladies or Kelly's Eye to add decoration, just a rhythmic pulse of 34, 87, 3, 77, 12…
Meg's hands were a blur, her dabber a fluorescent lightsabre as it pounded away at the numbers on her numerous strips of multi-coloured paper.
"Riiiight!" came a shout from a table by the left wall. They don't even say 'house' when they've won. Nobody told me that.
The games pass, and although both El and Meg go close, it looks like it just isn't going to be our night. That is until the penultimate bingo match of the evening. I circle the first number with the Bic pen I've been forward-thinking enough to bring along. I do the same with the second, third and fourth numbers, and it's me versus a room of old ladies (and Eleanor).
The fifth number lands, I skip the next one, but go on another hitting streak right away. Then it dawned on me: I'd have to shout "Riiiight!" if I won this, and that'd be well embarrassing.
Regardless, I keep on circling the numbers, and don't even have an interminable wait to hit the final one. It comes immediately after I get the 14th of the 15.
"Riiiiiiiiiiiiiiiiiiiiiiiight!" I shout, definitely too loudly and definitely over-compensating, causing a commotion of incredulous mumbles. The checker rushes over to make sure that I've not messed it up, and amazingly, I've won. I've won £30 for being brilliant at bingo.
We'd better get on this bus, hadn't we?
Waiting at the stand on this sleepy Sunday morning are a couple of families, both consisting of mum, dad and two little girls. There's also a pair of expressionless teenagers silently flicking through Instagram, and without wanting to jump to conclusions, our hunch is that none of us will be getting off the double decker until we reach the Trafford Centre.
We set off bang on time, and after negotiating our way past a set of big box stores, descend into the Tame Valley. It's only a narrow strip of land at this point, but what is a rare bucolic view in this part of the world used to be comprehensively ruined by the olfactory overload that was the Kingston Stink.
Best described as the smell of thousands of decomposing corpses, because that's almost exactly what it was, the Stink emanated from the Smith Brothers bone yard, just off Mill Lane.
It was where animal remains from across the country were rendered into glue, with a stench so distressing that it almost entirely neutralised the effluent aromas coming from the neighbouring sewage plant, gas works and rubbish tip. If the wind was blowing in your direction, they combined to make genuinely the most offensive and powerful pong possible.
Eleanor used wretch past it on her way to secondary school, and although the whiff wafted and lingered over Hyde and Denton, houses in the factory's immediate vicinity could be picked up for peanuts until its closure in the 90s.
Then again, residents of Frances Street West grew accustomed to offal falling off wagons and into the road, so they could pick up some free ingredients if they ever fancied making a haggis.
Naturally, the Kingston Stink has passed into local folklore, and there's even been a cheerful ditty written about it.
As soon as we cross the River Tame, which merges with the Goyt a few miles downstream to form the Mersey, we enter Denton. A few minutes later, we leave it trailing in our wake, as no Dentonians want to go to the Trafford Centre. We pass plenty of people waiting patiently for the 201 to take them into Manchester, but with the sizeable Crownpoint shopping centre to call their own, enthusiasm for sitting on a bus for over an hour to go to a different H&M, New Look or JD Sports is understandably thin on the ground.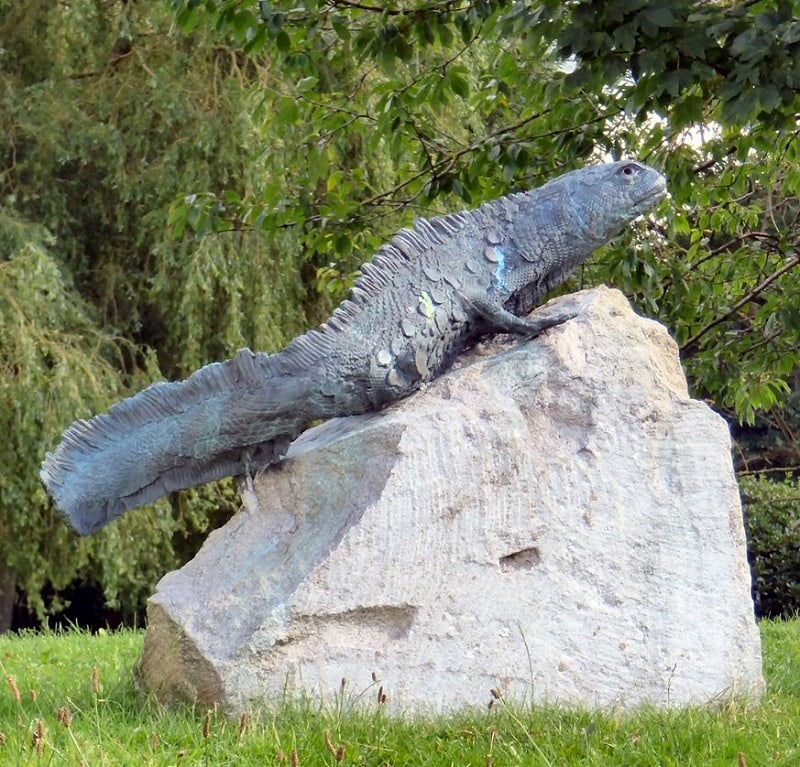 Instead, the 150 plods on down Manchester/Hyde Road, shadowing the M67 for a couple of miles, before crossing Denton Island and reaching Debdale Park on the edge of Gorton.
The park has a couple of sculptures peeking over a spiked fence by the main road. The symbolism behind the bogey is obvious, as the area was home to one of the world's greatest loco manufacturers, Beyer Peacock, which churned out trains for more than a century before its demise in 1966.
A handful of the 8,000 engines it made are still running today, most notably a few models which have made the 15 mile journey from Douglas to Port Erin on the Isle Of Man Railway ever since the line opened in 1874. There's no way any appliance in my house will work in another 150 years, but in fairness, I might not be around to operate them, either.
The Komodo dragon is harder to explain.
As I'm from this neck of the woods originally, I can confirm that monitor lizards aren't exactly commonplace around here. In fact, I've never even seen a regular lizard knocking about, let alone the world's largest species. There's no info plate on its stony plinth, and I've asked about, I really have, but nobody seems to have a clue as to who created it or why it's there.
[Update: It turns out that it's actually a great crested newt, and animal that I've seen knocking about on El's allotment. Big thanks to BC in the comments section for the info.]
A few hundred yards later and we finally stop to pick up some fresh blood. An old lady with a shopping trolley wheeled behind her gets on, followed by a burly chap with a shaven head.
"Do you go to Piccadilly, yeah?" the 'yeah' added speedily as a rhetorical, as though he couldn't possibly be wrong.
"No." replies the driver flatly.
"No?" the bald-man-in-denial shoots back accusatorially. "Why not?"
"Because I'm going to the Trafford Centre."
Expletives mumbled, the man gets the message and clears off.
We swing around the corner at Belle Vue and head down Mount Road with the sun scorching our eyeballs.
There are no football matches on Mellands this morning. An expanse of playing fields with around a dozen pitches when I was a kid, now reduced to just five with wonky goalposts and a housing development which has been encroaching on it from all sides for years. Its death knell seems imminent.
The 150 darts down Matthews Lane and cuts to a crawl as we hit Northmoor Road thanks to a pair of scallies deliberately riding as slowly as they can in front of the bus, but a rev of the engine coupled with a burst of pace forces them to the kerb and they turn their handlebars towards Crowcroft Park in sullen defeat.
An elongated double-back means that we are soon alongside the other flank of the park, but due to roadwork on Albert Road a mile-or-so away in Levenshulme, we are forced into a diversion down Slade Lane, where I saw a jay and some magpies arguing over the contents of a bin just before Christmas.
Before you know it, we are on Moseley Road in Fallowfield and overlooking the site of sporting history.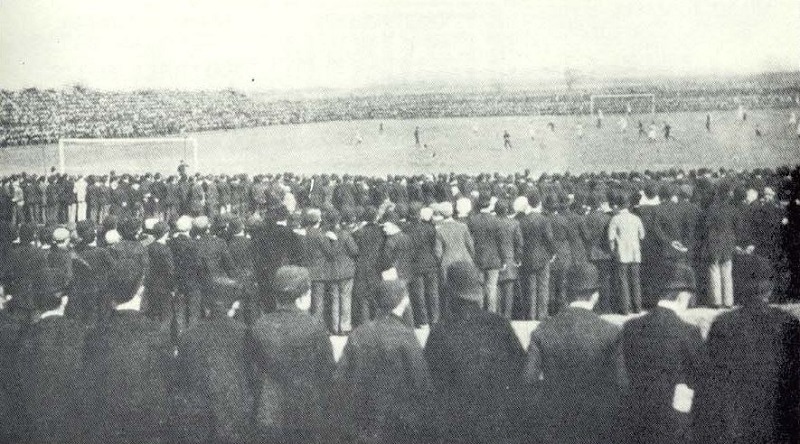 This is where the Fallowfield Stadium once stood. It hosted the 1893 FA Cup final, with Wolverhampton Wanderers lifting the first of their four titles to date with a 1-0 win over Everton.
This greatly displeased the team from Liverpool, who demanded a replay while grasping at invisible straws. The only goal of the game came courtesy of a wild punt from Wolves captain and former England centre half, Harry Allen, with Everton adamant that they had been impeded in their efforts to clear the ball thanks to spectators spilling onto the pitch.
The newly built ground, which was originally designed as a velodrome and athletics venue, had an official capacity of just 15,000. However, there were an estimated 45,000 people crammed in to attend what was at that time, the most prestigious fixture on the footballing calendar. With persistent encroachment throughout the final, it was never held there again.
Indeed, Everton's own Goodison Park was venue the following year, presumably as some form of recompense.
Harry Allen retired from football in October 1894 due to a persistent back injury. He soon became the landlord of a local pub, but died suddenly just four months later.
The 1893 FA Cup final was by no means the only major event to take place at Fallowfield. As well as holding numerous national championships for the sports it was created for (with capacity limits largely enforced), it held the 1899 and 1900 Challenge Cup final in what is now rugby league, as well as the last time an England v Scotland international match took place outside London.
That 12-3 victory awarded England the 1897 Home Nations Championship in what was a colossal stitch up. Despite them losing two of their three games, England accrued more points on the pitch than any other team, which is how the league table was ordered that year. Then again, no other side played more than twice, and Wales's 11-0 win over England was their sole appearance in the tournament because of a dispute over a testimonial match for their captain, and greatest player of the Victorian era, Arthur Gould.
What became known as The Gould Affair emerged because the English Rugby Football Union and the International Rugby Football Board deemed a testimonial to be an unacceptable vestige of professionalism, and therefore to be completely banned. The Welsh Football Union begged to differ and withdrew from the IRFB in protest, an exile which would last for a year.
It took almost a full century before the bigwigs at Twickenham buckled to the inevitable and allowed professional rugby players in 1995. They needn't have bothered of course, because it's still rubbish.
The driver chaperones us through Fallowfield, the former heart of Manchester's student land, and on towards Whalley Range, where one of the cheeriest facades in town awaits.
The Gita Bhavan Hindu Temple looks like a deconstructed Battenberg cake. Pastel blues, oranges and pinks decorate the frontage, while a series of spires twirl into the sky from what was originally a church hall.
We are right on the edges of Chorlton here, or 'Chorlton Borders' as the local estate agents have euphemistically taken to calling its surrounding fringes in order to tack a few quid onto asking prices. Chorlton has developed into one of the most desirable urban places to live in the UK, and is now so well-to-do that even the introduction of vegan sausage rolls couldn't save its branch of Greggs from oblivion a couple of months ago.
It's for something far more prosaic that Chorlton stands out to me.
In the spring of 2008, my mate Steve and his teammates descended upon the South West Manchester Bowls Club (which we pass over to our right) and embarked on a record attempt which would take them to the very limits of human capability.
They were going to attempt to break the crown green bowls endurance record.
They originally set a mark of 108 hours in 2006, but a group of Australian bowlers wiped that out the following year. To settle the matter once and for all, our hardy bunch of battlers decided on a target of 168 hours – a full week, and surely a record for the ages – but didn't bargain on torrential rain hammering down throughout the opening couple of days and nights.
Me and El went to offer some moral support on the penultimate day, by which time tempers were fraught and keeping score became a feat of arithmetical dexterity.
"Ooooh, hard lines, Steve." I said to my pal as his wood skipped past the jack at the far end of the green and into the ditch.
"You what?" he came back with a glare, his eyes burning into mine like a fearsome Roman candle.
"Nothing, I'm just saying that was a bit unlucky."
"Oh right. Sorry Burkey, I just think that I've gone a bit mad."
"Playing bowls for 100-odd hours'll do that to you."
"You what?"
We made a speedy exit before I accidentally put my foot in it again, but even though some of the team were hallucinating by the end of of the record attempt, they somehow pulled through and topped the 168 hour mark.
"If them Aussies want to beat that, they're welcome to it." Steve told me a few weeks later once he'd woken up. "There's absolutely no way I'm doing that again."
"What was the score in the end?"
"God knows."
It's since been bettered at a club in New Zealand, whose participants mustn't have fully realised what they were getting themselves into when they notched 172 hours and 7 minutes in March 2016.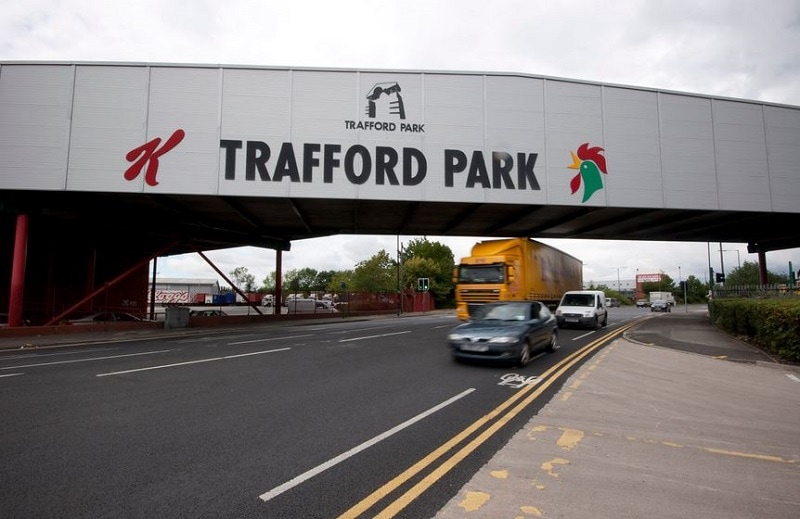 The bus continues on its merry way through Chorlton, where tiny roof gardens sit on top of a row of shops on the road out to Stretford. Most of them don't have barriers to stop any green fingered residents from plummeting 10ft to a grisly end on the pavement, should they lose their balance while picking up a trowel. Or, as is much more likely in these parts, falling down bladdered while having a party.
Speaking of which, my only previous proper visit to Stretford ended in similar disgrace. I'll save the full story for another day, but I'm afraid that I single-handedly managed to get parties banned from my friend's house when I was 17, and vitally, completely oblivious to the effects that Tenants Super could have on the unsuspecting teenager.
We scoot around the leafy back streets, past a tiny German-language Lutheran 'kirche' and the imposing Iglesia Ni Cristo, which supports a denomination originating in the Philippines. Who knew that Stretford would be such a crucible of ecclesiastic versatility?
It's only a few minutes up the road to Trafford Park, the world's first planned industrial estate and still the largest one in Europe at 4.7 square miles. It has been here since the Manchester Patent Fuel Company set up shop on the site in 1898, while we are welcomed into the area by a familiar face from the estate's longest established company.
Cornelius Rooster is the ubiquitous mascot of Kellogg's, the cereal company which has been here since 1938, and his likeness is painted large onto a bridge over the gateway. They're one of the few manufacturers left in Trafford Park, with the majority of firms now concerned with office-based pursuits.
The central tower and dome of the Trafford Centre reveals itself as we proceed down Barton Dock Road, a grubby final approach, the highlight of which is seeing the havoc wrought by a crack team of moles on a grass verge by a storage unit.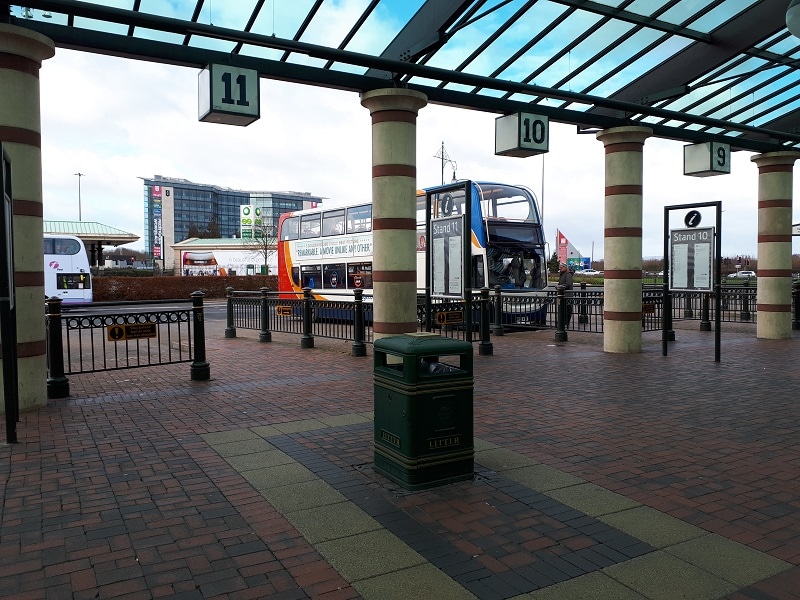 The first time I came down here was on a school geography field trip just before doing my GCSEs. Back then, the barely under construction Trafford Centre was called Dumplington, named after the obscure part of town it is located in, until someone with an ounce of marketing nous decided that a jazzier name might just help sell it to the masses.
And sell they have done ever since it opened in 1998. It attracts 35 million visitors per year, no doubt enticed by Europe's largest food hall, the UK's busiest cinema and its 280 shops. As I hate shopping, I have never actually stepped foot inside.
I won't do today, either, despite the persistent Arctic blasts which are whistling through the bus station.
The entire crowd from Hyde disembarks and dashes off at full pelt while we mooch around with our hands in our pockets, shivering for the 23 bus to take us for our dinner in Trendy Urmston, while our teeth clack like crickets with castanets.
"You cold there, you two?" the driver asks as he opens the 23's doors, presumably hearing the fluoride flamenco emanating from our gnashers.
"Phhhh, just a bit." I mumble back, "This is proper horrible."
"Yeah, it's not great is it?" Although I can't feel my face, I feel he's got an anecdote coming on. "Tell you what though, it's not the coldest I've been."
"Oh aye?"
"Yeah. Minus 25 it was. I was with the army in Canada and had a leaky tent. It took my 3 weeks to dry out…"