Route: 393, Glossop to Padfield
Operator: High Peak
Frequency: Hourly (Mon-Sat)
Time: 20m
Cost: £2.30 Single
Date of Trip: 12/8/21
Twenty-Four Minute Party Person: Ian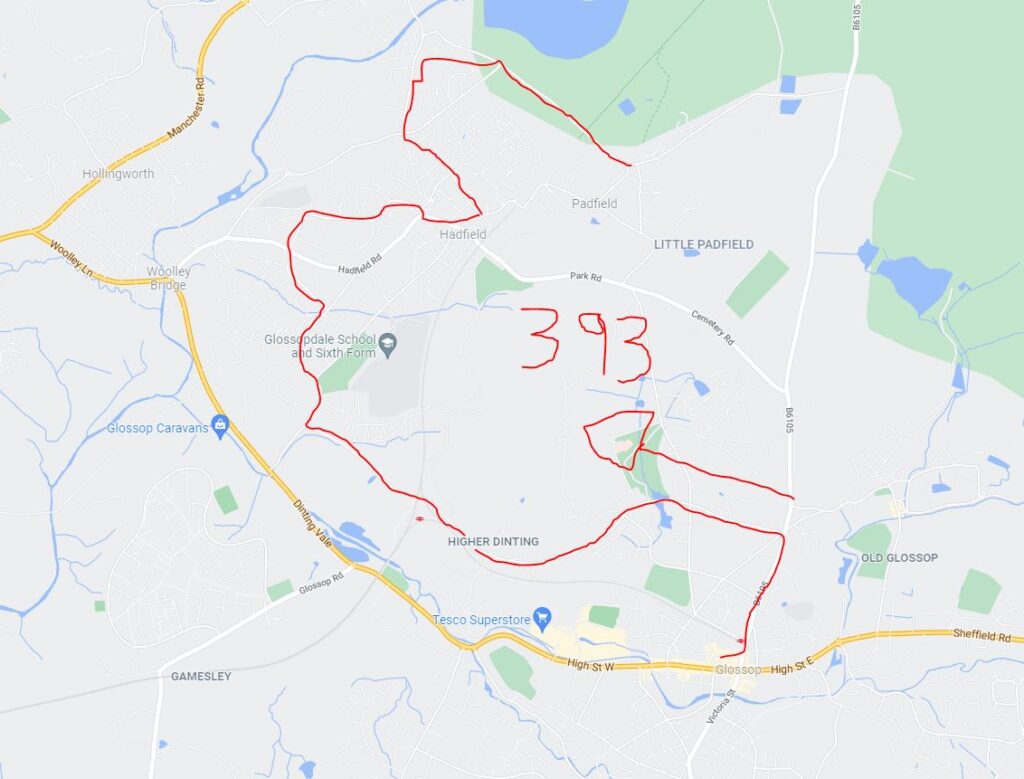 'Right then,' Eleanor says, reclining in her train seat, arms behind her head as we pull in at Glossop station. 'We'll see you up there.'
'Yes, don't be late,' her mum, Kath, adds with mock admonishment. They both let out a laugh as though it's a foregone conclusion that I, the Most Punctual Man in Manchester, won't be on time.
We're having a race, y'see: Man versus Train, albeit with me on the bus. The ultimate destination is El's auntie's pub in Padfield, and while I kick my heels for fifteen minutes waiting for the final 393 of the day, they'll be luxuriating in a new Northern Rail carriage on the final few miles to Hadfield.
Sure, I'm the underdog, but at least I don't have a mile-long uphill slog to reach The Peels. The bus will drop me off right outside what used to be Shaun Ryder's local.
If I am to win this challenge, the one thing I'll need is for everything to go to plan. The bus needs to be on time for a start. Even a minor traffic blockage or temporary traffic light somewhere along the 20-minute route could scupper everything and hand victory to my wife and mother-in-law. If that's not enough false jeopardy for you, what if we somehow plummet off a hillside or burst into flames? Maybe even both? I mean, it could happen.
Stage One is a success. The 393 arrives on the nose, setting off with me, a mum and her two young boys, who sit towards the back of what isn't much bigger than a minibus. We're stopped as soon as we depart by the traffic lights at the junction of Norfolk Street, the camber so severe that I grasp the seat in front like the restraint bars on a rollercoaster. My backside slides downhill to the right in pursuit of my rucksack, which I catch by the straps just before it hits the deck and shatters the panes of stained glass, live golden eagle eggs, and priceless collection of Ming vases I always carry around for good luck.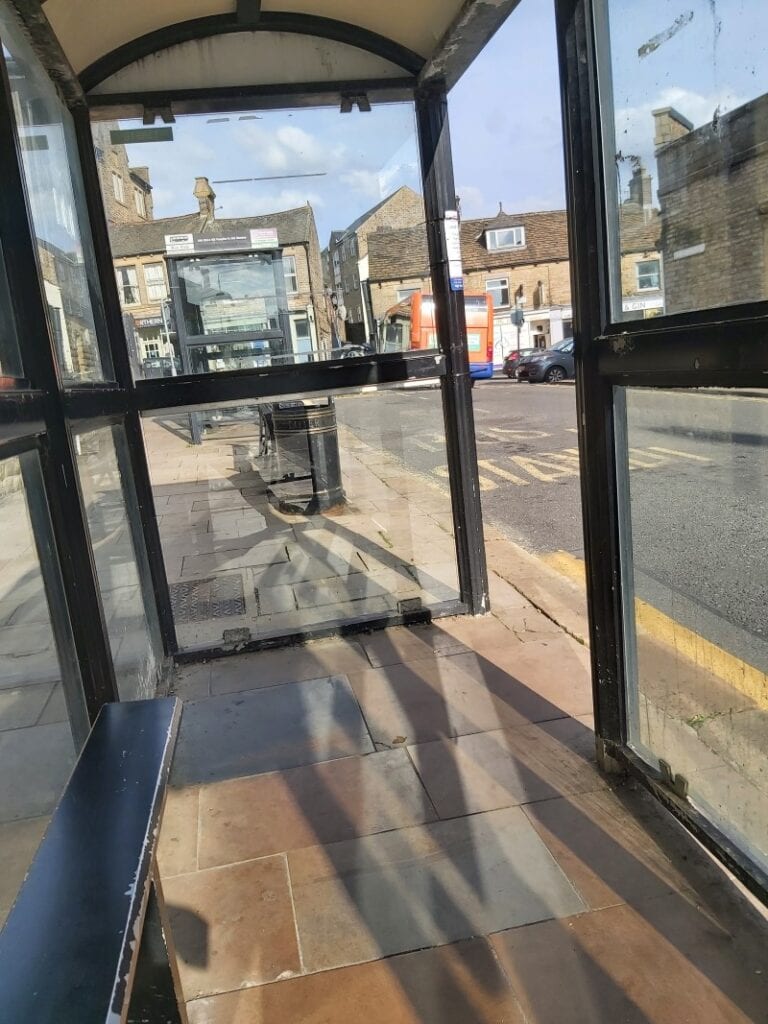 In the best tradition of local buses, this isn't anything close to a direct route. It weaves around as though whoever planned it was creating a piece of surreal Strava art, spiralling around until the gravitational pull of Padfield becomes too strong to resist any longer.
Still, it means we see the lesser-known backstreets of this north-western extremity of Derbyshire. Our first step along the path of most resistance puts us in the firing line of a series of mountainous speed bumps along Talbot Road. The collision with the first one is so severe that the windows bang shut, and it catapults the kids – sat over the rear axle – clean out of their seats to excited whelps. By the time we've negotiated another half a dozen of them, the bus's suspension is ready for retirement. As is my spine.
We're swept along through Dinting, whose railway viaduct tops out at almost 120 feet above Glossopdale, and never fails in making me queasy when passing over it on the train. It was also the site in September 1855, of what the Manchester Courier and Lancashire General Advertiser called 'a very melancholy accident'.
It was Wakes Week in Glossop, but not wanting to be jammed onto the cheap 4th class excursion train to Liverpool with around 1,000 other passengers (apparently fraught with 'danger and discomfort'), some local Methodist Sunday school teachers arranged a separate trip to nearby Belle Vue Gardens for a less raucous day out. The late-running Liverpool train returned just ahead of the Belle Vue one, halting it part way across the viaduct. As it was coming up to 10pm and 'exceedingly dark', the group assumed they'd arrived at what was then Dinting Junction station.
John Healey hopped onto the viaduct's parapet, and in helping his girlfriend Jane Hadfield down, took a step back and toppled over the side, taking her tumbling with him. Another member of the party, Thomas Priestnell, went to look for them over what he assumed to be a small wall at the station, but also disappeared into the gloom. The viaduct's night watchman, John Brindley – whose job was to make sure the wooden parts of the viaduct didn't catch fire after a train passed – found the trio in the valley. Healey and Hadfield were already dead, with Priestnell succumbing around an hour later.
Their old chapel in Glossop is now a gym, and its burial ground a car park.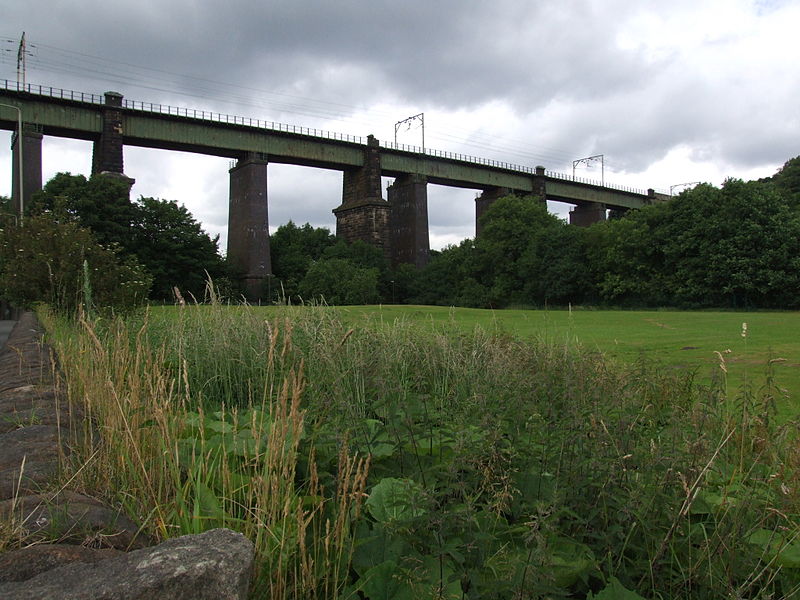 It's soon just me and the driver on the bus. We turn onto an estate on the edge of Hadfield where the mum and her lads jump off.
'What do we say, boys?'
'Bye, bus!'
'No, we say "thank you".'
'Oh. Thank you, bus!'.
The youngest waves to the driver as we pull away, while the eldest pats the 393 on its flank for a job well done.
We push past the neat front gardens of Higher Barn Road, where commuters trudge home with headphones in and cloth masks dangling at the side of their faces like wretched earrings. Another reminder that we're in the pandemic for the long haul.
We pass El's brother's house on the way to the town centre, its front window full of birthday cards for our nephew. It's this celebration that could tilt the race in my favour. Kath has made a pixie called Jack that's a good two-feet tall, and the extra couple of minutes of diversion to drop him off might just make the difference. I mean, he'll never fit through the letterbox.
Either way, they're long gone, and it's a straight sprint to the top of the hill. Except the bus heads down Hadfield's main drag instead, once again sticking two fingers up to the flight path of crows and adding an extra mile onto the journey. Although the main shop is still going strong back in Glossop, it's a shame to see the satellite branch of Mettrick's butchers have closed down here. Famed for its body double turn as Hillary Briss's shop in the League of Gentlemen, their 'special stuff' in recent years was their squirrel pies, helping it to multiple awards, including a Highly Commended ribbon at the 2020 British Pie Awards.
We gain altitude along Peter Street, accelerating past rows of semi-detached houses made from bricks that haven't weathered long enough to take that just-built gleam from them. They're in stark contrast to the ancient cottages on Padfield Main Road, some of which are knocking on the door of two centuries of service.
It's a beautiful, if brief, stretch of countryside that opens up on the climb towards the village. The wooded slopes of Peak Naze and Robinson's Moss glare at each other across the chain of reservoirs that flood the floor of Longdendale, which is also threaded by a set of pylons that look like they're off for a camping holiday in the wilds.
The bus stops yards from The Peels. It's five-past six, bang on time, and I speed-walk up the pub's front door, my arms pumping and head lolling from side to side like Bez getting down to 'Step On'. There's no sign of El or Kath coming up Temple Street. Maybe they've gone in the back way. There's only one way to find out.
'Oh, hello Ian,' says El's Uncle Phil. 'We've got you just over there.'
I swivel my body anti-clockwise – my neck being out of action because of those infernal speed bumps – expecting to see my foes raising a smug glass in my direction. But no. It's an empty table save for the beer mats and a couple of menus, and after the monumental effort of sitting still for 20 minutes, I have triumphed. It's an emotional moment, and by time El and Kath arrive a whole four minutes behind me, tears of elation cascade from my cheeks to refill the first sip of my pint.
Welcome back to Slower Travel, everybody. I've missed my bus adventures these past 18 months. There's plenty more of this nonsense to follow.