Route: 128, Scarborough to Helmsley
Operator: Scarborough & District
Timetable: Hourly (Mon-Sat); no Sunday service
Time: ~1h 45m
Cost: £8.30 Single
Date of Trip: 16/10/19
Grand Tourists: Ian & Luke
Staying at The Grand is something you are obliged to do at least once in Scarborough. A friend of mine spent a couple of nights here on his stag do a couple of years ago.
'You'll have a great time,' he texted ahead of my arrival, 'but whatever you do, don't touch anything.'
Despite the town being something of a second home to me over the years, I've never stepped foot in the hotel's historic confines. This is partly due to the high-profile health calamities suffered by its guests in recent years – E. coli, bleached water and gastroenteritis among them – and the price of a room is suspiciously low (I shell out £39 for a fantastic panoramic vista of the harbour and South Bay). Aside from an unmopped puddle on my bathroom floor, it proves to be incredible value for money, and where else are you going to see carpeted walls in a lift?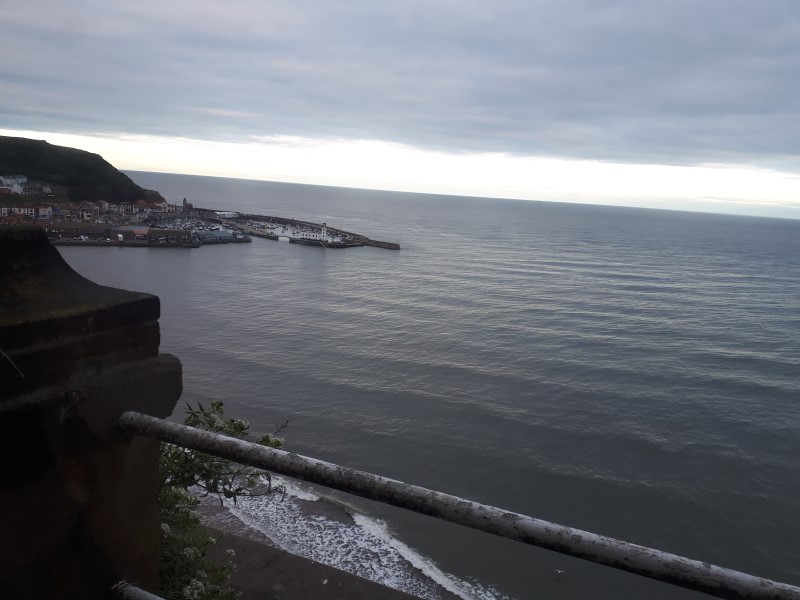 The largest hotel in Europe when opened in 1867, boasting twelve floors, fifty-two chimney and three-hundred-and-sixty-five rooms, it has hosted a who's who of guests down the years. Ramsay MacDonald, Winston Churchill and even Edward VIII before his elevation to the throne have all bedded down in this 'V'-shaped building. It now appears to cater almost exclusively to the geriatric, who fill the beautiful but pockmarked ballroom for a nightly game of bingo and sundry entertainment.
There is a screening of Monty Python and the Holy Grail tonight, which is almost certainly down to the duty manager impressing their taste on the clientele rather than by popular demand. A revolving medley of The Wizard of Oz, Casablanca and The Dam Busters would almost certainly suffice.
Either way, the powers that be are keen to show that they are working to revive the hotel's reputation. I mention the bathroom puddle in a survey while checking out.
'Thanks very much for letting us know', smiles the receptionist. 'We all love this place to bits, and it's fixing this sort of stuff that's helping us get better.'
Even though current owners, Britannia Hotels, spent £7million upgrading it just over a decade ago, it'd be incredible if The Grand could be fully restored and have its rooms modernised. For now, though, they'd be happy enough with an uptick in their Tripadvisor reviews.
Today's adventure has come about as a way of combining pleasure with misery. We've already got the depressing part out of the way, watching our beloved Hyde United succumb to defeat by a single goal against Scarborough Athletic yesterday, so today should be a doddle. The weather isn't helping, but the persistent cold drizzle isn't enough to dissuade the dozen other passengers, three of whom have supply-laden backpacks at the ready for a soggy day in the hills.
'This must be the only bus in the country where old people go upstairs,' says Luke, once he has recovered from the blow of stumping up the £8.30 single fare to Helmsley. He's right, though. We are folded into the 'driver' seats on the top deck, with all bar a couple of the other customers tackling the steps for what would normally be a superior view, but are today rendered almost moot by the drenched windows. Coat sleeves are used as makeshift windscreen wipers to at least put up a fight against the constant steaming up of the glass, but to limited effect.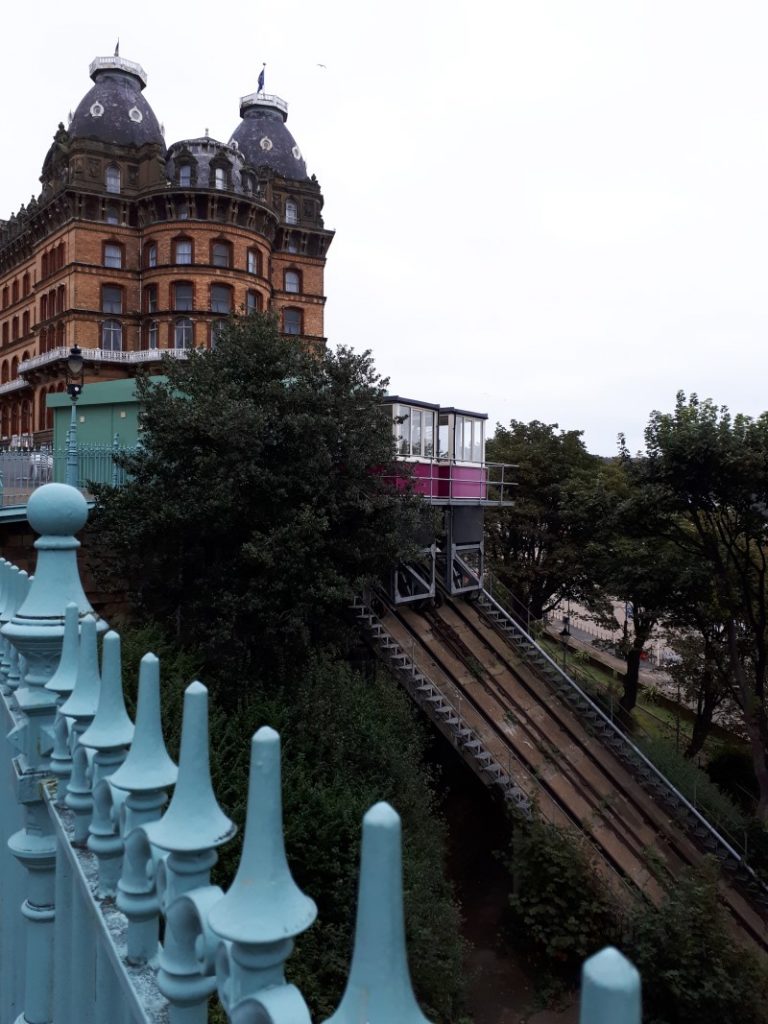 A couple of seats behind us is a man so tall that his legs almost touch the front of the bus. His accent is a mangled amalgam which makes him sounds like a Cockney farmer.
'There's nah bleedin' shaaaaarps nowadays, lav,' he grumbles to his wife, despite passing ample evidence to the contrary the whole way along Westborough and Falsgrave Road. One of them is the Stumble Inn, where last night's pre-match optimism was mirrored by the post-game inquest, and Luke definitively cast off his 'Tightest Man in Tameside' epithet by getting a couple of rounds in. A previously unheard-of development.
The 128 turns south down Seamer Road and past the Flamingo Land Stadium, scene of last night's footballing crime. The fixture coincided with the 132nd anniversary of the original Hyde FC's 26-0 drubbing in the FA Cup at the hands (well, mostly feet) of Preston North End, a record scoreline which still hasn't been surpassed in the senior English game. It's a result which is commemorated and celebrated by the club's online radio station, 26nil.com, which for full disclosure reasons, I'm duty-bound to mention was formed by me and Luke. We dread the day that we lose 27-0 and the re-branding nightmare that will come with it, let alone the derision we'll get from Stalybridge Celtic fans.
The road out of town is an unremarkable jumble of semis and light industry, albeit with an unusually high number of petrol stations. It's as though they're subliminally reminding motorists that they're on the edge of the wilds here and that fuel is going to be at a premium whichever direction of onward travel they choose. We fork to the west at a roundabout inhabited by a final Esso, and press decisively on to the southern fringes of the North Yorkshire Moors National Park. Fields become the dominant feature on the landscape, which after the recent harvest, most are as stubbly as George Michael's chin in his heartthrob pomp.
An ensemble of ghosts pinned to the entrance of the Denison Arms immediately marks West Ayton out as by far the best of the Aytons. They beckon punters in/shoo them away, depending on each drinker's attitudes towards flimsy bedsheet apparitions and how early the build-up to Halloween should start. As the big night is still a fortnight off, there'll be those protesting that it's getting earlier every year, and that it's disgusting that Tesco have got the cheek to sell pumpkins just after Easter.
It doesn't bother me in the slightest, I had happy memories of Halloween as a youngster, but mostly because it was my grandad's birthday and we'd usually have a party. The best of which was his 65th, when he came along dressed as a witch, albeit a witch without any drawers, as me and my dad discovered with alarm when we had to heave him up the steep stairs of his maisonette to bed.
Out first stop of the trip is just over the River Derwent in East Ayton – childhood lair of parliament's leading tarantula enthusiast, Gavin Williamson – where a rucksack laden couple trudge off into the squall, determined misery etched onto their faces. The occasional enclosure is given over to sheep on the way to Hutton Buscel, who are no doubt thankful that their winter coats have grown back to keep out the worst of the weather. A sullen lone horse, meanwhile, not blessed with waterproof wool, makes do with a sodden blanket which has been slopped over its back.
'Why do things always look tighter from the top deck?' Luke asks as we crawl around a narrow corner.
'We nearly ended up in that front garden, Luke,' I reply. 'The wall had to breathe in.'
Hutton Buscel – the second part is pronounced 'bushel' – is a cute village just off the main road, lined with sturdy cottages enmeshed in red ivy. It came into the ownership of Marmaduke Dawnay in the mid-19th century, who had already inherited the neighbouring estate at Wykeham from his cousin, Richard Langley, on the proviso that he appended Langley to his name. Not wanting to look a gift relative in the mouth over the sake of an extended surname, he duly obliged and became Marmaduke Dawnay Langley. A sketch of him suggests that mods owe him a debt, as he also appears to have pioneered Paul Weller's haircut and a precursor to the Fred Perry t-shirt. There's no evidence he had a hand in designed the Lambretta scooter, though.
Down the road, Ruston is even fancier, with what look like mini lychgates guarding the front door to each home, and one even hosting a knee-high topiary maze for any passing hedgehogs to while away the hours. The welcome sign to Brompton insists that it is 'The Birthplace of Aviation', thanks to it being the residence of Sir George Cayley, who first dreamt up the idea of a fixed-wing contraption as far back as 1799. The area could equally claim to be the crucible of cycling (Cayley came up with wire-spoked wheels), tank tracks (which he called a 'universal railway', as tanks didn't exist yet), and seat belts (for use on his glider, obviously). He is buried in Brompton's All Saints Church, the dark spire of which can be seen in the middle distance, and is where William Wordsworth married Mary Hutchinson in 1802. What an extraordinary little spot.
A white van hammers the accelerator, overtaking us on a blind bend and almost comes a severe cropper into an approaching cement mixer. Horn blasts are exchanged, but the van driver continues his perilous surge into Snainton, where a combination of a bin lorry and temporary traffic lights halt his kamikaze progress. More vivacious red foliage envelops the sandstone towards Ebberston, where the loveliness quotient almost bursts through the scale. A sheltered stream criss-crosses its acclivitous main street, necessitating the tiny bridges that lead to some houses further up the hill.
The rain has almost exhausted itself as we re-join the A170, but a fine spray still causes a mosaic of droplets to obscure the view as we reach Allerton. It was here that Captain Lawrence Oates once owned a farm. Stricken by gangrene and frostbite during Scott's return from the South Pole, he walked alone into a raging blizzard in -40°C temperatures, saying 'I am just going outside and may be some time.' It was March 17th, 1912, his 32nd birthday.
It was his affinity with horses, as well as a contribution of £1,000 towards the costs of the journey, which lead to him being picked for what was officially known as the British Antarctic Expedition. A total of sixty-five hardy souls made the voyage to the continent, arriving in January 1911, leaving plenty of time for rancour to rise and personalities to clash in the inhospitable climate. Although Scott described Oates as 'the cheery old pessimist', these feelings were not mutual. Oates confessed to disliking Scott 'intensely' and was dumfounded by his 'colossal ignorance of marching with animals'.
Of course, Amundsen's Norwegian team has pipped the Brits to the Pole by just over a month, leaving spirits as shot on the 895-mile trek back as the ponies they'd put bullets into for food. Except for Edgar Evans, who had a died a few weeks earlier, the rest of Scott's final crew of five explorers succumbed by March 29th, trapped in a tent by a raging snowstorm, just eleven miles from a supply depot. Their frozen bodies were discovered six months later, while Oates still lies somewhere within the layers of the Ross Ice Shelf.
We bear down on Thornton-le-Dale, its curved high street overhung by terracotta roof tiles which have given a thorough cleansing by the retreating downpour.
'That's a bit mean.' Luke says, mock-horror etched onto his face as he points to a building called The Hall.
'What is?'
'That old folks home. It was right next to a sign with 'antiques inside' on it.'
There's an exodus from the bus as we pull beside the village green, which is dominated by an ancient, gnarled tree, and ringed by a selection box of quaint pubs and eateries. There's also an offshoot of Thornton Beck running down Maltongate, and in a part of the world famed for its prettiness, this place is right up there with the best.
There's nothing on the short umbilical route to Pickering besides potholes and puddles, but there's a subtle change in the housing stock. Rather than using a jumble of stone sizes as we've seen elsewhere, many of the stylish terraced rows are constructed using bricks the size of railway sleepers.
'Where are you heading to, lads?' a white-haired lady from the adjoining front seat asks in a broad local accent, as she gets up to depart at the town's main crossroads.
'Helmsley,' we parrot in unison.
'Lovely, that's where I'm from originally, that is. Eeeeh, there's not a lot there, mind, and ooooh, it is expensive nowadays. How long are you going to be there?'
'About forty-five minutes,' we both reply, like creepy twins.
'You should be fine, then. It is very expensive, though. Ooooh, it is. Take care, lads.'
With her seat vacated and none of the new passengers climbing upstairs, I move across the aisle and stretch my desiccated knee tendons out with an audible clunk. Pickering reveals itself to be a town which grows in elegance the further you progress through it. We hop over the rusty waters of Pickering Beck, which eventually empties into the North Sea via the Derwent, Ouse and Humber, and give a cheery wave to the terminus of the North Yorkshire Moors Railway, a heritage line which reaches the coast further north at Whitby.
A horse is tethered to a patch of grass opposite a traditional gypsy caravan at the town's furthest point, the wooden wagon's opening covered by a rug adorned with Lassie's woven face. We dive down a road signposted as 'Sinnington only', a clothes hanger-shaped village which oozes money and Land Rovers. Flowing merrily through it, the River Seven is fringed by a wafting gaggle of gunnera, and the start of what will one day become an orchard by a farmhouse, its saplings gritting its bark against the buffeting winds.
 'I bet they do a lot of that around here,' Luke says while gesturing to the Fox & Hounds pub. 'Killing a fox then going for a pint.'
'Of fox blood?'
'It wouldn't surprise me.'
'Yeah, they probably rub it all over their faces, the big scruffs.'
I don't have any issue with farmers keeping predators off their land. If they need to shoot a fox to protect their livestock, or pop a cap in rabbit's ass to control the population, then so be it, but hunting them down with a pack of dogs is indefensible.
A quiet trundle back along the A170 takes us into Kirkbymoorside, whose weekly market is in full swing, as it has been every Wednesday for well over 750 years. Bright canopies dapple beyond the glass and into aptly named Market Place, but the 128 drops downwards instead, along a street where the roofs of the homes which line it have been assembled at wildly varying heights. Three storey brick town houses rub gables with diminutive stone cottages, as though its ancient parishioners were warned by the local clergy that God would smite them for erecting dwellings with any type of uniformity whatsoever.
The driver has time for a smoke break are where the driver has time for a quick smoke break at the bottom of the hill, where we overlook a small plot overflowing with winter crops; mainly cabbages, leeks and sprouts.
'Sprouts are nice, y'know.' Luke ventures in a tone which suggest he knows controversy lies around the corner. Indeed, it does.
'What!?!' I sputter. 'They're terrible. They're genuinely terrible.'
'Yeah, I love them on my Christmas dinner. I season them with a bit of salt and gravy.'
'Gravy's not seasoning, Luke.'
'I know, but it makes them taste better.'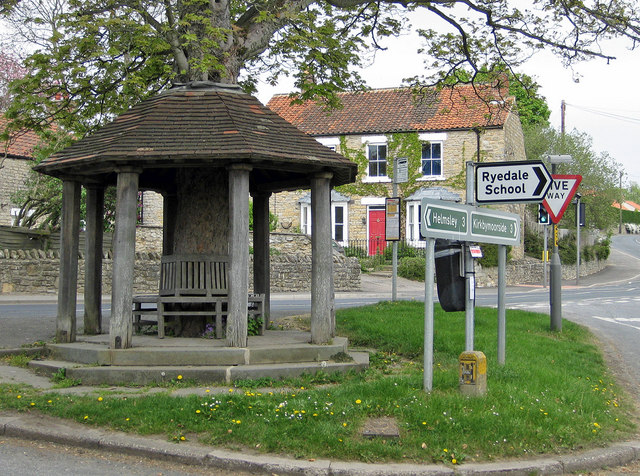 The final run is marked by another driver who has taken leave of his senses. Overtaking three cars and an articulated lorry, he just about manages to tuck in before colliding head-on with us. We are denied the doubtless charms of Wombleton, as the road leading to it is closed for retarmacking, but we do see our first pale blue Yorkshire flag of the day in Nawton and an elaborate hexagonal bus shelter on its border with Beadlam.
The outskirts of Helmsley are remarkable for being strewn with pheasant. A pair blends into one pasture dominated by sheep and feverishly pecking crows, until a couple of hedgerows later, the entire field is a morass of flouncy brown feathers. I've never seen anything like it, and I'm desperate to jump off and run around among them like a lollygagging Labrador.
As we're so close to our destination, I think better of it and sit out the final few seconds of what has been a relaxing couple of hours in deepest North Yorkshire. We disembark in Helmsley's beautiful main square, where a lady with a tiny dog and a tongue mangling Notts accent is waiting to get on.
'Aahm not even joking, raaahrt, 'she drawls, 'but aahve never bin on a bus in ma laaahrf.'
'Well, don't worry, I'll look after you,' the driver replies with a smile.
'Aar much is it to Scarborough, please?'
'It'll be £8.30 for a return.'
''Aar much? No wonder aahve never bin on a bus. Ah just wanted to leave to core be'aahnd for once.'
She's got a point.
Check out more of our bus adventures here.