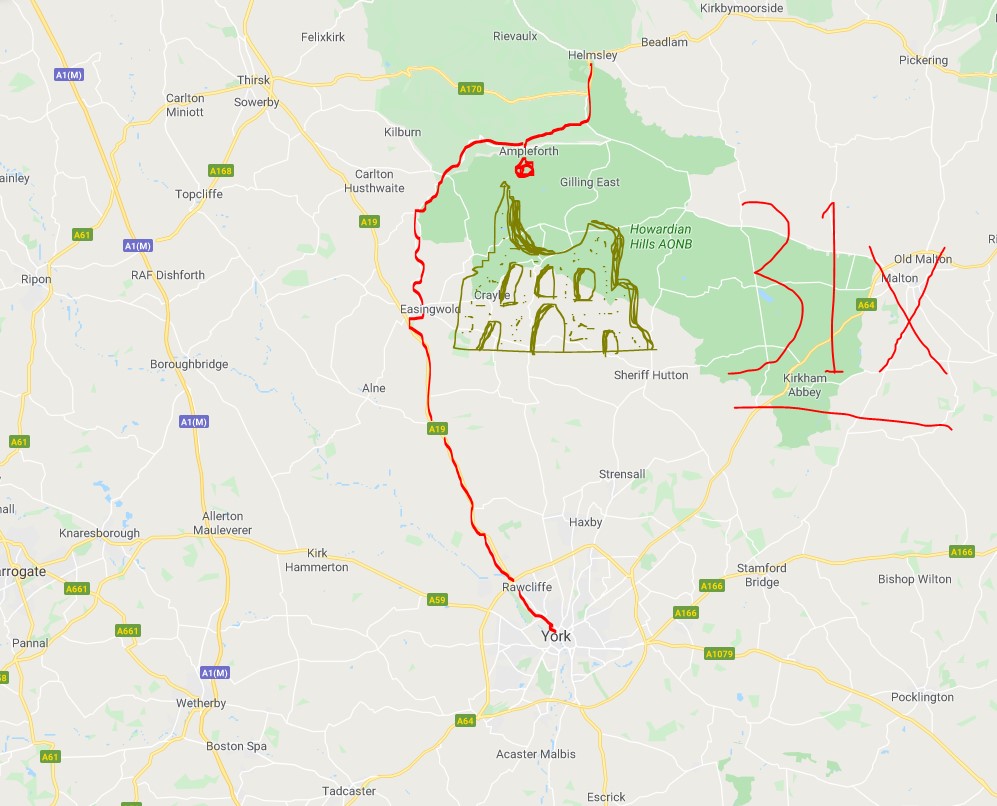 Route: 31X, Helmsley to York
Operator: Reliance Motor Services
Timetable: 3 per day (Mon-Fri); 4 per day (Sat, final run is part-route to Easingwold); no Sunday service
Time: ~1h 10m
Cost: £5.60 Single
Date of Trip: 16/10/19
Face & Heel: Ian & Luke
'Luke!' I gasp towards a window heaving with local produce. 'Look, it's Hunters of Helmsley.'
'Oh yeah, it says it's the best small shop in the country,' he replies, his tongue eagerly circumnavigating his lips. 'I think I'll get my dinner there.'
'No, Hunter…Helmsley…Triple H.'
'What? What are you on about?'
'The wrestler. Triple H, that's his name. Hunter Hearst Helmsley.'
'I don't care, I hate wrestling.'
As a fourteen-time WWE champion began his grappling career the best part of two decades before Hunters opened for business in 2008, it's almost certain that the award-winning deli is named in his honour. It's an accolade I'm sure he'd be as proud of as when Motörhead played his theme tune live during the ring walk of his match with The Undertaker at Wrestlemania X-Seven in 2001.
Helmsley is beautiful little town on the edge of the North York Moors, centred around a wide market square which doubles up as a car park. This, in turn, is loomed over by an ostentatious monument and statue for William Duncombe, 2nd Baron Feversham. An Ultra-Tory MP – think the extreme right wing of today's Conservatives – who when he wasn't feverishly suppressing Catholics, apparently enjoyed talking about the minutiae of bullocks.
Conversely, his great-great grandson, Jasper Feversham, was disinherited from his father's £46million estate in 2009 for filming bollocks. He'd become an adult movie impresario, and as his old man's peerage nevertheless passed onto him, the press inevitable dubbed him the Porn Baron.
We make for Duncombe Park, which still houses the ancestral pile, in an unsuccessful attempt to duck out of the rain and for Luke to scoff his hulking artisan cheese butty. The Fevershams have a partly ruined 900-year-old castle in their back garden, not to mention the National Centre for Birds of Prey. The latter has seemingly been relegated from worldwide importance, as its erstwhile 'Inter' prefix is just about visible on the welcome sign. In the end, we see neither properly as our allotted forty-five minutes are depleting rapidly, but despite its tiny size, Helmsley is easily worth a day of anyone's time.
Grapple fans are well-served on the 31X, too, as with his stocky build and colossal beard, the driver would make a tremendous heel. I, of course, mention this to Luke.
'Would you stop going on about the wrestling,' he grumbles, 'it's stupid. I don't even know what a heel is.'
'It's a baddie. Like Giant Haystacks.'
'I don't care, Burkey.'
I know it's stupid, of course I do, but that doesn't preclude me from enjoying it. If anything, that's what makes it fun in the first place. Let's face it, nobody gets their kicks from watching Greco-Roman wrestling; other than archery, it's probably the dullest sport at the Olympics.
Our single decker bus is unusually long, so much so that the emergency exit door is halfway along the carriage rather than its customary position by the rear seats. We make our way south, where a grand sandstone archway stands incongruously in the middle of nowhere, a couple of miles down the road in the direction of Sproxton. It was built in tribute to Nelson in 1806, the year after his death off the southern coast of Spain during the Battle of Trafalgar, and marks a lesser-used entrance onto the Dunscombe estate.
The showers have fizzled out at last, and we finally have an unimpeded view of the world around us, which mainly consists of green hills bubbling from the surface as we fluctuate in altitude along what is already proving to be an easily lovable route. The bus turns right along a heavily wooded side road, with thousands of pine trees having had their lower branches stripped away, presumably for use as Christmas trees.
'It's very Center Parcs-y,' is Luke's spot-on assessment. Even better, there's no archery.
A signpost warns that caravans are forbidden from using nearby Sutton Bank, a solid idea considering it has a one-in-four gradient in places, a hairpin bend, and claims around 500 larger vehicles each year, which either get stuck or shed their loads on it. Instead, we ease along a 12% slope of our own into Ampleforth, which is split between the generous Victorian terraces on the main drag, and the 1960s council estate further downhill.
It's heading towards the latter where the driver expertly threads the eye of a needle, slowly squeezing a path between a phalanx of stationary cars outside St. Hilda's Primary School. He does a lap of the estate, doubling-back on the way we came, and stops to take photos of the wonkily parked vehicles which are making his job needlessly more difficult.
Autumn suddenly arrives as we ricochet along the bumpy road to Wass, with golden leaves fluttering onto the bus's windscreen before being collected and flung aside by its spindly wipers. The hedges here are just high enough to prevent us from seeing anything other than a green wall on either flank, until they drop away for a dramatic reveal of the ruins of Byland Abbey.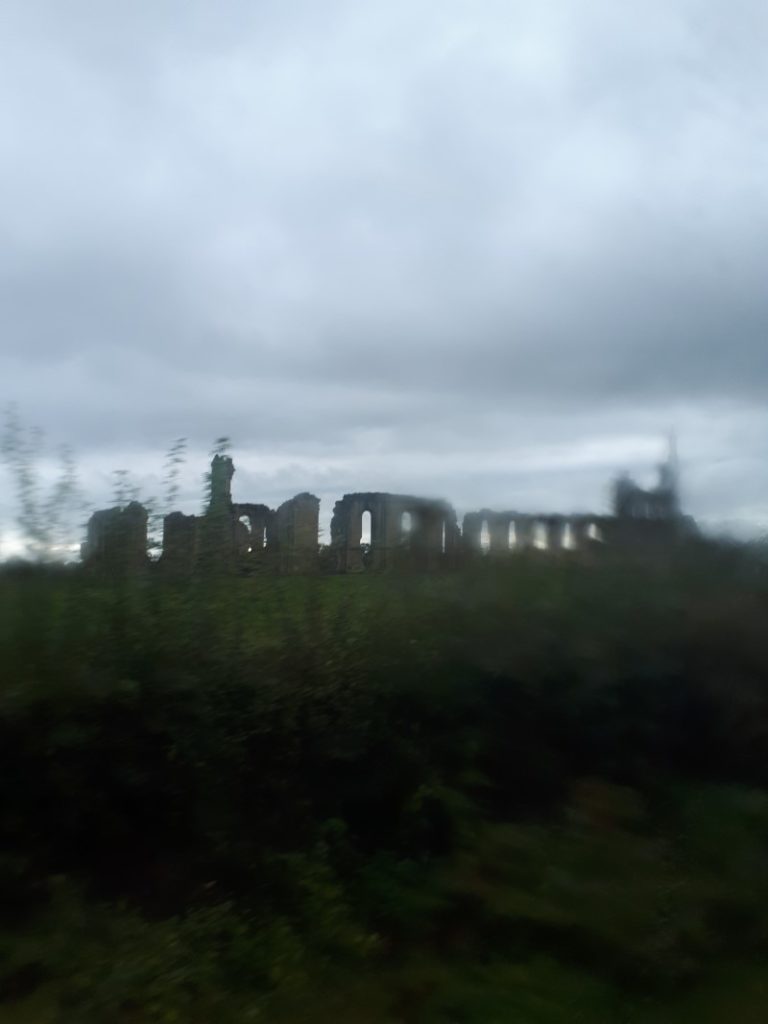 Its remaining window arches and pillars have defied the ravages of the weather in this exposed spot since Henry VIII spectacularly saw his arse and set the Dissolution into motion almost five hundred years ago. A bout of cultural vandalism unequalled to this day, it was enacted on numerous pretexts, including the need to stymie the spiralling wealth of religious orders so that the Treasury could hoover up most of their loot to finance banquets and the occasional war.
There was also the small matter of cocking a snook at the Vatican, who via the various monasteries owned around a quarter of England's workable land, and weren't keen on the King forming his own breakaway church after refusing to allow his divorce from Catherine of Aragon in 1533.
Abbot John Ledes surrendered the Abbey and anything of value to Coppernose five years later, with the locals getting in on the act over the centuries, requisitioning much of its stone for their homes and the cosy pub just across the road. Even so, what remains is still an incredible sight.
We catch glimpses of another landmark as we hurtle along the backroads of the Hambleton district: the Kilburn White Horse. A mere foal compared to the more stylish hillside nag at Uffington – 160 years-old compared to 3,000 – but what it lacks in age it makes up for in size. Covering 1.6 acres, it's the largest chalk figure in the UK.
'It's not very good, is it?' I ask, breaking out my special box of probing questions.
'It depends,' Luke replies. 'It looks more like an elephant from here.'
'The Kilburn White Elephant?'
'Well, I can't tell it's a horse.'
A lady with red earbuds is our first pick up as we reach the unexpectedly Cotswoldian village of Coxwold, with its broad main street given over to vast grass banks and idyllic cottages, while its old-fashioned streetlights appear to be bulb-less and strictly for decoration. If it wasn't the original visual inspiration for Emmerdale, I'll be flabbergasted.
Lush fields extend to the horizon in the direction of Thirsk, so frequently signposted today, but destined to go unvisited on this adventure, while a handful of fields of sweetcorn beyond Husthwaite have passed their peak and stand forlorn, heavy and unpicked.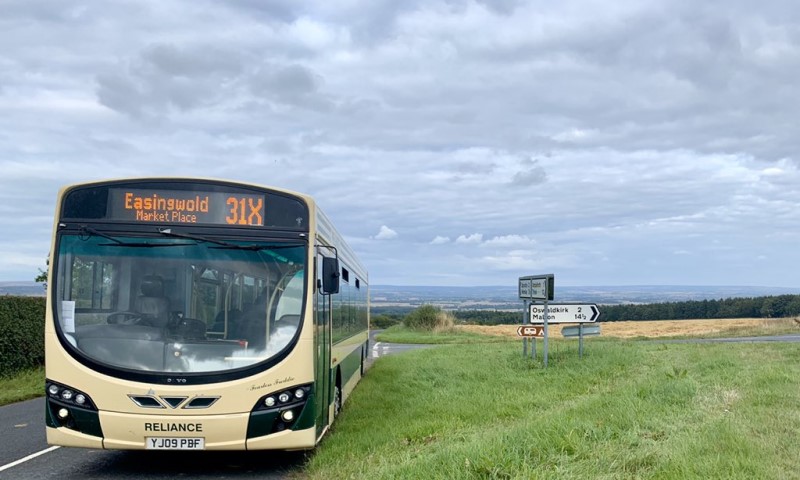 We navigate the twisting back lanes into Easingwold, which has handsome Georgian abodes lining the course into its compact centre. It's the kind of robust housing stock the smartest of the Three Little Pigs will have replicated in his efforts to thwart the Big Bad Wolf. It's worth remembering that he ends up boiling the wolf alive in a cauldron after he tries to sneak down the chimney, and presumably ends up gobbling up his previously devoured brothers as a result. Fables are weird.
Easingwold is the type of homely, out-of-the-way place where nothing majorly bad has ever happened and its residents can't imagine ever will. Even from our seats, it exudes nothing but contentment with its lot, with the three new shoppers who board beside the canopied market square all clutch a Bag for Life and radiate a genial aura from their relaxed faces. It'll never win any prizes from Britain's Most Exciting Towns committee, but it'd be another wonderful self-contained pocket of North Yorkshire to spend a night or two.
The A19 presents our first truly fast road since leaving Scarborough, scything through the flat expanse of the Vale of York. We whistle along at such a clip that two of the bus's windows are forced open, the sudden gale scatters the pages of the novel the lady in front of us is reading and thrusts her hair skywards, briefly mimicking a cassowary's aerodynamic casque. Leaping into action with uncharacteristic swiftness, Luke slams one window shut, I grab the other, but both continue to rattle and threaten to burst asunder with each dab of the throttle. As do the windows.
Our progress is slowed outside Shipton by Beningborough, where a police van with its blue lights flashing straddles most of the carriageway, allowing a recovery van to clean up after an accident bad enough for us to wince at a clearly written-off car. This entire stretch of road is almost free from settlements, with the very occasional linear commuter village hugging the busy artery into York. In contrast to the city itself, its hinterland is dreary in every direction, with practically 2D landscapes not remotely hinting at the two thousand years of incredible history ahead.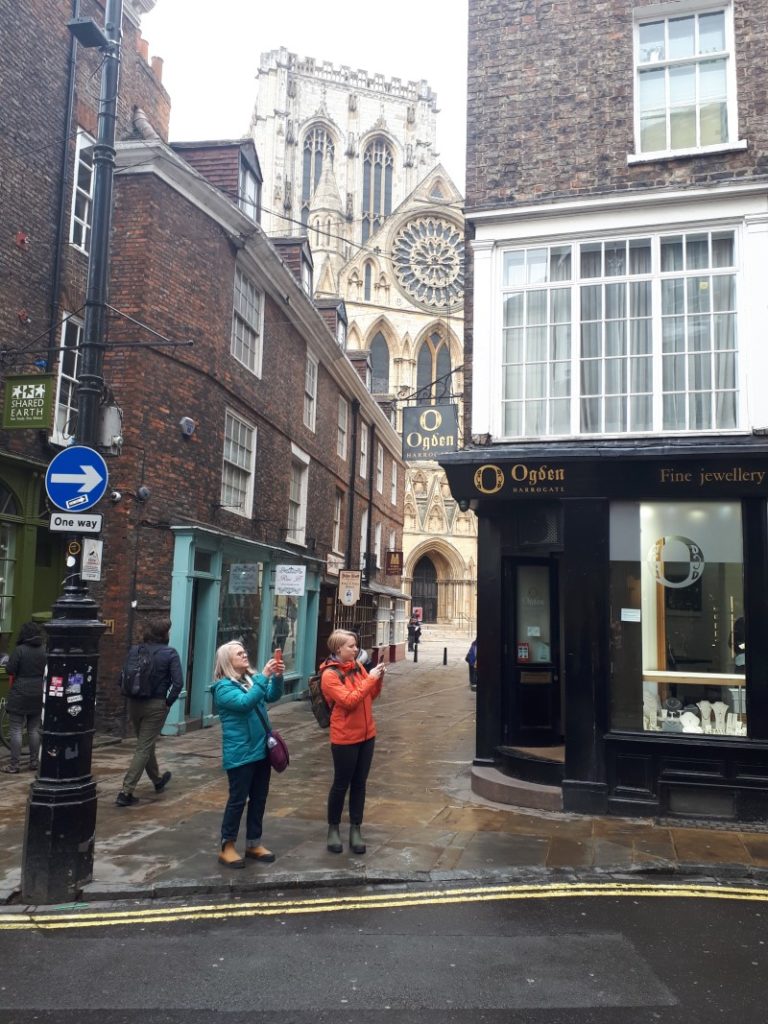 York is easily my favourite city in the north. Although its famed city walls are largely a 12th century Norman reconstruction of the earlier Roman fortifications, its outskirts are still pretty enough to give it the feel of the world's largest village.
'It reminds me of Cambridge,' Luke offers. 'Except that there you get a pub in the middle of a row of houses.'
'Do you mean like that?' I grin, as The Jubilee appears with impeccable timing.
'Yeah, but not as boarded up as that one.'
A minute later, after we breeze past the National Railway Museum (which I managed to get lost in once when I was a little boy and cried until a member of staff found me), we are off the 31X, deposited right by those sturdy and impressive city walls.
'How's your day been, then?' I ask Luke, who has finally broken his bus adventure duck.
'It's been good,' he says, rubbing his left eye. 'But I've got a sore arse now.'
'That's a sign that you've had a good day.'
'If you say so.'