Route: 303, Kidderminster to Worcester
Operator: Diamond Bus
Timetable: Hourly (Mon-Sat); no Sunday service
Time: ~55m
Cost: £4.30 Single
Date of Trip: 28/6/19
On the Sauce: Ian & Eleanor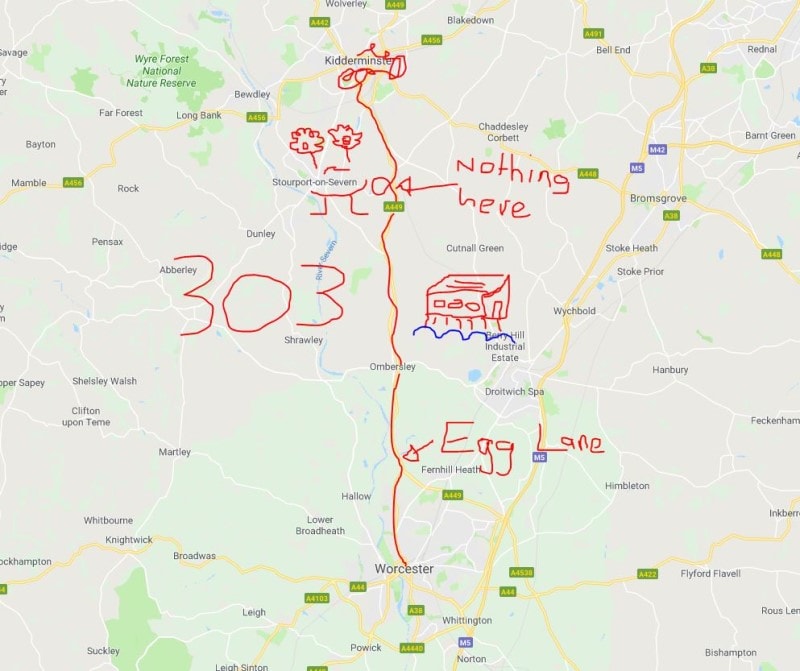 After screeching the long way around the bus station, we pant like overheating dogs as we hop onto the 303, just before it pulls away. With the best will in the world, we could do without being stranded for an hour in Kidderminster. 'Stranded' is probably too dramatic a word to use for a sixty-minute wait in unexplored territory, but after crawling around the periphery of the town centre on the 292 from Ludlow, it feels as though we've seen pretty much everything it has to offer.
With a Snoopy wallet poking out of the top pocket of his shirt, our driver has the unusual distinction of being older than all his passengers on this journey, the headcount consisting of just us two and a few college kids.
'I wouldn't like to wear these bus seats as a skirt,' Eleanor says, wincing at the psychedelic chair covers, which are resplendent in concentric blue rainbows on a dark blue background. As she is a devotee of Frida Kahlo and Baddiewinkle, I temporarily go into shock at this unexpected fashion snub, before a marble statue of Sir Rowland Hill acts as visual smelling salts and brings me back to my senses. Born a few hundred yards away on Blackwell Street, Hill was the father of the modern postal system, coming up with the concept of using a penny stamp as a form of pre-payment for the delivery of letters anywhere in the UK. It launched in 1840, the month of Queen Victoria's 21st birthday. A similar service existed for around 180 years in London, but costs had spiralled so much that posting a parcel cross-city could cost as much as a day's wages. His postal reforms set a blueprint for similar services which were implemented throughout the world.
His pioneering changes and later work as secretary of the Post Office earned him a knighthood, two further statues in Birmingham and London, and to the joy of philatelists everywhere, the best part of 150 countries commemorating his achievements on a stamp. As far as I can tell, that's more nations than any monarch has managed to rack up.
The unexpected delights keep on coming. Outside an abandoned mill stands an extraordinary drinking fountain. Commissioned by local carpet magnate, John Brinton, the actual basins are tiny, but they are set into an arched octagonal stone turret, decorated with fleur-de-lis and all manner of gruesome gargoyles leering down from beneath its clock faces. As far as civic gifts go, it's an absolute belter.
This watery delight is where the fun comes to an abrupt halt, as we embark on another waltz along Kidderminster's swirling ring road, where subways dart beneath roundabouts and a myriad of A-roads extend their tentacles towards all points of the compass. Less attention has been paid to the back lanes, though, with great chunks of tarmac taken out of Hoo Road showing evidence of either a very recent glacial retreat, or severe under-investment in maintaining its surface. It's along here where Kidderminster Harriers play, who cause an annual Twitter outrage when they top the Most Expensive Pies category in the BBC Price of Football survey. It's then left to us non-league saddos to point out to the kneejerkmongers that the meals sold at Aggborough are delicious homemade cottage pies and lasagne the size of frisbees.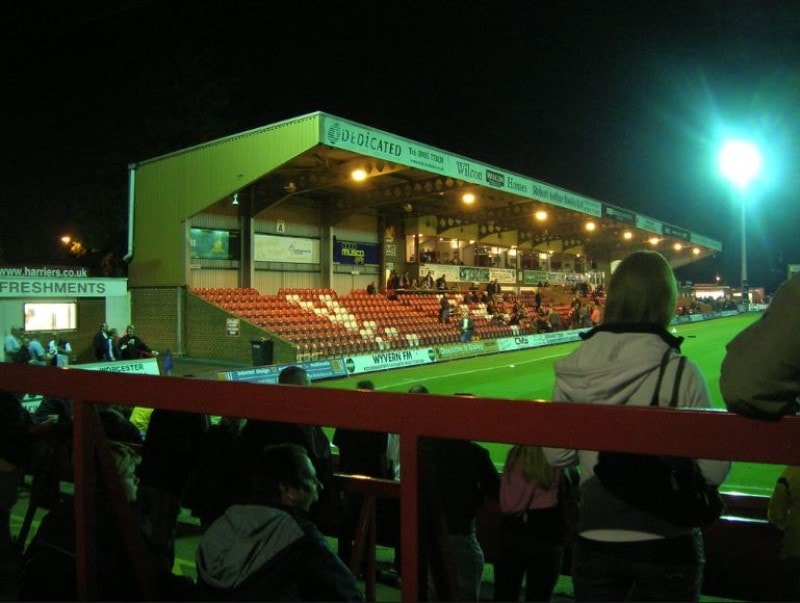 Once we free ourselves from the semi-detached shackles on the edges of town, meadow flowers erupt along verges and in the middle of traffic islands, in what isn't so much a riot of colour, but a full-blown military coup. Even the tin shed that is the DVSA inspection depot has its charms when the sun is shining and the factor 50 is putting up a sterling fight against the plentiful UV rays.
Hartlebury, with its promise of a castle and, if the brown road signs are to be believed, freakishly large ducks at Hartlebury Common, is the very essence of a commuter village. The small row of shops which formerly made up its centre is now cast out to the fringes, with a winding estate of new-builds, self-contained from the rest of the world, looping out from behind it. The clock is getting on for four o'clock, but we don't see a soul; no kids kicking a ball on the playing field, nobody walking their dog, not even any gangs of bored youths fiddling with lighters. If we absolutely must use the emergency escape hatch (optimistically placed on the bus's roof) in Hartlebury, we'd likely die of loneliness before being rescued.
More buttercups, red poppies and dandelions – surely the friendliest of all the weeds – are partying along the roadside into Dunhampton, where The Leaking Well claims the title of Worcestershire's Least Appealing Pub Name.
'I hope that they take better care of their Sunday roasts than their well,' Eleanor offers with genuine concern on her brow. 'It doesn't bode well for their food hygiene rating.'
I'm particularly keen to point out that it scored a full 5 out of 5 on its most recent inspection, of course.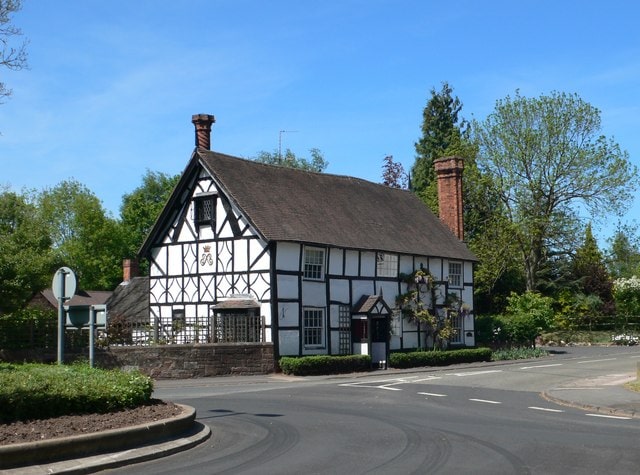 A little further down the A449 we reach Ombersley. A Constable painting come to life; its Tudor-style homes exude unashamed biscuit tin-ability. From the largest thatched cottage on the main street, to the tiny, timbered bolt hole on the village green, which is barely bigger than a Wendy house, Ombersley is the ideal location for those with enough money in the bank to dream.
This comely appearance spreads to the bus shelters back on the dual carriageway, most of which could easily double up as your own personal wooden shed considering how isolated they are, and are unlikely to see more than minimal football. The only dwelling we see for miles on this flat expanse is a timber building raised up on stilts, as though it has been transplanted from the Mississippi Delta in an extravagant two-fingers up to Mother Nature and her advice not to put roots down on a flood plain.
We enter Worcester's city limits barely thirty-five minutes after setting off, depositing all the college kids en route, and picking up no new passengers. One building fixes our gaze immediately. I've been dragged around a few interior design shops over the years, with their floor-to-ceiling windows, irreverent lamps and ironic scatter cushions.
Eleanor calls them 'idea shops', but to my untrained eye, they're all essentially the same. Nevertheless, one that I would gladly skip into with joy in my heart has taken up residence in the former Northwick Cinema. An Art Deco tour de force, it has survived multiple occupants, multiple periods of desertion, and multiple scrapes with developers since closing its doors in the mid-60s. It has been restored to its pomp, albeit without most of the 1,100 seats which formerly spread over two levels, and is now in the safe custody of tenants who seem to care as much about the building's history as they do their own business concerns.
Gheluvelt Park, named after an early battle of the First World War, in which the Worcestershire Regiment's 2nd Battalion acquitted itself with distinction, separates us from the River Severn to the right. It marks the beginning of a long, shop-lined trundle into the city centre, which would normally be brimming with students in university term time. Even without their hijinks, Barbourne Road is a lively thoroughfare, and sure enough, it morphs into Worcester's main strip as we head ever further south.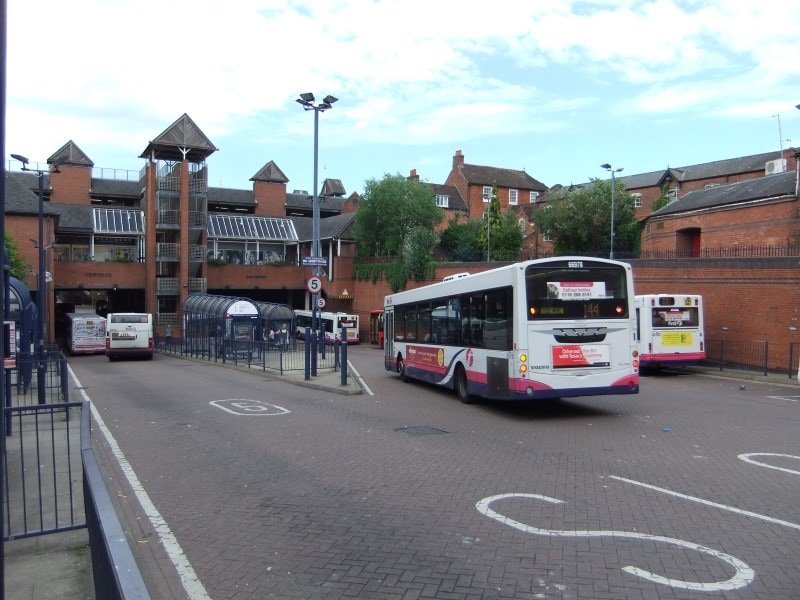 The bus station is a stinker. Bolted onto a 1980s shopping centre, the only way to access it – or, indeed, to make your escape – is by going through Crowngates' dingy confines, which are drenched in more seagull muck than anywhere which is almost seventy miles from the nearest beach should be. While it's an uninviting first impression, it isn't typical of this small city at all, which we are delighted with, seeing as we are staying the night. The only person I know who has ever stopped over in Worcester got thumped in the nose during an unprovoked attack about a decade ago, and while a handful of ruffians prowl around with their scrawny frames on full show, they don't distract from us mapping the unfamiliar streets.
A market is just packing away on High Street, where a seagull is in full voice outside TK Maxx, squawking at one of its pals who has wandered inside to check out some discounted baseball caps. A few minutes away, we stumble across Karma, an Indian restaurant which has seemingly been abandoned mid-service. White napkins are folded into ruffled peacocks, set between cutlery which has gathered a thin coating of dust.
'I wonder what happened?' Eleanor asks, cupping her hands to peer through the window. 'I mean, it's not Pompeii, but I'm still interested.'
We dump our bags, grab some pizza, drink one (excellent) pint too many, and catch a (also excellent) French band called Not Scientists on the final night of their UK tour. Worcester's great fun, who knew?
We're gonna have sore heads tomorrow, mind.