Route: 292, Ludlow to Kidderminster
Operator: R&B Travel (now operated by Diamond Buses)
Timetable: Hourly (Mon-Fri); every 2 hours (Sat); no Sunday service
Time: ~1h 15m
Cost: £3.70 Single
Date of Trip: 28/6/19
Cutting A Rug: Ian & Eleanor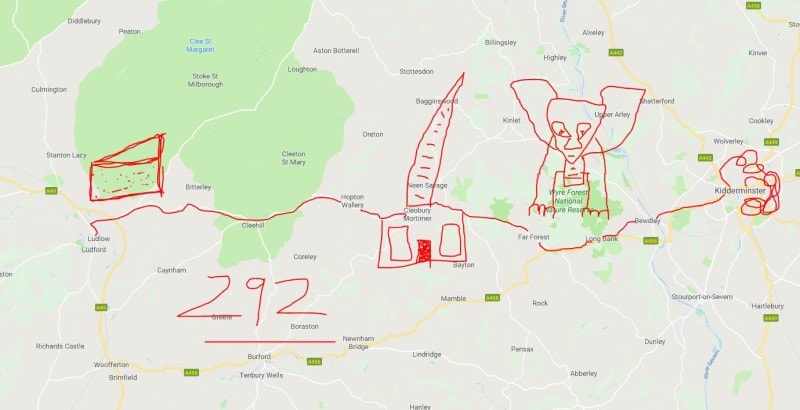 This isn't our first visit to Ludlow. We stayed the night for our anniversary a couple of years ago, when we were the only people in town. Actually, that's not entirely true, as the restaurant we went in for our tea had did have one other couple in it, not to mention three waiters who steadfastly attended to none of anyone's needs.
We arrive on market day this time, and are promptly sniffed at by a pair of haughty Afghan hounds who are straight out of Timotei central casting. Their luscious locks cause a pile-up of rubbernecking pedestrians, and prevent their owners from walking any more than 100 yards in twenty minutes. The traders are trying to politely drum up some custom, but it's so quiet this early afternoon that the owner of a corner cafe is bringing in his tables and chairs.
'There's no bugger about,' he laughs, 'so I'm gonna knock it on the head and enjoy the sunshine like everyone else.'
Who can blame him? The owner, who is definitely the re-incarnation of Mick from Time Team, leads us into a blessedly shady interior, where a panoply of mouth-watering delights await, nearly all of which are well above our pay grade.
'Right then,' he hollers to his wife behind the counter, 'look after these two.'
The pork and hazelnut might just be the best pie I've ever tasted. That this is a pastry par excellence perhaps shouldn't be a surprise, as Ludlow has been the UK's home of the Slow Food movement since 2006. A network which originally sprung up to protest McDonald's opening in Rome, Ludlow is devoid of all the high street fast food multinationals. Much to the consternation of Ronald McDonald, Colonel Sanders and that terrifying Burger King mascot, it is a place which instead focuses on local produce, and may be why we don't see anyone under twenty-five during our brief stay. We do, however, notice an extraordinary amount of middle-aged men in sandy chinos and light blue shirts. Ludlow is clearly where yuppies come for an early retirement.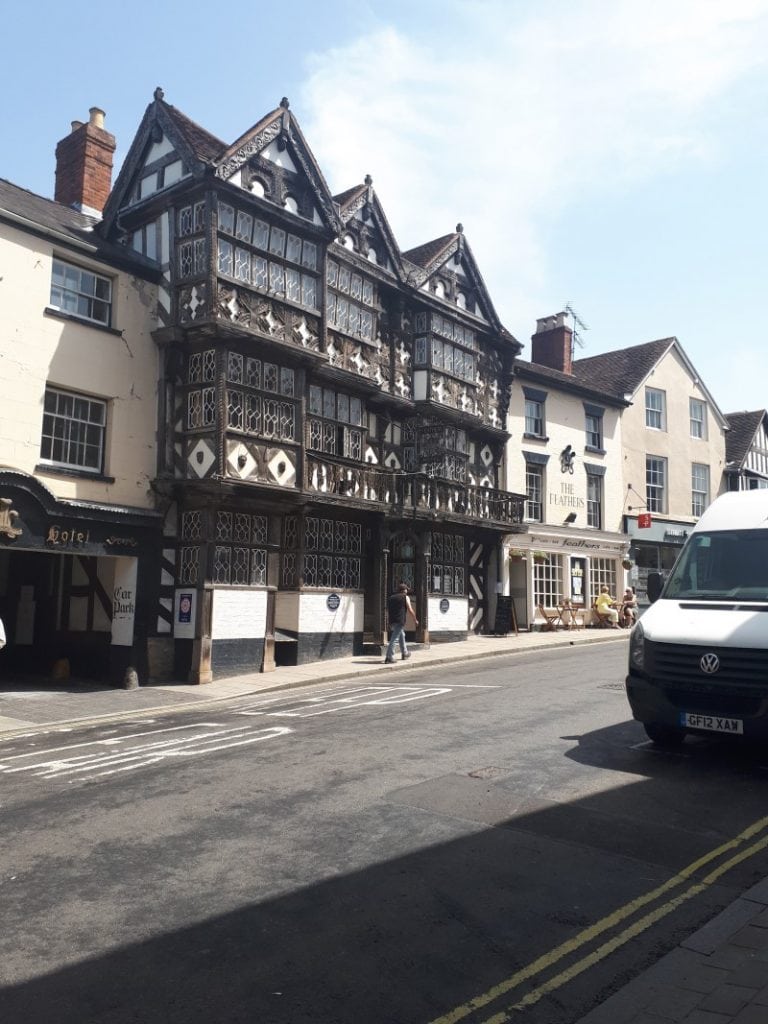 Our stroll to the bus stop goes past The Feathers, which is basically Miss Havisham in pub form. Festooned with gargoyles, higgledy-piggledy panels and stained-glass windows protruding at supernatural angles, if ghosts exist, they'll almost certainly float translucently around these corridors. They don't exist, though, so I wouldn't worry about it. A reviewer from the New York Times once called The Feathers "the most handsome inn in the world", which I suppose it would be if creepiness is your thing, or you'd never been to York.
A cheery young driver in a turquoise top welcomes us onto the 292 along with three other passengers, and as we're running a smidge late, he stomps on the accelerator. The bus takes us past a house built in 1590 – 1590! –at the bottom of Corve Street, as well as several walkers sneaking around the perimeter of a field full of tempestuous cows. Poles are gripped at the ready should the need arise to prod any bothersome bovines.
The striking St Peters Church, a muscly inter-war stone building, paves the way out of town, with the crucifix on its front lawn being used as a makeshift perch by the local sparrows. It's along here that Ludlow stashes its council and housing association homes, but compared to the sprawling and often grisly estates I'm used to back up north, Rocks Green looks great. It's a 'green' development with houses heated by a communal biomass boiler. A great idea in theory, but it has the unfortunate habit of conking out on a semi-regular basis, leaving the residents to foot the repair bill. Although it still has a paucity of facilities and is held at arm's length from the rest of Ludlow, you get the feeling that the councillors are at least trying. Not very hard, admittedly, but there's a nod to modernity and what will be expected in the future.
Moments later we are into spectacular emerald countryside, with the distinctive drooping face of Titterstone Clee Hill looming large directly ahead. With the bit between its teeth, the bus's engine lets out an almighty growl as the ascent up Angel Bank begins, where colossal views south across the lowlands of Worcestershire, Herefordshire and the final slither of Shropshire disappear off to the horizon. Much more relaxed than the noisy motor are the dozens of sheep munching away on the common land around Clee Hill village, with a few carefree individuals jutting their woolly backsides fully into the road as they chomp away.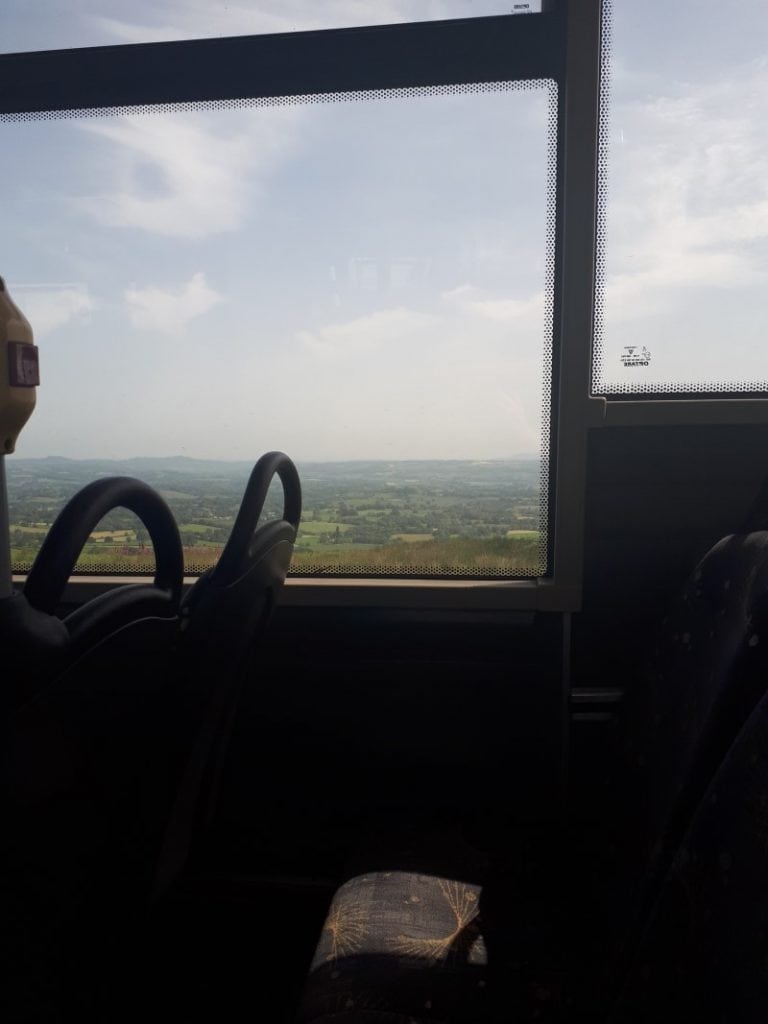 Once the peak is scaled, we're launched straight down the other side of a 13% gradient, grazing hedgerows on our way to the sweetly named Hopton Wafers. It takes its peculiar moniker from 13th century lord of the manor, Sir Robert de Wafre, about whom almost nothing is known, other than that he had a daughter called Lucy. Her husband, Roger Mortimer de Chirk, died in the Tower of London in 1326 after leading a baronial revolt against Edward II, the daft sod. Nowadays, the village is awash with summer festivals at Hopton Hall, including the self-explanatory Beardy Folk Festival which took place last weekend.
The 292 skims beneath intertwined tree tunnels and rides the big dippers along the A4117 towards Cleobury Mortimer, which I could've sworn was a Dickensian mine owner rather than a diminutive town in the extreme south-eastern corner of Shropshire.
'Blimey,' I blurt as we approach, 'what's going on there?'
'It's like being in Chesterfield,' Eleanor replies, 'but probably better.'
'Oh, it'll definitely be better. I can promise you that.'
We've spotted St. Mary's Church, which also has a twisted spire like the more famous example in Derbyshire. It reaches into the sky, kinking halfway up as though it has tennis elbow, and while it's impossible to miss, it's not quite as pronounced as its lopsided brethren further north. Unlike in Chesterfield, where slapdash medieval builders were culpable for the church's warped extremity, this one's curvature is due to its oak timbers succumbing to rot and contorting over the centuries. It also has what is presumed to be a defaced sheela na gig on a stone panel, hacked clean in a zealous frenzy by puritanical parishioners in Cromwell's time.
Cleobury's high street is a beauty, fringed with sturdy red brick Georgian town houses as it cascades downhill into the valley of the River Rea and beyond to the border with Worcestershire. Most of this is spent following a van for a nearby company which specialises in 'Equine Rug Services', which is not only just about the most specialist niche I've ever encountered, but the vehicle's number plate ends in RUG.
Apart from passing through along the M5 or on the train, this is our first 'proper' visit to the sauciest of all the counties. We are ushered in via an almost amputated arm of the Wyre Forest and a warning sign about deer running into the road, but we don't even see any hiding among the tree trunks or fronds of bracken, never mind sacrificing themselves in front of our stubby single decker. The unmistakable scent of pine leaves wafts its way up our nostrils in a tiny place called Far Forest, and sure enough, within seconds we are chugging beside dense rows of fluffy conifers. Around half of the eight million Christmas trees sold each yuletide in the UK are grown here, even if the chances are that their seeds originated from plantations over in Georgia. In fact, 80% of Europe's Christmas trees (mostly the Nordmann Fir) come from the northern Racha region, making it the country's largest export product by volume.
Full of useful info, me, y'know.
Callow Hill brings a bungalow with gates so ostentatious that they almost cause an eclipse. They're near enough the same height of the roof, with its main wooden structure set so far back that its thick buttresses look like the paws of the Sphinx. It wouldn't be worthy of comment at all if it was in the middle of a typical millionaire's row, whose frontages aren't exactly known for their modesty, but in among the rest of the lane's inter-war semis and modern executive homes, it's a total jaw-dropper.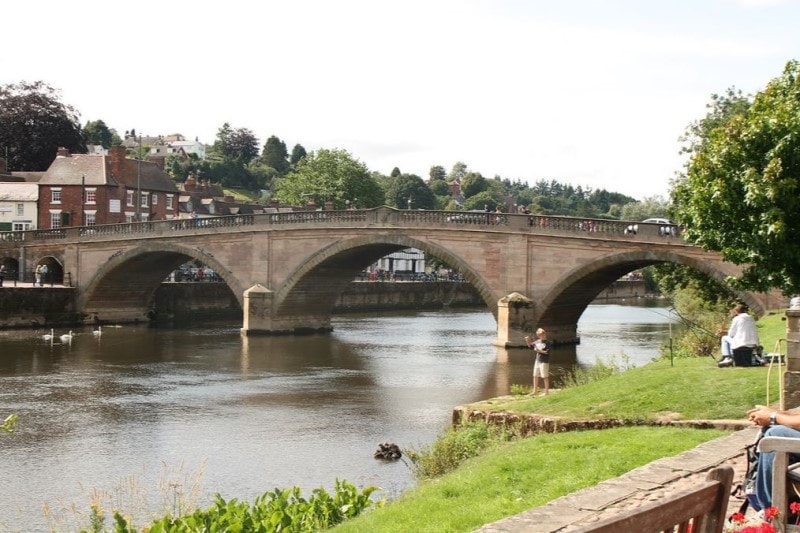 The driver presses deeper downhill into Bewdley, which has rows of perfect terraced houses with horticultural appellations, although there is sadly no evidence of the flowers they're named after. Daisy, Primrose and Rose Cottage line up as we carefully wend towards its irresistible town centre, alive with independent shops and locals who have a Ready Brek glow emanating from their pores. A hump-backed bridge escorts us over the River Severn, where weeping willows dip their branches to slurp greedily from the steadily flowing waters.
'How have we never been here before?' I ask Eleanor.
'I know,' she gasps, 'we've got to come back and stay the night. It's great.'
Sometimes you just hit it off with a place, and even if it does tend to flood every now and then, how many other towns in Worcestershire have a steam railway and what appears to be a discarded missile in a farmer's field? Exactly.
We hit our first real traffic of the day on the outskirts of Kidderminster, and an already tight onwards connection to Worcester is in serious peril. A series of roadworks and diversions slowly funnel us towards what used to be the heart of Britain's carpet industry – there's even a museum devoted to the subject called, topsy-turvily, Museum of Carpet – but not before we've visited the remains of the liver, lungs, pancreas and coccyx, too. The bus is spirited on a circuit of Kiddy's many roundabouts, which signal that the bus station is somewhere in the mysterious Zone 3. This makes it sound more sci-fi than it really is, but Kidderminster is another place which has been utterly eviscerated by town planners. Pevsner wasn't enamoured when he came through in the 1960s, describing it as "…uncommonly devoid of visual pleasure and architectural interest." It's not strictly true, as it is blessed with a surfeit of exoskeletons of former mills, but faded industrial heritage isn't going to be to every budding aesthete's tastes.
One very pleasant surprise, though, is that one glance over Central Sector Alpha from the ring road shows Kidderminster to be Sheffield-like in the amount of greenery which is wedged into every crevice. On the ground it just looks like the odd tree dotted about, but from a more elevated viewpoint, it gives the illusion that we've stumbled across a lost ancient civilisation which nature has long since reclaimed. The circuitous route taken on this final leg means that we reach the horseshoe-shaped bus station five minutes after the 303 to Worcester was due to depart. Luckily for us, though, that bus has also been hindered by the morass of traffic cones decorating the area's thoroughfares, and we make it on board with mere seconds to spare.
Worcester here we come…