Route: X12, Newcastle to Middlesbrough (via Durham)
Operator: Arriva
Frequency: Every 30 mins (Mon-Sat); Hourly (Sun)
Time: ~2h 10m
Cost: £13.50 Family Ticket
Date of Trip: 2/5/19
Chester-le-Bus: Ian & Eleanor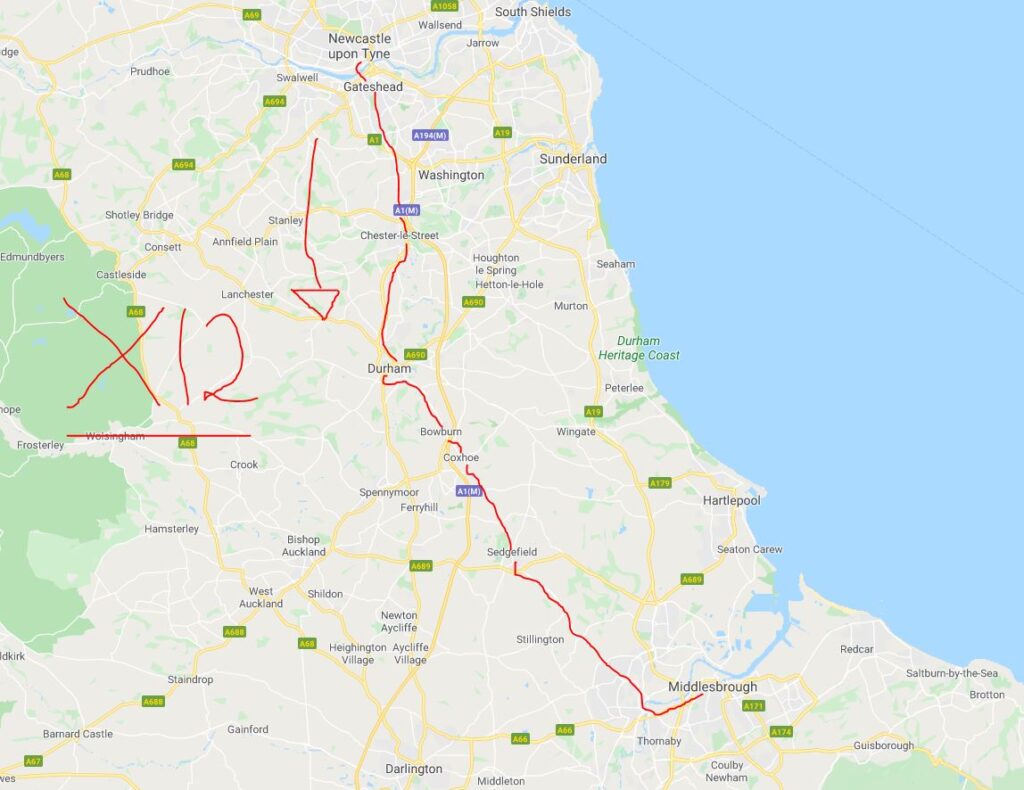 The driver of the X12's chipper mood is dented by the lady who gets on ahead of us. She buys a ticket to Durham, goes to sit down, but hurries back to the cabin before we can open our mouths.
'Excuse me,' she says, with far too much emphasis on the first word. 'I asked for a return to Durham.'
'You didn't, pet,' he replies, accurately as it happens. 'You just asked to go to Durham.'
'But I get the same ticket every day.'
'Not with me you don't,' he says. 'I'm not a mind reader. Did you not wonder why it cost less than normal?'
'Can I just pay the difference?'
'Please?'
'Please.'
He'll never go for the family ticket request we tried for yesterday in Berwick, but we put on our friendliest faces and give it a bash.
'Hiya, can we have one of your North East family day tickets, please?' I ask with our £13.50 fare at the ready.
'Of course you can, pal,' he responds as he punches away at his ticket machine. 'I love it when a passenger knows what they want. Here you go.'
It's a cosy 14°C outside, but the internal temperature of the single decker is close to double that. Our fellow passengers shed layers all around, with jackets and cardigans draped across laps and even a pair of heels being kicked into the aisle by a woman with overheating feet.
With a toot of the horn, we leave the station behind and pick our way through the Grainger Town part of Newcastle city centre. It's only as we pass the cathedral that we see something I'd never considered before: Newcastle has a castle. Well, remnants of a fort which gave the place its name, but its Norman keep has stood looking out over the Tyne for the thick end of 850 years.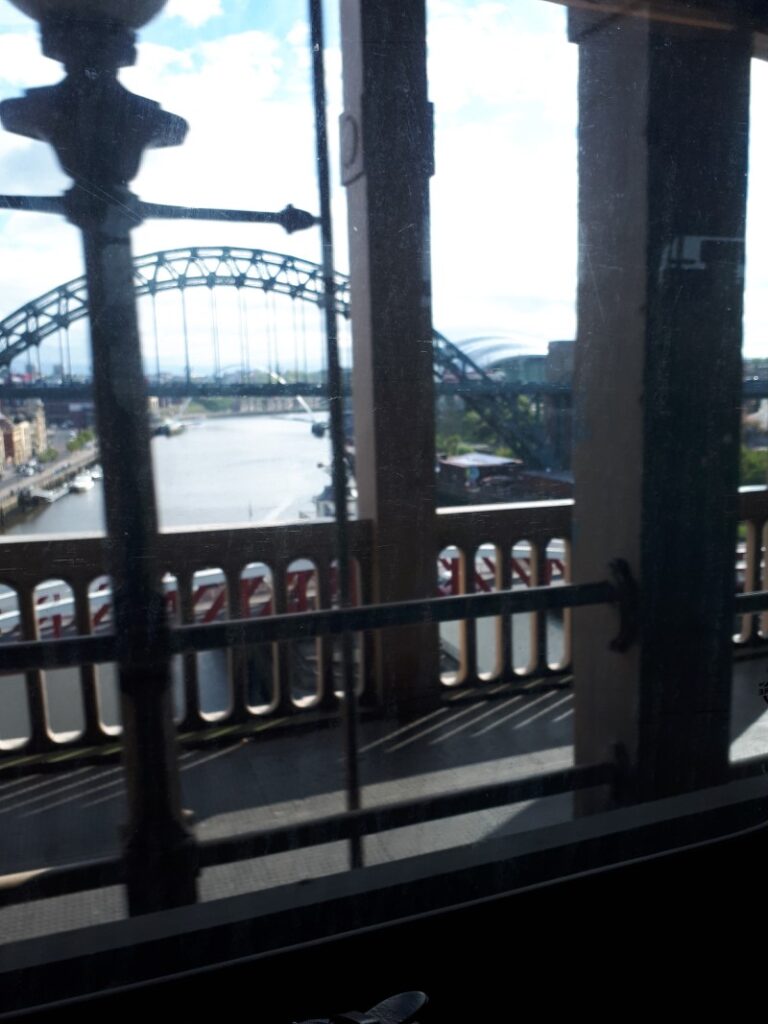 A more recent landmark, which we catch sight of in flick-book fashion from the High Level Bridge a few hundred yards upstream, is the Tyne Bridge. A mere sapling compared to The Castle, it has straddled the UK's 24th longest river since 1928, when George V and Queen Mary trundling across it in their new Ascot Landau.
The bridge spits us out in Gateshead, where the 'Grim' bubble-writing graffiti tag proves prophetic. It'd take a fatal dose of chutzpah for even the most loyal South Tynesider to insist Gateshead is as welcoming to the casual observer as its sibling across the river. The entire heart had its guts ripped out and burnt on a pyre in a post-war building frenzy, with most of the planning handed over to whoever was doing their work experience placement that week.
There's no rhyme or reason for buildings being placed where they are. The town's courts stand smushed between stacks of high-rise flats and a carpet showroom, in what must've been an architect's April Fools' joke. We reach some discernible order once we flee south along the tight terraces of Durham Road, where a sturdy cenotaph meets us in Low Fell. Even this memorial succumbed to a concreting during Gateshead's Brutalist fetish period, the thick layer only removed thanks to a restoration project a few months back.
It's here that an old timer dressed in a black leather jacket, black jeans, and white socks ambles aboard. Eschewing the empty front seats reserved for the elderly, the infant and the infirmed, he shuffles and pants towards the back row of the bus, refusing to bow to his creaking body's constraints. We pass Gordon Brown Estate Agents – it's good to see he's got a new career in property these days – and The Fell Chippy, which uses a clip art dragon and the Fraktur font so beloved of the Third Reich on its sign.
The road switches into a dual carriageway and the Angel of the North swishes by to our right. As with his Another Place installation on Crosby beach in Merseyside, Antony Gormley's own outline is the basis of the Angel, from which we can conclude that he has excellent calves.
Pink sashes in the window of a granny flat marks its occupant's 80th birthday. She shares her big day with the Joseph Hopper, who lends his name to this tidy row in Birtley. Joseph Hopper was a local miner and Methodist lay preacher who fought against the heartless treatment of his colleagues and their families. Back then, the collieries owned many of the houses in the region. This meant that if a worker somehow avoided dying early of emphysema, black lung or any number of chronic bronchial diseases or industrial accidents, and fluked their way to retirement, they'd face eviction – as long as no other pitmen lived there. There'd often be three or four generations under the same roof to avoid such a fate.
Hopper helped create the Durham Aged Mineworkers' Home Association, with the goal of building suitable housing for abandoned ex-coal workers and their families. They took small subscriptions from the tens of thousands of coalfield employees and cajoled the tight-fisted pit owners into donating land, so the beneficiaries of the scheme could live the rest of their days rent-free. The DAMHA still builds houses, although its founder never needed to use its services, dying aged 53 in 1909 after a coughing fit.
On towards Chester-le-Street, whose etymology is far duller than you'd expect or hope from such an exotic name (it's a contraction of Chester upon Street). It's the birthplace of former England football captain, Bryan Robson and home to Chester-le-Sandwiches, a butty shop whose name gets better each time you say it. A shoe store called Chester-le-Feet would make sense, as would a Chester-le-Treat bakery, or the Chester-le-Meat butchers I now want to open. Throwing caution to the wind of pun mechanics, Chester-le-Sandwiches is perfect. Milliganesque, even. The locals think so, too, and if the number of customers milling around before 10am is anything to go by, they're giving Subway and the Greggs up the le-street some solid competition.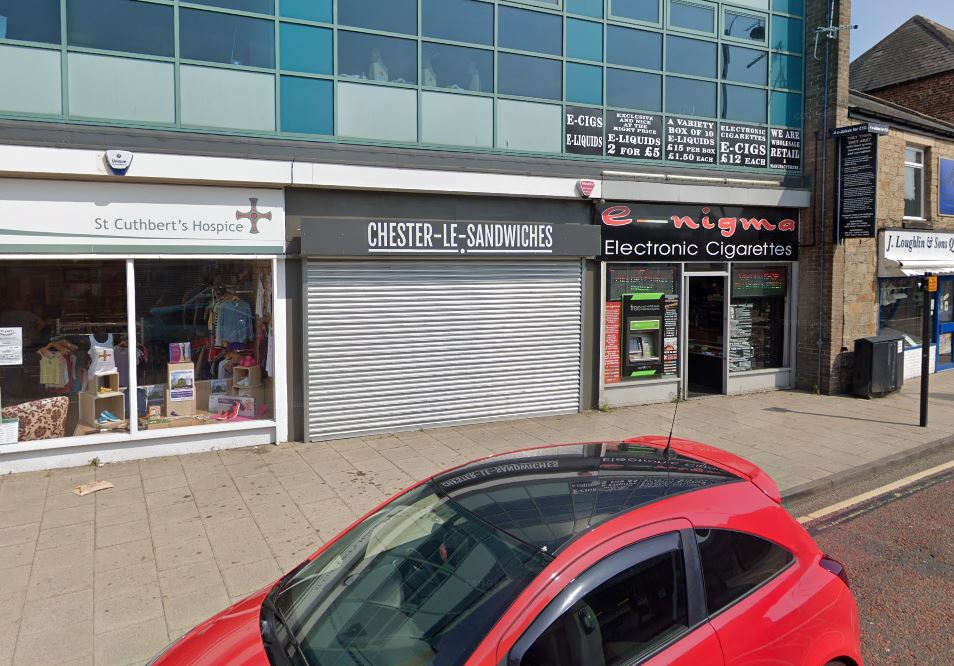 A couple in their late teens get on, sit across the aisle from us, and communicate almost exclusively in snorts and giggles for the next twenty minutes. It's incredible how they can hold a conversation saying nothing other than 'yeah', 'like' and 'I know' for such a duration. It's as though they've distilled the English language down to its three most important phrases, and can convey almost any meaning by subtle tonal shifts and guffaws. Still, every generation has its own impenetrable vernacular, and as I'm at least twice their age, I'm not meant to have a clue what they're on about.
The X12 presses on to outskirts of Durham, passing through Pity Me. Eleanor's brother lived here when he was at Uni. There's conjecture about how it got its distinctive name. Is it from an exclamation by a monk after he dropped St. Cuthbert's coffin? Is it the local pronunciation of a nearby bog, Pitthead Mere? Or, is it mere Victorian whimsy for a desolate place? Either way, it's where a woman in her 50s wearing shades, leopard print bag and a slouchy beret embarks, with her wireless earbuds no doubt playing one of the first three Manic Street Preachers albums.
Durham bus station must be the site of an Ikea that never happened. The rickety stands are in the exact shades of blue and yellow as the Swedish furniture titans' logo, but it's in desperate need of more than just a lick of paint. It's in stark contrast to the rest of the outstanding city centre. Narrow streets spiral up towards the castle and cathedral, while several drool-worthy bridges traverse the River Wear. On one of these, I ask Eleanor an important question.
'What's your favourite Durham? Durham the city, or Geoffrey Durham?'
'Geoffrey Durham? Isn't he a baddie?'
'No, he was Victoria Wood's husband,' I say. 'The Great Soprendo. Piff-paff-puff and all that.'
'Oh, I was thinking of Jeffrey Dahmer.'
For all of Durham's (the city's) undoubted outdoors beauty, the star of the show this morning is the indoor market. Heaving with busy units, from the music shop with a niche line in Japanese thrash metal records, to the trinkets stall with Elvis bobble heads, via a lady who is cutting a literal rug at a machine which would slice me to ribbons. It covers all bases under one densely packed roof. Its first-floor café is the obvious port of call for our breakfast.
'The waitress looked really confused about yours,' Eleanor says as she comes back from placing the order.
'Poached egg and beans on toast?'
'Yeah. I don't know what you're going to get, but I'm on the giant teacake.'
Five minutes later, what arrives sticks to the Ikea ideal of building it yourself. It's a deconstructed, flatpack breakfast on a rectangular plate. All the ingredients are there, just not together. The unbuttered toast is parked to the left of a bucketful of beans so deep you could drown in them, while the poached egg is stranded on a side dish. After weighing up how to proceed, I tip the egg in with the beans and use the toast as soldiers. What a calamity.
We speed walk back to the bus station, climbing back on the X12 just as the youthful driver sets to close the doors. There's a man in a flat cap ahead of us who is chewing a piece of gum. I've always assumed that people chew gum in time with their heartbeat, which must be why football managers look as though they're trying to gnaw through a rope tying them to a railway track. If that's the case though, this guy must be a vampire, as his rate is no higher than five chews per minute.
The bus climbs through Durham's university quarter, where fresh faced students laugh in the sunshine outside the Bill Bryson Library (we tip our metaphorical hats to the University's erstwhile Chancellor), unaware of the horrors life will throw their way the second they leave academia's welcoming grasp.
A duvet of grey cloud lingers to the west as we make our way through Bowburn and Coxhoe, where a pit wheel stands proud by the side of the road. It commemorates those who lost their lives at the town's four mines. The wheel is opposite Frank's, a flooring company whose tagline is 'I Love Carpets, Me!!!'.
The road to Sedgefield is almost as bumpy as the one between Alnwick and Alnmouth, with even the filled potholes looking like apple crumbles with punctured crusts. This is where Tony Blair became an MP in 1983 and isn't the kind of place you'd associate with staunch socialism. With its trim High Street and inescapable quaintness, Sedgefield could've been air-dropped from the Cotswolds, even if its thatches must've blown away somewhere in transit. (This trip was before the Conservative landslide in 2019, which saw the constituency become Tory for the first time since 1931).
Slender pylons point the way towards Teesside, with Roseberry Topping and the Cleveland Hills acting as a barrier beyond. The rapeseed plants, so ubiquitous yesterday, make a late appearance here, too, as the bus eats up the rural ground towards Stockton. Often assumed to be Middlesbrough's poorer twin, Stockton, and its hinterland has more residents than either Hartlepool or its close relation over the Tees. It's a drab run into the centre, though, broken up by brief glances of the Transporter Bridge lording over the river below.
We pick up a handful of ruffians on the High Street, who open every window on their way to the back of the bus, where they light a crafty spliff and swap tales of characters they all know from prison. Dickhead Dave has been up to no good again, apparently. Almost as wide as it is long, Stockton's focal point has scrubbed up well after its recent facelift, with a series of 20ft high crocodile clips reaching towards the heavens, doubling up as unusual but lavish lighting fixtures.
The road leads into Thornaby, where pristine new apartments hug the east bank of the Tees. They're just a veneer, though, with tired Mandale Road plodding along right behind them.
I've got a long history with Middlesbrough, going back to making friends from here on holiday when I was sixteen. I briefly went to university in Boro, had a girlfriend there (even more briefly) and almost got beaten up outside a McDonald's because I had the sheer affront not to be a smoker. It's possible I'm the only person from outside the area who loves the place. We zoom past Teesside Park, zigzagging through the back streets and into the bus station, and all is right with the world.
(X4 to Whitby is here, busamaniacs!)