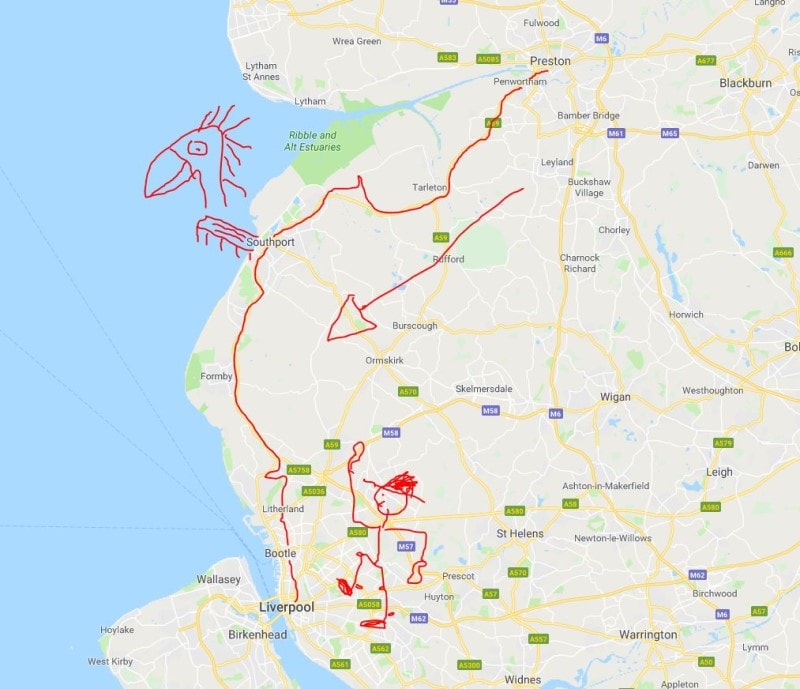 Route: X2, Preston to Liverpool
Operator: Stagecoach
Timetable: Every 30 mins (Mon-Sun)
Time: ~2h 15m
Cost: £8.20 Lancashire DayRider
Date of Trip: 19/5/19
Preston to action: Ian & Eleanor
'That's £29.50, my sweet,' the driver of the X2 says in the broadest cockney accent I've ever heard beyond the reach of Bow Bells. The woman ahead of us is buying a weekly pass. 'Thirty notes? Thank you very much, and here's something for the weekend.'

For the record, he hands her a 50p piece, not a Reggie and Ronnie.

I show him my day ticket.
'Lovely jubbly, on you get squire.'
Eleanor flashes hers, too.
'Thank you, my darling. Go and make yourself comfortable.'
No doubt exiled from London due to striking up conversations with strangers, this cheery procession carries on as he greets each new passenger. In between boardings, he sings a mixtape of unrecognisable tunes, all of which are some variation on him crooning 'yah-bah-da-ba-dee dee-be-dee-be-dooo.' We've not even left the bus station yet.
When we do set off, it becomes apparent that Preston has had a facelift since we were last here a couple of years ago. Most notably, the Covered Market, once a glum spot where traders exclusively peddled rusting cutlery, clothes from house clearances, and decade-old DVDs, has been restored to beyond its former glory. Its wrought iron decorations gleam in forest green, there's a snazzy new indoor section, and more people milling around its busy stalls than I've seen on all my previous visits combined. Naturally, there are the naysayers who preferred its dowdy former life, but they're the kind of people who'd complain if their kids won the Euromillions.
The bus inches down the largely pedestrianised main shopping street, Fishergate, with shoppers oblivious to the whacking great double-decker until it's revving right up their backsides. They inevitably do a shocked little jump, a quick Brucie double-take and dart to the side, laughing at their own inattention. The road takes us past the Butler Street entrance to Preston's railway station, whose building was a runner-up in the 2017 Carbuncle Cup. In being nominated as one of the UK's worst new builds, it was described as: "a deadening cake tin slapped on its side…This fractured geometric lean-to would seem out of date 10 years ago…We've come a long way from Brunel. A very long way…". It was beaten to the top honours by Nova Victoria, an office/residential block in London, which I suspect pipped the station to the punch due to its sheer scale, as much as its geometric weirdness.

We pick up the pace, heading over the Ribble into Penwortham, where Freddie and various Flintoffs have turned out for the local cricket club, and a rowing boat has been pressed into action as a fantastic swing in someone's front garden. The central reservation of the dual carriageway has been inundated with thousands of meadow flowers, with poppies and cow parsley wrestling for superiority all the way to the rumble strips on the outskirts of Much Hoole.
As we approach Tarleton, Eleanor gasps in astonishment while staring into a field.
'Oh my god, look at that.'
'What?'
'That horse's…willy. Oh no, he's just kicked it! It's going like a pendulum. Aaargh, he's kicked it again. It must be the flies biting it.'
This horror is extended by the slowest set of traffic lights in West Lancashire, giving us ample time to watch slack-jawed as the poor old nag hoofs his privates raw, and reminds me that as much as I love animals, I'm really not cut out for being a vet. We do see a sign for Martin Mere, though. I'd absolutely love it these days, but I was less enamoured as a nine-year-old when we pulled into the nature reserve on our school summer trip. We were supposed to be heading to Blackpool for the day, and this surprise stop (the parents on the coach weren't even told about it) was too much for some of my classmates, who spent most of the two hours crying into their insect nets and vowing revenge on Miss Sinclair for ruining their day out.
If we'd have come past here less than 200 years ago, we'd have been under water. Until it was drained and largely turned into farmland in the 19th century, Martin Mere was the largest lake in England by surface area. It only contains a fraction of its former volume now, with what remains being a marshy wetland and idyllic holiday habitat for dozens of species of birds. We did just about get to Blackpool that afternoon, and I win a hard-earned 50p for spotting the Tower on the other side of the estuary as we trundle into the dainty village of Banks. There's a car boot sale in full swing on a grassy field, which an old man cycles past while precariously balancing a bucket of weeds on top of his handlebars.
We puncture the Merseyside border at Crossens, the decisive moment marked by the transition of bus shelters from faded red into Merseytravel's sunflower yellow. Churchtown is next, a suburb which has a unique place in both culinary and botanic history. A trading ship was wrecked just off the coast here in 1575, with its cargo of strange tubers that floated onto the beach becoming the first ever potatoes to be grown in Britain. What the villagers did with their unusual bounty isn't recorded, but it was more than a decade until the plant was officially introduced by Sir Thomas Harriot, and at least another couple of hundred years of faffing about before chips were finally invented.
The houses into the town centre are almost universally grand affairs along girthy tree-lined boulevards. One enormous detached house has a colourful bear carved out of a tree trunk facing it owner's front room, while another has a pink caravan propped up on its driveway, invoking an impromptu humming of 'Caravan of Love' from Eleanor.
Southport has a reputation for being an extended retirement home, but on today's evidence, that is completely unwarranted. The airy expanse of Lord Street – with its monuments, gilded parade of shops and stupendous architecture which is more becoming of a capital city than a regional outpost – so impressed a young Napoleon III when he lived here briefly, that he modelled the reconstruction of Paris on it. It's a stunning street, and to top off our cultural tick list, there's a youth drama group playing Fiddler on the Roof on a bandstand.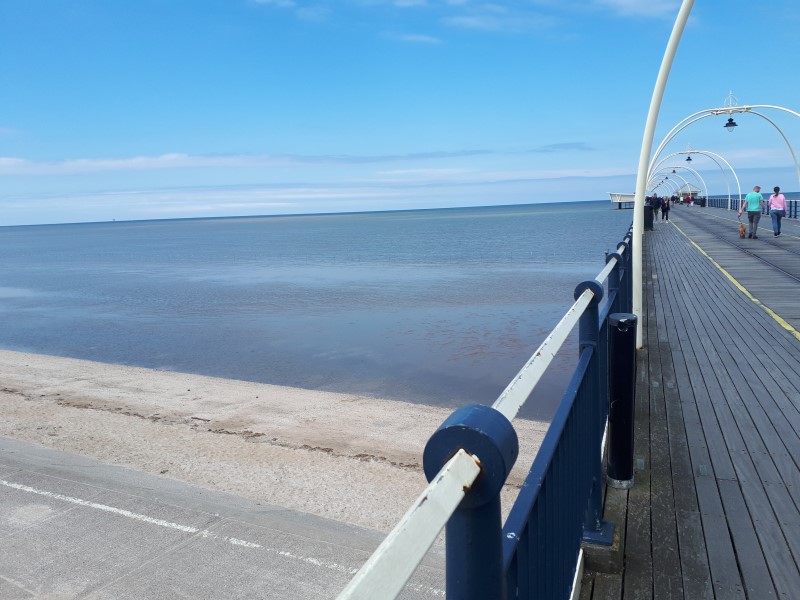 We decide to stretch our legs, so head along the town's pier. The oldest iron pier in the country (it opened in 1860) and the second longest one after Southend's, unusually, it starts a good half a mile inshore. This is thanks to silting, with much of the reclaimed territory now converting into a marine lake, fairground and an expanse of parkland. As with many pleasure piers, this one has been threatened with closure on more than one occasion, with it staving off a bid by Sefton Council to have it demolished in 1990 by a single vote. It was indeed sealed off for four years from 1998, but it was for restoration work, with a combination of lottery funding and a community appeal guaranteeing its future. The thousands of people who donated are commemorated in floor plaques which run the 1,108m length of its boardwalk.
Among the thousands of people making the most of the rare spring sunshine are a couple in military fatigues who are taking their four parrots for a walk. They aren't just any old parrots, but proper piratical macaws perched on a shoulder each, with one taking exception to the inquisitive attentions of a Labrador, flapping her wings frantically and making a terrific din at the pier's head. We make our way back towards dry land, high over the mudflats which make a mockery of the received wisdom that the tide never comes in at Southport. In fairness, even though the tide is within splashing distance of the sea wall, the water is so shallow that you could probably paddle at the end of the pier if you didn't sink into the quicksand first.
Music drifts in our direction, and we spy a man in a green coat and brown hat wielding a mic onstage stage outside the Marine Lake Café. He is belting out I Just Can't Help Believing, specifically, a version from a live Elvis album, complete with a confident 'Hello, Birmingham' – Birmingham, Alabama, of course – to the assembled pensioners who are entirely in his thrall. A table of ladies sings and claps along in unison to every line, and gladly pour the contents of their purses into his cap when he has a whip-round so that he 'can buy some chips and mushy peas in the break'. Suspicious Minds brings his set to a close, aided by a chap playing left-handed air-guitar on the stage steps.
'Remember ladies,' he pitches as the final notes die down, 'CDs are a fiver, or three for ten quid.'
I'm all for progress and riding the arrow of time, but it'll be a sad day when this sort of seaside caper finally dies off.
We re-join the X2 at the far end of Lord Street, where several guests from a wedding party are waiting outside a Travelodge for a taxi to whisk them to the nuptials. The bus is even swisher than the Stagecoach Gold we were on earlier from Bolton. It has leather, coach-style table seating upstairs, complete with a red stop button lay flat like a quiz show buzzer by the window. Birkdale is lively, awash with boutiques and moneyed cocktail drinkers topping up their tans on the dinnertime shift outside its bars. Just down the road, Ainsdale is made up of characterless semi-detached houses wending down dreary lanes to all points of the compass. It's the kind of place where its residents only ever leave the house to go to work, go to school or go to a carvery.
Formby is a similar story. Our original plan was to jump off and have a wander around here, but again, the bus meanders through insipid suburbia with the occasional row of shops and we decide to give it a miss.
'It's a good job they've got squirrels,' Eleanor says, 'because there's nothing else, is there?'
In Formby's defence, it turns out that the route takes us parallel to the town centre rather than through it. Nor does it go anywhere near its famed sand dunes or nature reserve, one of the few places in the country that gives red squirrels and natterjack toads a safe haven from the diseases, predators and habitat loss which have put them on the endangered list.
Our progress slows when we head south, hitting traffic on the edge of Liverpool's conurbation in Thornton. It does mean that we get to stop outside Chaps Barbers & Coffee Shop, a tremendous idea which makes me wish that I liked coffee. Whenever I've punted my foolproof plan of opening a barber's concession inside a pub, I'm usually met with a torrent of derision, but the truth is that barber shops and hairdressers operate at inconvenient hours for most people. If you put one inside somewhere which is busy outside the usual 9-5, it'd be the perfect symbiotic business relationship.
We continue along Liverpool Road through busy Crosby, a good mile or so inland from its beach and the statues of Anthony Gormley's Another Place. The stained glass of Ss. Peter & Paul's appears to be covered by a protective layer of Perspex, which dulls its brilliance from the outside, but will at least stop it from being vandalised ahead of its 125th anniversary celebrations on June 29th and 30th, if you happen to be knocking about.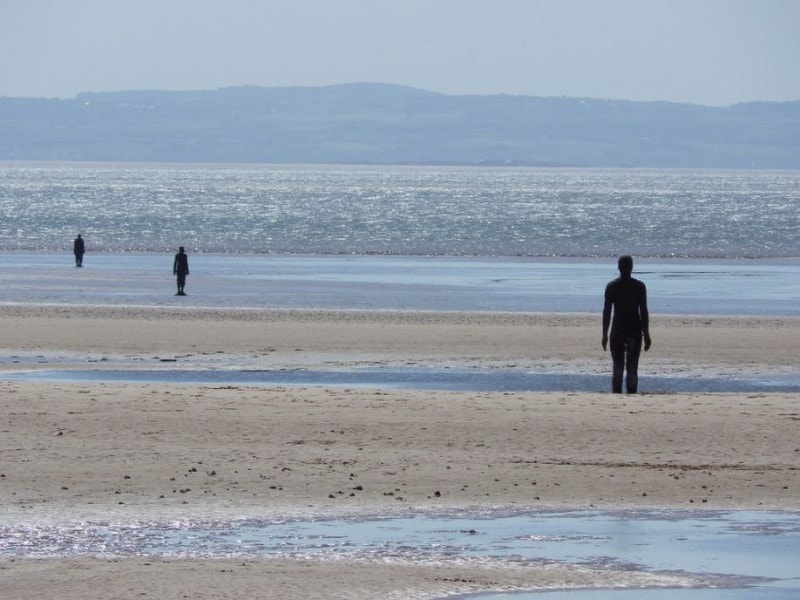 The cranes at the Port of Liverpool make a welcome appearance on the skyline as we head further south, before we turn left and pass a sign with an incongruous cartoon hippie on it. In the day's first Beatles reference, the figure is holding two fingers up and imploring us to 'Give Peace A Chance'. Admittedly, that was a Plastic Ono Band song rather than the Fab Four, but John Lennon wrote it, so it definitely counts.
Red brick terraces are wrapped tightly around the slender ribbon of Linacre Road, looking like any number of minor thoroughfares around our neck of the woods.
'It's a bit run down, isn't it?' Eleanor whispers.
'Is it?' I reply. 'It just looks like Gorton or Longsight to me.'
'Exactly.'
'Fair enough.'
The northern end of Bootle really does look as though it has taken a kicking, though. Our introduction to the place is a man asleep on an overgrown bowling green's bench, with a mongrel and an empty bottle of rocket fuel cider on the path below. That said, there's a busy park full of kids and parents playing, with a group of teenagers making use of its accompanying skate ramps.
Bootle used to have a team playing in the Football League. In fact, they're one of just two clubs to have had a single season in the competition (in 1892-93. The other team being the wonderfully named Middlesbrough Ironopolis in the following campaign), coming up against the likes of Sheffield United, the forerunners of Birmingham City, and in their first game, losing 7-0 away to Ardwick, who would later become Manchester City. They got their revenge in the reverse fixture, winning 5-3 on home turf. Despite finishing 8th out of 12, and gaining more points than now-established senior clubs such as Lincoln City, Crewe Alexandra and Port Vale, they resigned their tenure and folded, only to be replaced by another team from the city: Liverpool. A fortnight from today's trip, Liverpool will go on to win the Champions League for a sixth time; their Anfield stadium and Everton's Goodison Park are both visible as we make our way along Stanley Road. This evening, Manchester City will become the first side to win the domestic treble, while a reformed Bootle have just finished as runners-up (to City of Liverpool FC) in the North West Counties League – just two points off promotion to English football's eighth tier.
It's a smooth run into the centre, its location given away well in advance by Radio City Tower. When you add in its antenna, it's the tallest building on Merseyside, topping out at out at a dizzying 486ft. It isn't just any old boring tower, though. Opened by Her Majesty fifty years ago, it's one of those space age constructions with what used to be a revolving observation deck at the top, making it look both futuristic and hopelessly old-fashioned at the same time.
We're just a stop or two away from Queen Square Bus Station when Eleanor notices something in St. John's Gardens which causes her to leap up from her seat.
'Quick, Gingerface, ding the bell!'
'What? Are you poorly?'
'No. It's Morris dancers.'
I've not seen Morris dancing since I stood agape outside the Pineapple pub on Carnival Day sometime in the late 80s – a day when I accidentally burst my sister's balloon on a load of broken glass – wondering what on earth they were doing. I'm still none the wiser, but the various groups are having a great time, even if some of the participants are noticeably self-conscious about performing their hobby in public. The first lot we see, decked out in black and green and bouncing along to 'Belle of Belfast City' are ripping tradition to shreds just by being here. Shockingly to some, they are all women. It's only within the past year that they have been allowed to dance alongside men by the Morris Ring, the organisation which has the best part of 200 'sides' under its jurisdiction, after reluctantly agreeing to let ladies play instruments and other peripheral tasks in the wake of an Equalities Act threat in 2011.
The Ring's Squire – of course its Chairman was going to be called a Squire – at the time said, "I would liken it to Manchester United not having any females in their first team. Their prime performers are men because they are physically stronger". In case you were in any doubt, silk hankies weigh about 15g each, although those little wooden sticks that they clank about could clock in at ten times that.
One side has seemingly come dressed as the parrots from earlier, and even had a member who is a few years younger than us. The most organised troupe have bells clipped to their leg joints, making them jangle like a Christmas tree being knocked over by an excitable dog.
'Oh, Jesus, look at this lot,' says an Irish lady who has sidled up to me, gesturing towards a bunch of blokes dressed one step up from scarecrows. 'This'll be great. They've been in the pub all afternoon and are half cut. Just look at the state of their socks.'
Each member's socks have crumpled into a heap by their ankles, the elastic presumably giving up somewhere around the fifth pint. Their dancing is just as ragtag, but they're having a great time while dodging the huffy looks from those who do actually know what they're doing. Those people are wearing flowery hats, though.