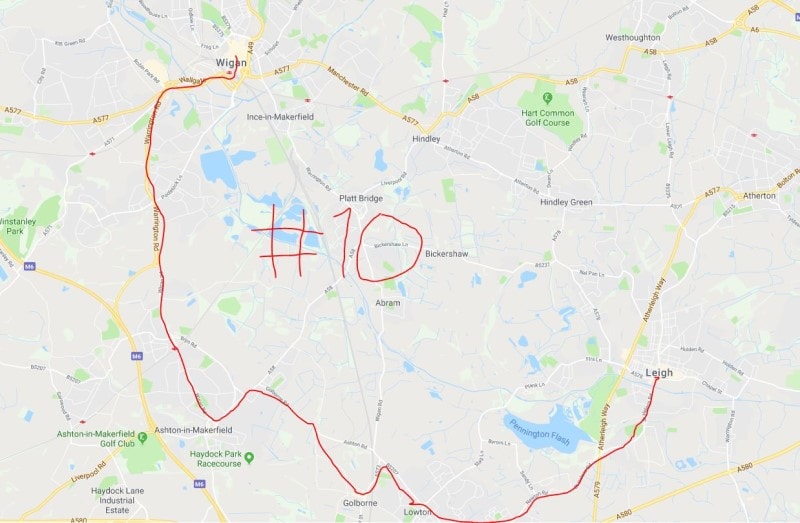 Route: 10, Wigan to Leigh
Operator: Stagecoach
Frequency: Every 12 mins (Mon-Fri); Every 15 mins (Sat); Hourly (Sun)
Time: ~1 hour
Cost: £7.50 System One Bus & Train ticket
Date of Trip: 15/4/19
Taking a buzz: Ian & Orla
Two bespectacled women in suit jackets are hopping from foot-to-foot to try and pass each other in the tiny vestibule of the ladies' toilets at Wigan North Western railway station.
"After you, love."
"No, after you, love."
"It's not very well designed this, is it?"
"Not really, no."
We're here this morning to take the number 10 to Leigh, for no reason other than neither of us know Wigan, Leigh or anywhere in between at all. The most distant of Greater Manchester's orbital towns, Wigan doesn't even share the same page on my road atlas as its parent city, and its inclusion as one of the county's metropolitan boroughs is a total anomaly. It's closer to Preston and only a couple of miles further away from Liverpool, but Wigan completely ignores the existence of them all, preferring life in its own separate bubble.
The typical Mancunian view of Wigan is that its streets are patrolled by rugby league-loving meatheads, obligatory fade haircuts etched onto their skulls and a Strongbow Dark Fruit in both hands. This is mainly because the only time most of us see a Wiganer is at The Printworks, Manchester's home of theme pubs, theme restaurants and theme nightclubs, where their triangular, muscle-bound appearance immediately sets them apart from us pear-shaped urban weaklings.
Of course, this can't be the full story. I've seen Stuart Maconie sporting plum coloured trousers on a tram, so any fears about stepping into a den of overt masculinity are surely misplaced. Then again, one of the first shops we pass on the short stroll to the bus station is selling all manner of protein supplements and whey powder, promising 'Weight Loss!' 'Weightlifting Weight Loss!' and 'Rugby League Weight Loss!'. I've no idea how those last two are supposed to work, so I think I'll just stick to Slimming World (6lbs down in three weeks, thanks for asking).
I catch myself humming 'Wig-Wam Bam' – the Black Lace version, no less – as we turn the corner onto Market Street. It's soon displaced by an even better tune: the bossa nova pre-set on a Casio mini keyboard. It's bleeping as loudly as it can beneath the scattergun crooning of a lady singing away in what I think is Greek, her bulbous skirt filling with air as she bobs her knees and rotates her hips in time with the beat. The beat in her head rather than the one on the keyword, but it's a beat, nonetheless. It's a hypnotic performance, and the only thing stopping me putting a quid into her velvet bag is that I've got no change.
A short passageway lined with brightly coloured circular artefacts dangling down from the ceiling leads to Wigan's newly renovated bus station. Re-opened in October 2018 after more than a year under wraps, it's an airy space with useful, simple departure boards for its 19 stands. At the bottom of its gentle slope, we can see a #10 boarding, and thanks to a lady frantically rifling through her purse for a misplaced ticket, we just about make it on in time, where a waspish West Highland Terrier yaps its disapproval. A trio of passengers are already upstairs. A woman in her early 20s is in a coat as white as the enamel on a toothpaste advert; a shaven headed man who has a pair of moles pushing their way through the stubble on the back of his neck; and a colossus with a grey beard, who judging by the spade he's got sticking out of a canvas bag, is either on his way to an allotment or to bury a body. Possibly even to bury a body on an allotment. I hear they're good for the soil.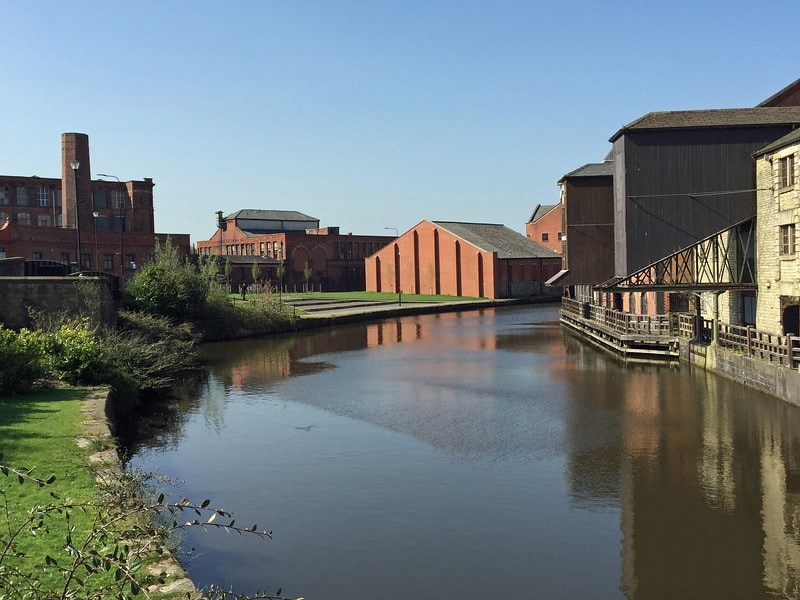 The bus wastes no time in cutting a swathe back to the train station – where a railway tour is setting off for North Korea next spring – putting us on the road to Wigan Pier. Never mind that there was never actually a pier here at all. That was dreamt up as an ironic jape in Victorian times about a jetty, used to transfer coal from the local colliery wagons onto barges which would head down the canal network to Liverpool, Manchester and beyond. Wigan Pier was an in-joke promulgated by George Formby Sr in the music halls, but its myth had spread so far that George Orwell was taken aback that it had 'been demolished' in his seminal tome which namechecks it from 1937.
Despite the black gold having long since been dispensed with, Wigan Pier does now actually exist. It's still not a pier, but a wharf complex with the usual luxury apartments which pop up like Japanese knotweed whenever a former industrial site near water comes up for redevelopment. It's also where Keep Britain Tidy is based, who for almost 60 years, have been imploring people not to be litterbugs.
Warrington Road isn't the most exciting stretch of dual carriageway as it slides south through Goose Green, so talk turns to Orla's current fitness drive.
"If I do 40,000 steps in a day, that's a marathon." she says.
"Is that while you're running or walking?" I reply, just as a series of unladen swallows swoop past at tremendous airspeed velocity.
"Both."
"That can't be right."
"It is."
"It can't be," I carry on, arguing the toss, albeit with a point for once. "Your stride length gets longer the faster you run; you'd do it in loads less steps than that if you went hell for leather."
"Well, I'm a vegan, so it'd have to be hell for pleather."
This bickering carries on until we are distracted by the Spirit of Wigan sculpture, rising above a roundabout on the outskirts of Bryn. Standing 10m tall and supposedly embodying the optimistic nature of Wiganers, the steel archway features a trio of figures representing the town's hard-working heritage, clambering to the structure's pinnacle and 'the future', i.e., call centres.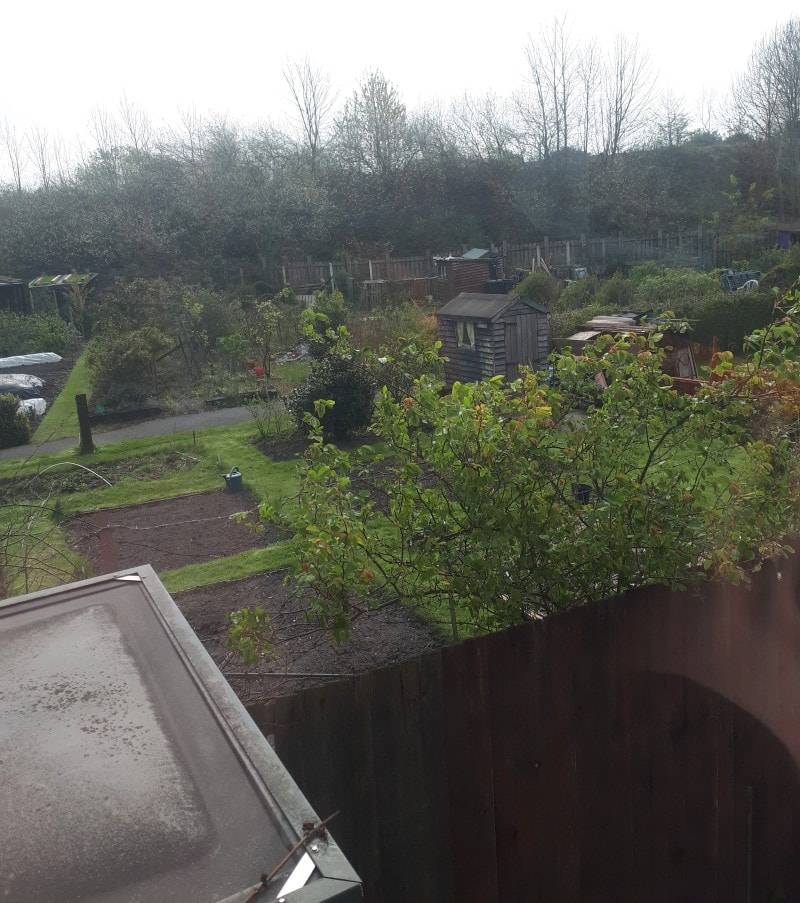 We reach Ashton-in-Makerfield, the terraced streets of which could've been grafted directly from Ashton-under-Lyne right on the opposite side of the conurbation. Their town centres are vastly different, though. Whereas the under-Lyne version is in the midst of a total facelift which has been ongoing for a couple of decades, its Makerfield cousin has a staunchly traditional high street with a fine line in puntastic business names. Hearty cap doffs to Inkjections Tattoo Studio and Ashtan Tanning Lounge, which face each other at the junction of Wigan and Bolton Roads.
It's along the latter where a mum and her two young lads, both under 5, get on and take up the front seats on their way to the cinema.

"Hello buzz." the eldest chirps with a wave to a number 10 heading back towards Wigan, his voice already locked squarely onto the local dialect. "Hello tractor. Hello cat." he squeaks in quick succession before his mum asks him to sit properly. We have some brief respite from the sprawl on our way to Golborne, where a row of grassy fields are whipped flat by gusts so strong that they look like they're coming from the downdraft of a celestial helicopter.
Golborne was the home of Thomas Blood, cartoon villain, brass-necked chancer and a self-styled colonel. Initially a Royalist, he switched allegiance to Oliver Cromwell's forces midway through the First English Civil War when he realised that he'd backed the wrong horse. After being exiled in what is now the Netherlands and his native Ireland for a decade after the Restoration in 1660, he set his sights on planning the ultimate heist: stealing The Crown Jewels.
After befriending the Master of the Jewel House at the Tower of London, he managed to elicit an invite for a private viewing of them for him and a couple of members of his 'family' on May 9th, 1671. The 77-year-old jewel keeper was gagged and beaten up, but managed to free himself as the thieves were making their escape. The alarm was raised, with the rogues apprehended before they could slip beyond the Tower's gates. Under normal circumstances, Blood and his accomplices would have had their heads on spikes over the Thames within hours, but he refused to talk to anyone other than the King himself. Amused by the audacity of the attempt, Charles II held an audience with Blood, and not only spared his life, but gave a full pardon to all involved and even awarded him land back in Ireland.
He became a regular face around the royal court, but was so distrusted that his body was exhumed after his death in the summer of 1680, to make sure that he hadn't hoodwinked the authorities in order to escape the significant debts that he'd accrued. The poem on his gravestone didn't exactly reflect on his better nature:
Here lies the man who boldly hath run through
More villainies than England ever knew;
And ne'er to any friend he had was true.
Here let him then by all unpitied lie,
And let's rejoice his time was come to die.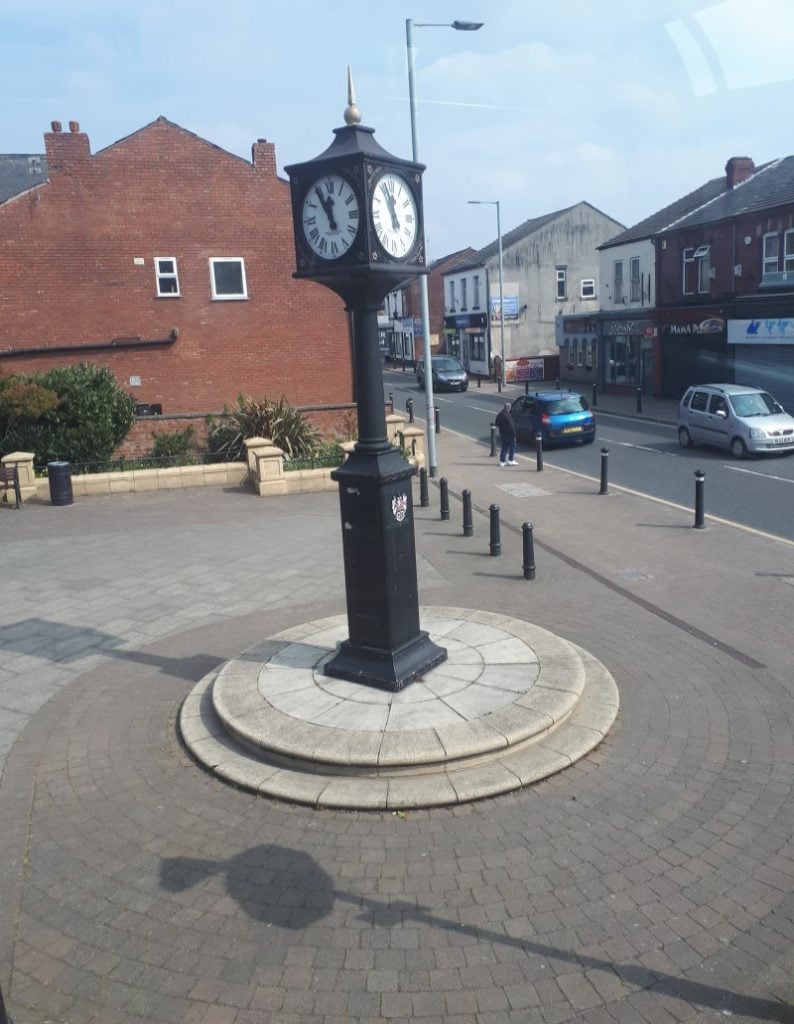 The bus carries on through neighbouring Lowton, where a couple of houses are up for sale by HMP Estate Agents. It's an abbreviation of Hatton Munro & Partners (their lack of comma, not mine), and while MHP might not trip off the tongue quite as well, at least there are no prison connotations with it. The top deck is busy as we approach Leigh, where the welcome sign says: 'Leigh, Home of Leigh Centurions and Super League Rugby'. As they were relegated from the competition in 2017, it really could do with updating.
After hearing grim tales about Leigh over the years, our path into town is surprisingly pleasant, with mature sycamores and gigantic gabled homes lining the road either side of Pennington Park. It doesn't last, as we hear a commotion as soon as we are deposited in the bus station a couple of minutes later.
"That's racial abuse what you've just done." an official says to a snarling woman, gesticulating towards a newsagent.
"No, it's not," she rants back, grabbing at a piece of hair which has come loose from her ponytail. "What've I said?"
"You called that gentleman the 'P'-word."
"He is, though."
It's not the best of welcomes.
The rest of the centre proves to be much friendlier, but not to my belly. Predominantly made up of a long shopping street, Bradshawgate, all I can see in these early days of my diet are bakeries and pie shops in an area renowned for this type of carb overload cuisine. It's my own fault for coming here, really.
"Are you sure you don't want anything." Orla asks as she disappears into a Pound Bakery.
"I want all of it." I whisper, as my thoughts drift off to the Wigan Kebab (i.e., a pie butty) that I'm daydreaming about.