Route: 11A, Stockport to Altrincham
Operator: Stagecoach
Frequency: Hourly
Time: ~50 minutes
Cost: £5.30, Day Rider
Date of Trip: 29/4/22
You Know It Is, It Really Is: Ian & El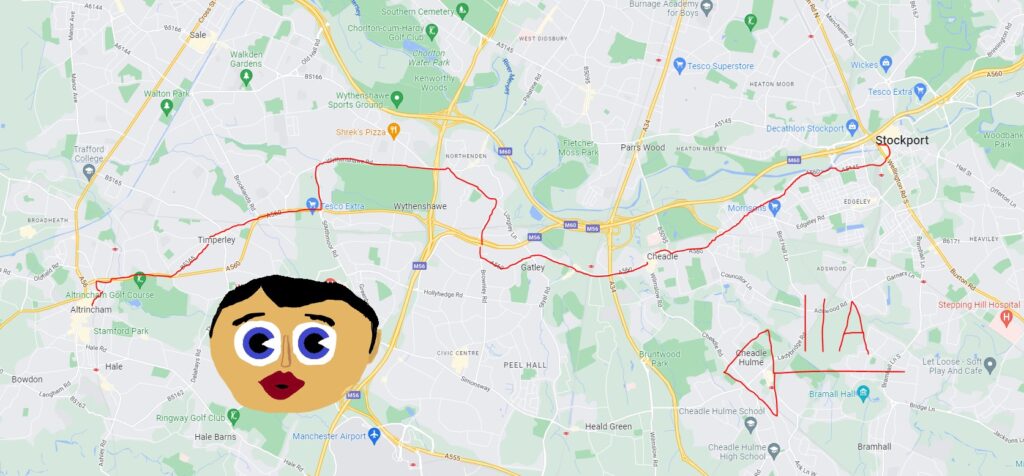 Stockport is aglow this morning. A cacophony of light glints back from a southbound train as it crosses the town's viaduct. Painted by Lowry, loved by all, it's been an indelible symbol of home to Stopfordians for over 180 years.
Although the sun has its hat on, most people milling around Merseyway are still in their coats, with shades perched atop foreheads ready to battle the rays as the clock ticks upwards. On board the 11A, most commuters flick their phones and Kindles to life, while one woman shakes her head at a desolate tuna baguette that's destined to remain half-eaten. Cut with a miserly squidge of mayo without even a shard of iceberg to liven it up, it has the look of the last butty in the shop. An oh-no-I'm-gonna-miss-the-bus-just-grab-anything buy. As we've not even reached 9am, I dread to think how barren the ones she rejected must've been.
We zip down the slope of Exchange Street, passing the Garrick Theatre. It's the eldest of all the UK's amateur theatres, and despite the clunky '60s façade, it's been on the same site for more than a century. A little further on, a more recent addition is the Stockport Pyramid. A mere three decade-old sapling, it's Greater Manchester's most bizarre corporate building. This glass ziggurat should've been one of five along the River Mersey – a Valley of the Hatters, if you will – but the developers went bust after the first, defaulting it into the possession of the Cooperative Bank.
The Co-op, however, couldn't persuade any companies to move into what Mayan, Aztec and ancient Egyptian cultures built as elaborate tombs with a view. So, after lying empty for three years, they decamped there themselves in 1995. A Saudi group stumped up around £4.5m for it in 2019, although the 'Iconic Office HQ Building to Let' sign in a font that's almost a storey high suggests they're not having much luck filling it, either.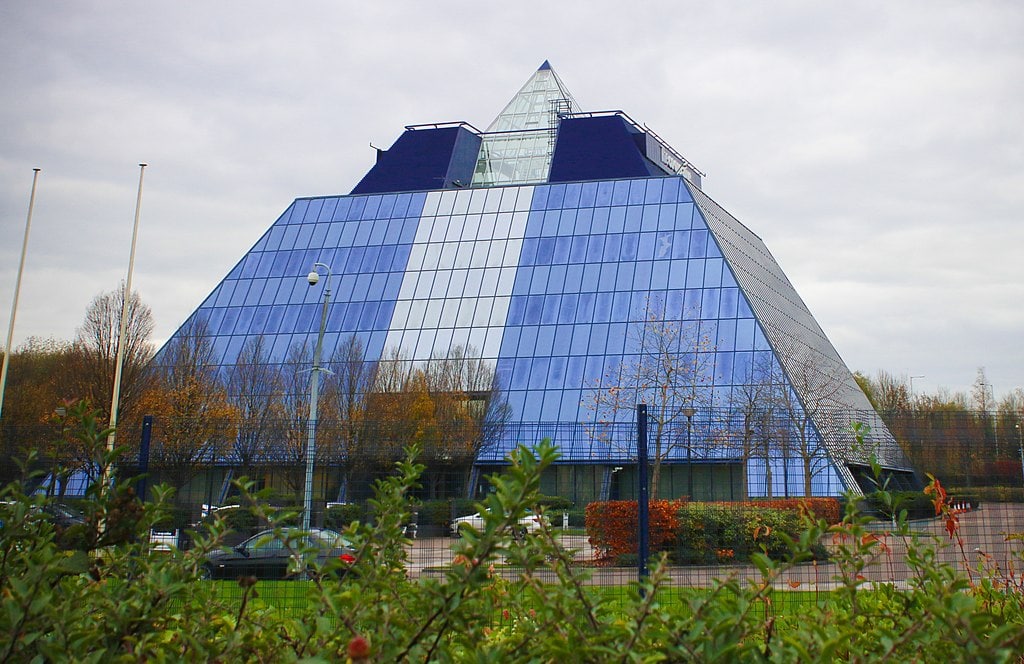 Over the way from the Pyramid and the skeleton of the Woolpack pub, a cleaner in a tabard awaits her bus, the Henry hoover at her feet too cumbersome to slog up the hill to Edgeley. We press on through Cheadle Heath, past a succession of old print works, and into Cheadle itself, where we eschew the turning for Cheadle Town FC.
Although Manchester United and, latterly, Manchester City are regulars on the European stage, Cheadle, who play in the 10th tier of English football, have racked up almost as many air miles as their illustrious neighbours.
They've played against seven national teams, including being the only British side to take on Cuba. Apparently, Fidel Castro became an admirer. They've faced Cruz Azul in front of 65,000 supporters at the Azteca Stadium in Mexico City, hosted a Jairzinho soccer school, while a pre-season friendly against Steaua Bucharest somehow led to a match against Russia's U19s. As the first team had played the day before, Town sent their own youngsters out, even though they had a match themselves that same morning, and were wellied 0-22.
'I pulled off a few good saves, maybe some world class ones,' goalkeeper Steve Piggott told The Independent, one of the few senior players in the squad. 'I probably kept the score under the 30s'.
The chunky wooden chainsaw sculpture on Cheadle village green is of Scotch Bob. He was a Robbie Burns-quoting horse-drawn bus driver – real name James Telford – who moved to the area from Canonbie in what was then Dumfriesshire in the 1870s. It's a rare statue of a non-dignitary, just a local hero who drove the same route to Didsbury from his adopted hometown every day for the thick end of 40 years. It's fitting that there's a Telford's bus company based close to where he grew up in the Debatable Lands; there's a decent chance it's run by a distant relative.
His old house, at the far end of Cheadle's main row of busy neighbourhood restaurants and tidy terraced shops, is now a chartered accountant. The road between it and Gatley is archetypal suburbia, semi- and detached houses with the last browning remnants of magnolia flowers defying the gusts that try to dislodge them groundward. Even the apple and cherry blossoms that are in full burst will graffiti the pavements with their confetti by the end of next week.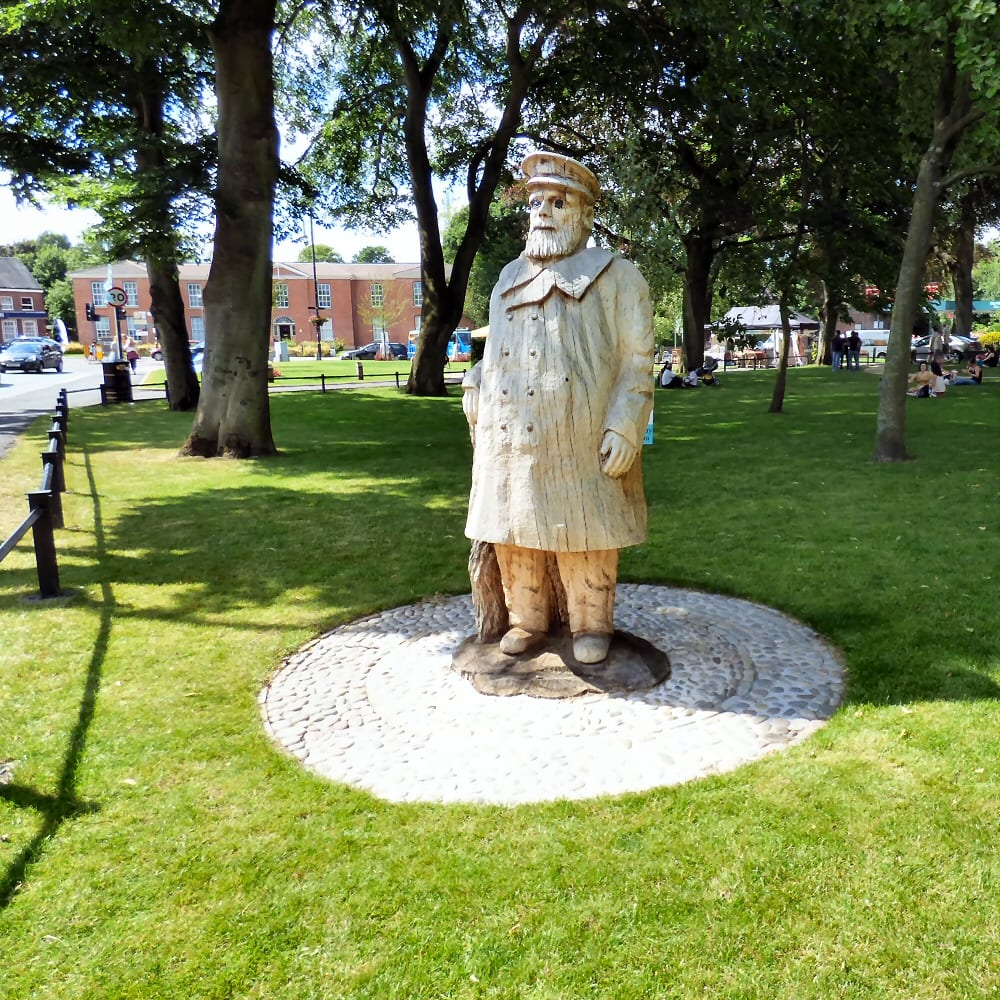 The bus stops at a timing point outside Gatley Memorial Park for a moment, where figurines hold hands and roses canter around its wrought iron archway. It leads to a calm slither of greenery between a carpark and a row of takeaways. That's not to say Gatley is in any way grim. It's one of the swisher parts of Stockport, an outer tendril of the Cheshire set's hangouts, but one they'd only use if they couldn't book a table in Wilmslow or Alderley Edge, and they were down to their last million.
The gearchange over the Manchester border into Wythenshawe isn't as clanging as it used to be. The largest council estate in Europe when it was first built during the inter-war years, these days you're more likely to find executive homes on its outer reaches than those with corrugated metal roofs. Besides, those 250 or-so 'tin town' houses are on the other side of Wythenshawe in Newall Green, and this is a mundane run through what looks like a mundane part of town.
We're whisked through the middle of Sharston Industrial Area. It has big hitters like Travis Perkins, Screwfix, and Stagecoach to the right, and smaller firms — Longley Lane Carpets, AM Ingredients, and Pinder Blades, who've been churning out industrial blades for over 200 years and even had a display at the Great Exhibition in 1851 — lined up to the left.
Industrial estates are great. They're high streets for things the public needs but doesn't want to see, hear, or smell. An infinite number of widgets and parts and supplies emerge from these exiled units, and while you'd struggle to call them beautiful, they're at least interesting. There's always a firm you'd never think of. One you never thought could even exist. We stumbled across somewhere that buys and sells used workshop tools from schools the other week, which is just about as niche as it's possible to be, but these obscure ventures all have a home on your nearest industrial estate.
Our connection time in Altrincham is a slender eight minutes, so the traffic jam as we reach Northenden sets the nerves jangling. Still, we're treated to watching a magpie dissect a worm while we wait, slicing off segments as it yanks the poor critter from a communal lawn. It turns out the queue is because workmen are cleaning away dead pigeons from beneath one of the motorway bridges that help cleave Wythenshawe into neat quarters. Why that'd need a row of cones and temporary traffic lights, I don't know, but it puts our plans for getting to Warrington in jeopardy. By the time we're past the guy jabbing at nests with a broom, we're running almost ten minutes late.
A gingerbread cottage gatehouse guards the entrance to the wide expanse of Wythenshawe Park. There's a BMX track in the final stages of construction, with big jumps and tight berms that look like the insides of conch shells. The streets around Moor Road tram stop look like how outsiders expect Wythenshawe to look: squat council houses and flats looking out onto petrol stations, big box stores and anonymous offices. Tesco, Aldi and Lidl face each other across another junction as we rejoin Altrincham Road.
The verges on this stretch are running riot. Or perhaps the knee-length grass, dandelions and occasional patch of bluebells are being left to rewild. Either way, Trafford Council has other ideas to – or more funds available than – their Manchester counterparts, with the greenery sculpted again as soon as we cross into Timperley.
It's all change as we reach the main drag, too, with the last of the original passengers swapping seats with shoppers heading the last couple of miles into Alty. A group of four old ladies take up residence in the front seats, with the most senior and shortest among them talking in an incredible polyphonic voice. Squeaky yet gruff, she's part way between Betty Boop and Phyllis from Coronation Street.
Timperley's most famous son is Frank Sidebottom. There's a statue of Chris Sievey's creation right by the crossroads, giving a thumbs-up to those having a brew in Costa. It even has a faithful full-colour recreation of his papier mâché head.
As with Mark E. Smith of The Fall, Frank is easy to imitate in passing but remains inimitable. His delivery, his absurdity, his sheer existence. The head was pretty much the least remarkable thing about him. Pre-Frank, Chris released the world's first computer game and music video on vinyl. True, the player had to copy the screeching sound of BASIC code to tape, then hope nothing had gone wrong before playing it back on a ZX Spectrum, but it was ingenious.
Frank's universe would be the ultimate setting for an RPG. I'm not interested in high fantasy. Dungeons look like the types of place you could pick up a bronchial infection, and I'm in the camp that says we should leave dragons and orcs to their own devices. However, a world where you do the shopping for your mum, take Timperley Big Shorts to the Altrincham & District League Cup Final, and go for a fully clothed shower at Mike Joyce's house would be incredible. Trying to keep Little Frank out of trouble even though you are Little Frank would plumb Inception depths of meta.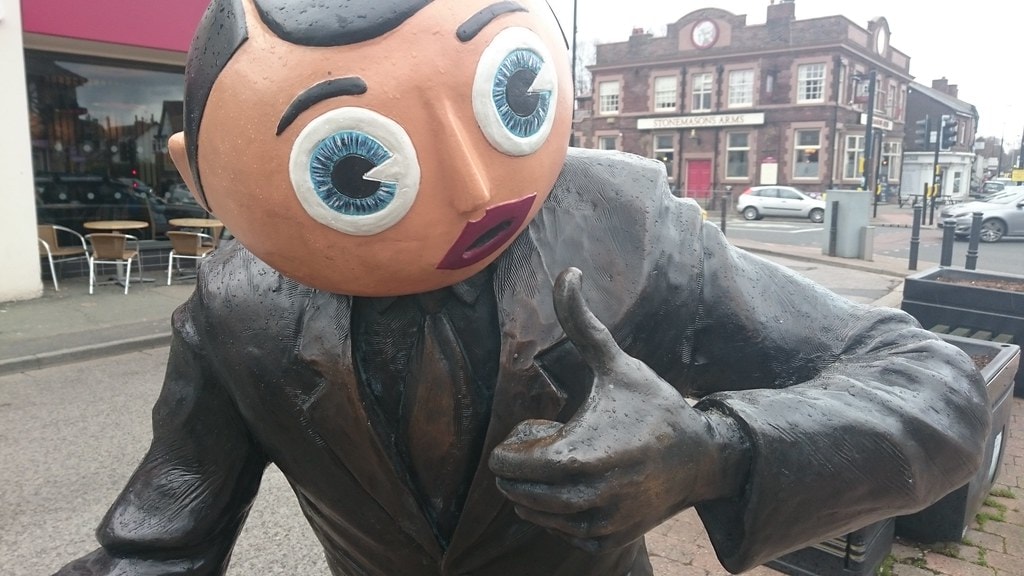 Back to the bus, and the driver has scorched his way towards Altrincham. Whisper it, but we might just make this. We pull into the interchange with two minutes to spare before the Cat5 leaves for Warrington. If it doesn't leave early, we'll be alright. We can see it 50 yards away.
Except there's someone in Paddington trousers who must've heard our frantic time checks and is hellbent on sabotage. Never mind the 'like a zip' method of merging queues. She insists that everyone apart from us disembark ahead of her. As most of the other passengers have renewed their bus pass at least a dozen times, it's a painful shuffle to the front doors, where the driver lends a steady hand in easing them back to terra firma.
Of course, Paddington stops to chat to the driver right where we're trying to jump off. Of course she does. There's nothing left for it. We'll have to say an apologetic 'excuse me'. She moves a fraction of an inch, the bare minimum, and we squeeze past to begin our sprint-walk for the next bus.
The next 20 seconds are the longest of either of our lives. It's either catch this bus or wait an entire half an hour for the 5A. It doesn't bear thinking about.
We make it. Just.
'Don't worry,' the driver of the Cat5 says. 'I saw you waving your arms from all the way back there. What would you like?'
'Two day tickets, please.' I say between heaves.
'That's £11.90, thanks. Go and catch your breath.'
And with that, he closes the doors and pulls away. Warrington, here we come.