Route: Cat5, Altrincham to Warrington
Operator: Warrington's Own Buses
Timetable: Hourly (every 30 minutes if including the 5A)
Time: ~1 hour 10 minutes
Cost: £5.95 Day Rider
Date of Trip: 29/4/22
Out on a Lymm: Ian & El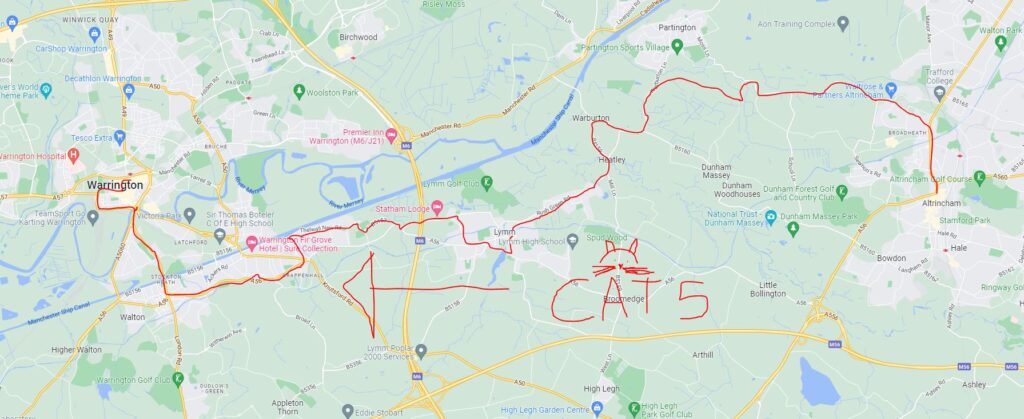 'Ooooh, check this out, El,' I say, flicking my reading light on and off. It comes as part of a mini travel kit of sorts, with a USB port, clothes peg, and a Stop button all built into the back of each chair on the Cat5.
There's also a mystery dog bone shaped hatch that pulls open, only to snap shut the millisecond you let go with the force of a hammer thrower jumping onto a rake. Braving instant digit amputation, a previous passenger has jammed a couple of sweet wrappers inside its spring-loaded cavity. Although we're both sure it's not a tiny bin, we can't fathom what it's for.
'Maybe it's a phone holder?' El ventures, but isn't willing to test it on her own lest the screen shatters and rare-earth elements explode all over the bus.
They haven't cribbed the interior layout from the usual bus template, either. The back seat is one continuous horseshoe curve, like a booth in a small-town nightclub. It'd be perfect for an MTV Unplugged gig or a mobile seance.
While we're fiddling with our in-seat gadgets, the bus cuts through the retail parks at Altrincham's northern fringe and flings us into the countryside. Wispy wheat seedlings are busy taking their first formative gulps of sunlight, their green blades not much longer than the grass over the road at Manchester United's Carrington training ground. As it's screened away behind a hefty smock of trees, the sole clue to the complex being there at all is a foreboding sign by its narrow turn-off, asking fans not to hang about the junction or mither players for their autographs. There's nobody other than us to read it as we pass.
Zipping through the miles of almost unbroken fields and hedgerows is restorative. A photosynthesis for the soul. Horses and Jersey cows commingle between farms that aren't just neat and tidy, but are straight out of the pages of Beautiful Farmhouse & Barn Conversion Monthly.
We're soon upon Warburton, with the centre of the village marked by an ancient set of stocks. That they can still clamp drunkards by the ankles is thanks to restoration work at the turn of the 20th century by the tremendously named Mr Barrf. It's not known whether he was a corporal punishment enthusiast or just had a larder of rotting veg he needed to get rid of.
Just out of sight is a pair of churches dedicated to St Werburgh. A medieval princess-turned-nun, the miracles that put her on the path to canonisation have an unusual reliance upon geese. There are many astonishing Anatidae tales, including how she commanded a rowdy gaggle of geese to leave a field in Weedon, Northamptonshire, never to return.
The Vatican has somewhat raised the bar for what it considers a miracle these days. Almost all cases are for hopeless medical situations where someone has 'interceded with God' – prayed – with the patient making a full recovery. This then needs to pass the scrutiny of a medical board, who tests whether each incident has a valid scientific explanation. If two-thirds of them conclude that there's no earthly reason for the healing, then they might have a bona fide miracle on their hands.
In fact, candidates need two miraculous events to qualify for sainthood, which is quite the KPI to meet for the average nun or parish priest. Managing a paltry single miracle earns them a beatification, the 'Blessed' epithet, and a team of people hunting for more perplexing remissions on their behalf to elevate them to the top table.
Werbergh is the patron saint of Chester, where we're heading in a couple of buses' time. She's credited with saving the city from siege and conflagration at the hands of the Welsh, which, considering she was a few centuries dead by then, is an incredible achievement.
We cross the River Bollin into Cheshire, where a French restaurant is a non-too subtle hint that we've entered a moneyed part of the world. Twenty years ago, Lymm became the first place in the UK outside London to have an average house price of over £200,000. You'd struggle to buy a Wendy house here for that now, as the cost marches unhindered towards the half a million-pound mark. Aside from the occasional wisteria-swaddled cottage, its linear outskirts don't come close to passing the chocolate box test. True, there's not a tufty lawn or straggly bush in a single garden, but neither is there a glut of mansions to skew the figures.
The centre of the village, though, which makes an abrupt appearance as we crest a humpback bridge over the Bridgewater Canal, is vintage bucolic Cheshire. Georgian terraces cascade downhill towards a panoply of Grade II-Listed buildings beside a small dam and the dreamy, elongated pond it forms. Constable's easel would be a blur of green and white. Pointing towards a surfeit of local disposable income, around half the shops are restaurants, pubs, or hairdressers, but at least it shows Lymm's heart is still pumping after the past couple of torrid years.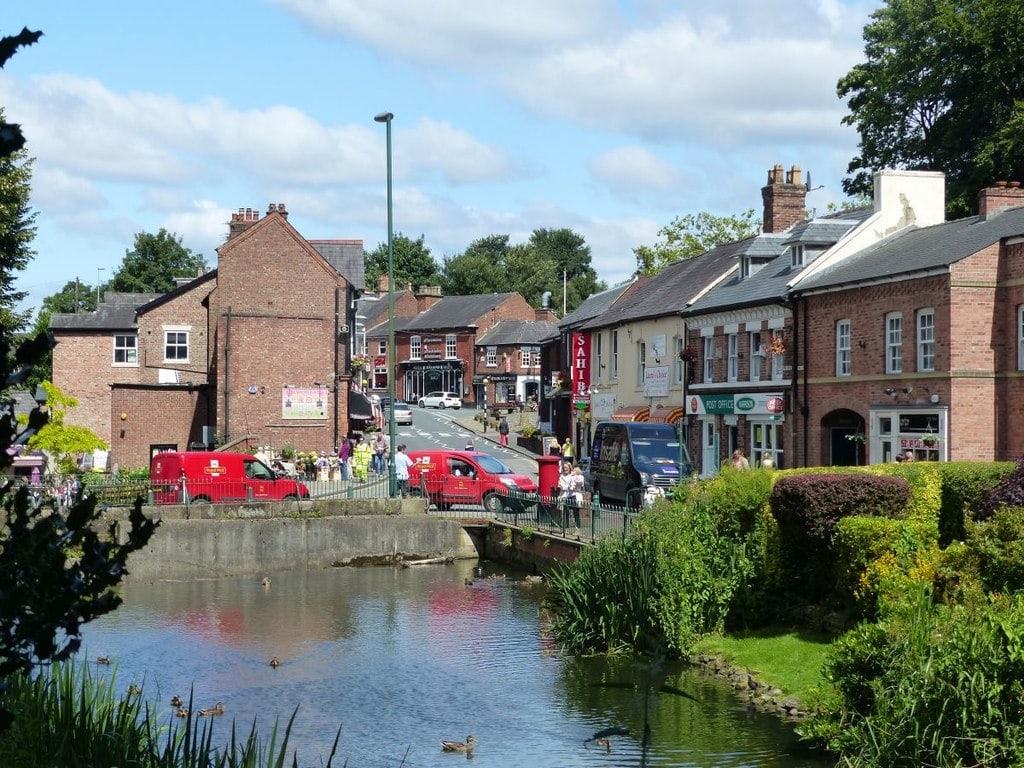 Fresh company arrives by Lymm Cross and up by the main dam, where a group of pigeons soak up the mid-morning rays on a wooden pontoon. One of the new passengers, dressed in black-and-white work gear, is lost in music. Judging by their gesticulations, silently mouthed lyrics, and metronomic swishes of their ponytail, it's hip-hop that's being pumped into their enormous headphones. This morphs into metal with voracious air drumming once the bus pelts beneath Thelwall Viaduct. A fixture on traffic bulletins, this double bridge carries the M6 above, and affords enough shade for a miniature bluebell wood to thrive in its twin shadow.
The introduction to Thelwall itself couldn't be any prettier. The Manor House and Pickering Arms pubs look like cosy places for a winter's pint, while the old Post Office – which used to have a mouthy parrot telling customers to put wood in th'ole – complete with red front door and matching red phone box, evokes an idealised past that never existed for most urbanites. It's stunning for around half a mile until we come to modern Thelwall. It could be absolutely anywhere; it just so happens to be a suburb of Warrington. Keeping the parrot theme going, though, there's a house with a model macaw on top of its garage.
The mere sight of the rusting skeleton of the Latchford Viaduct is enough to frighten the bus from its brief foray alongside the Manchester Ship Canal and uphill into Grappenhall. Carrying what used to be a railway line from Stockport, the bridge last saw a train in the mid-80s. Most of the old track bed is now part of the Trans Pennine Trail, which runs from Southport to Hornsea, but the authorities have allowed this final couple of miles into Warrington to go to seed. Plans are afoot now to revive it. Maybe a tram, perhaps a busway, but one local councillor said, "No change is not going to be an option."
Almost every house as we come to Stockton Heath has its own design. Even the semis, rarely noted for their individualism, have subtle differences from their neighbours; a mullioned bay window here, a decorative overhang there, living rooms shaped like bisected hexagons. What a strange conglomeration. As with Lymm, it's another hub of coffee and carbs, and the addition of a Rudy's outpost means a return visit for pizza might just be on the cards.
The Cat5 glides along Wilderspool Causeway, past its chequerboard brick houses and their ornate windows, picking up enough college kids to mean we're at seating capacity. This busyness doesn't distract the air drummer, who is gurning and pounding away like they're at their very own portable silent disco. By the time we cross the River Mersey into the town centre, I'm pretty sure they're listening to Slipknot's first album.
Their rhythmic clattering it the optimal soundtrack as Bank Quay station comes into view. What used to be a gargantuan washing powder factory overlooks it (it closed in 2020), the exterior painted blue with what looks like an upturned kitchen funnel claiming its highest point. Five cylindrical silos daubed in 'BIFF! BANG! BOW!' comic-style symbols stand to the side, making the entire edifice look like the Button Moon set as done by Ridley Scott.
We touch down at Warrington bus station a couple of minutes later. The air drummer continues thrashing away, and I make a vow to dust off my own air drum kit more often. Not just yet, though. We're heading to Northwich.