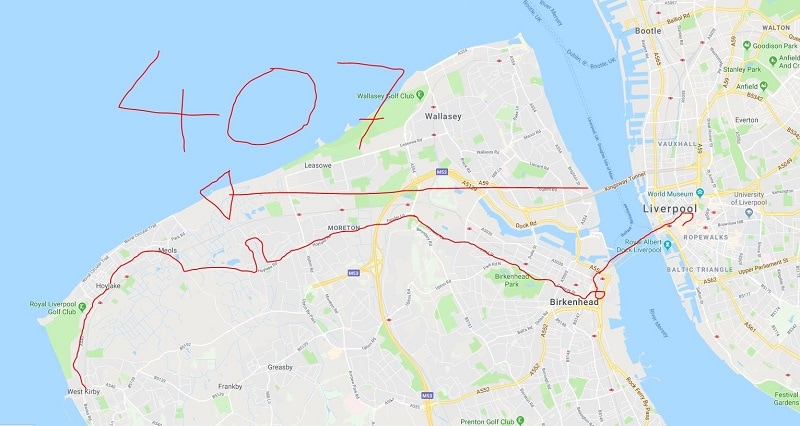 Route: 407, Liverpool to West Kirby
Operator: Arriva
Timetable: Every 20 minutes (Mon-Sat). No Sunday service.
Time: ~55 minutes
Cost: £4.80 Solo Day Ticket
Date of Trip: 23/3/19
Busamaniacs: Ian & Eleanor
It's the spring of 2005 and I'm in a taxi in Penzance. We are driving across the swing bridge over the harbour when the driver turns his head towards me and says:
"So, are you a red or a blue?"
"A blue, definitely a blue." I reply, my full conversion to non-league football still a few years off.
"Oh, good for you. David Moyes is doing a great job, isn't he?"
Yes, I'd just been mistaken for an Everton fan, and therefore, a scouser. It was one of the worst moments of my life.
Towns, cities, regions and countries all across the world have rivalries which spring up naturally, so the apparent bad blood between Manchester and Liverpool is by no means special or unique. Two predominantly working class cities separated by the Cheshire Plain and 40 miles of the M62, but linked by the River Mersey and the Manchester Ship Canal, these North West siblings have always eyed each other up with suspicion.
Perhaps it's because being a Mancunian or a Liverpudlian is such a strong part of the local identity that neither can countenance the idea that the other place might be just as good as their home turf. It's a tiny sample size, but illustrates the point that I only know one person from Liverpool who lives in Manchester, yet I've got six friends from Shrewsbury who have settled here.
I've never met a Mancunian who has chosen to live at the western end of the motorway, either, but one very good reason for that is because Liverpool is always freezing.
It doesn't matter what time of year you visit, there'll always be an icy blast being funnelled up from the docks to redden the skin on your nose. Today is no different, and while I had to take my hat off and unzip my coat in the balmy conditions back home, I'm bundled up like a new born as soon as we step outside of Lime Street Station's warm embrace.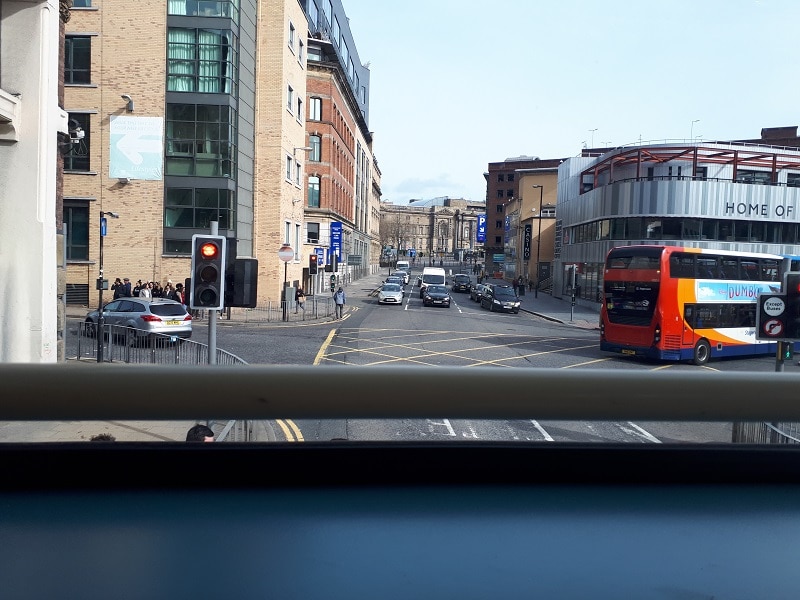 Liverpool isn't a city which hides its heroes away in a dusty photograph album at the back of a wardrobe. Aside from the all-pervasive presence of The Beatles – it's as if there's a mass denial that they split up 50 years ago – we pass a couple of other iconic names on the way to our bus stop.
Bill Shankly, the formidable Liverpool manager who put the club on the path to domestic and European domination, and Everton's record goal scorer, Dixie Dean, who bagged 383 times for The Toffees both have grand hotels named after them on Victoria Street. The latter is due to open imminently, "commemorating the life of Dixie both on and off the pitch with a luxury hotel."
As a former apprentice fitter on the railways who honed his football prowess by hoofing rats while working night shifts, I'm sure it's what he would've wanted.
We pass by them both again a few minutes later from the comfort of the top deck of the 407. We get to the stop just as the bus pulls in, but as we didn't pass any cash machines on the walk down and Arriva still don't take card payments here, it's just as well Eleanor has a tenner on her to buy us a couple of day tickets.
After weaving our way through the light Saturday morning traffic which consists almost entirely of other buses, we turn left and descend into the Mersey Tunnel. Or, more accurately, the Queensway Tunnel.
There are actually three tunnels which burrow beneath the Mersey. The original one, opened in 1886 is dedicated to trains, while the youngest of the trio, the Kingsway Tunnel (1971) heads to Wallasey on the north eastern tip of the Wirral. Ours dates from 1934 and is bound for Birkenhead.
It's immediately obvious that normal traffic laws don't apply in these subterranean depths. It's the only place I've ever seen cars stick strictly to the 30mph speed limit and gaps the length of a bowling lane are fastidiously maintained between vehicles. There's not a whiff of dissent, or indeed, faecal matter, which you'll be pleased to know is banned from entry, alongside wheelbarrows and uncovered hay.
If you were considering taking a wheelbarrow full of loose hay or sileage on the two mile jaunt, you'd doubtless be stopped in your single wheel tracks by the Mersey Tunnel Police. A private constabulary of 51 officers, it is owned by Merseytravel rather than being under the jurisdiction of the Home Office. They are responsible for enforcing bylaws which carry a maximum penalty of £1,000, so don't even think about doing something as heinous as changing lanes down here.
Being in the Tunnel is strangely disorientating. Although you know that you must be heading either up or downhill, the numerous bends of this tubular road help to serve up optical illusions so that it feels like you're somehow doing both at once.
It's a slow trundle through to the other side, and once we emerge back into natural light, we're on the edges of downtown Birkenhead, where the Belfast ferry fleetingly reveals itself at the end of the street. It's an incongruous sight, looming large above the tight backstreets around Hamilton Square. Every row has a former pub on it, many with the original red or green tiles aching to be restored to their Victorian glory days by someone with an enterprising spirit and unusually deep pockets.
The drooping façade of The Copperfield, which served its last pint in 2010, faces the site of Henry Tate's first grocery shop. The future sugar magnate opened it at 42 Hamilton Street in 1839 aged just 20, and set him on the path to making his millions. To quote J-Lo, Tate stayed humble as the amounts rolled in, anonymously donating huge sums to public libraries, schools, universities, and £20,000 to help set up one of the UK's first homeopathic hospitals in Liverpool.
It closed its doors in 1976, and despite homeopathy being exhaustively debunked, amazingly the NHS still has one final homeopathy hospital standing in Glasgow, which doles out sugar pills at the cost of £1.7m per year.
Henry Tate is also who the various Tate institutions are named after. He offered his collection to kickstart the National Gallery of British Art in 1897, a couple of years before his death, with it eventually being given its early benefactor's name in 1932.
As if all that wasn't enough, he also has a Wetherspoons named after him in Chorley.

Birkenhead bus station, decked out in Merseytravel's ubiquitous yellow trim, is modern, tidy, and within easy stumbling distance from a trio of gaudy nightclubs which occupy the old Post Office building over the road. I've not been to a club in well over a decade, but I'm an old duffer in my late 30s and Jagerbombs give me heartburn. So, I'll leave The Beach, Peachez and Marbella Mambo to those with a more robust constitution and higher tolerance for 80s pop.
The 407 presses on past Birkenhead Park, the world's first park developed entirely by public funds. It was designed by our old pal Joseph Paxton (he of the Cavendish banana fame), and would later serve as the inspiration for New York's Central Park. The preposterous main gate, complete with three separate archways, balustrades and a set of Ionic columns looks like it has been transplanted from Horse Guard's Parade. Even better, it was dreamt up by an architect called Lewis Hornblower.
Park Road North morphs into Laird Street, where what must be the tiniest KFC on the planet roughly marks the spot where Dixie Dean was born. St James Church, a few yards up the road, marks the spot where he is buried.

Bill Shankly spoke at his funeral, saying "Dixie Dean dead could draw a bigger crowd than today's Everton, alive."
We are skirting a couple of miles inland from the Wirral's northern coast, with this flat expanse barely hinting at the surprisingly hilly hinterland further south. Moreton flashes by with a mishmash of stores which alternate between flat and pitched roofs; the Coach & Horses pub adds to the muddle with its mock Tudor manor house stylings. A downright weird confection cobbled together by a local brewery in the 1920s to replace its more modest predecessor, it now shares much of its original floor space with a pet shop.
The bus takes a right down the optimistically named Bermuda Road, where four Henry hoovers have been pressed into footwell cleaning duties, and whitewashed bungalows with pebbled front yards hint at the seaside fun still ahead of us.
Hoylake Road provides the bus with an unexpected obstacle course as we make our way towards Meols. Dozens of mature trees have their branches clattered at full pelt as we clank through them, our heads leaning away from the front seat glass which seems in imminent danger of being breached.
This is completely new territory for us, and rather than being just another identikit suburb, Meols (pronounced 'Melz'), is festooned with outrageous houses. There's an alpine chateau here, a Rapunzel turret there, and a home with a stucco battle scene plastered above the first floor windows.
We finally have some company upstairs now, too, a man in his 60s with his two grandsons, the latter of which screech towards the empty front seats across the aisle from us.
"Right," the eldest, who's about 7 years old says to his younger sibling as they sit down, "if you see a dog, you have to say 'doggy doo', and if you see a bird, you got to say…hahaha…you've got to say 'birdy poo'!"
"Hahahahahahahahah!!!"
"HAHAHAHAHAHAHAHAHA!!!!!"
"HAHAHAHAHAHAHAHAHAHAHAHAHAHAHAHA!!!!!!!"
That they see neither takes some doing, as the road to Hoylake is riddled with Wirralians taking their trusty hounds for a walk, as well as birds hopping all over expansive gardens which are longer than our street. Even the street furniture is immaculate here, with carefully sculpted metal ropes wrapped around benches, bollards and bike stands everywhere you look.
On the final run into West Kirby, we pass Hoylake's golf course, or the Royal Liverpool Golf Club to give it its Sunday name. It's the second oldest links in England (after the one at Westward Ho!), where Tiger Woods and Rory McIlroy claimed the Claret Jug on the two most recent times it has hosted The Open. Its famous dunes overlook the Dee estuary and Irish Sea, of which we finally get our first glimpse a couple of minutes before reaching our destination.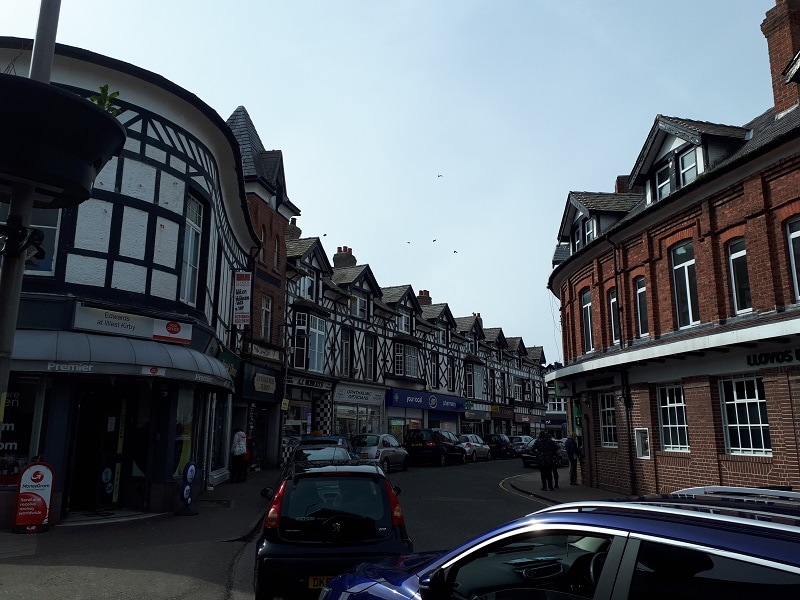 Bundled out besides the railway station in the town centre, West Kirby is a fantastic place to explore. Mediterranean café culture has been embraced by the residents, with outside tables all full in the eateries which are sheltered from the prevailing winds. As we've only got an hour, Eleanor goes on the hunt for a bakery and comes out of Sayers with a pair of sausage rolls under her arm, 'forgetting' that I don't like them.
After taking in the sights of the covered shopping parades, we head for the prom. Windsurfers are out in force, their sails glinting in the midday sun and reflecting off a tide so high that the Sailing Centre car park is partially flooded. This also puts paid to our plans for having a wander around the marine lake, its outer wall fully submerged and acting as a twice daily breakwater.
Wales is directly in front of us, its green hills gathering in height the further back you look, while Hilbre Island is cut off from the mainland a couple of miles north west. It is accessible at low tide by a circuitous route which avoids the deep channels and shifting sands of the more direct passage, but we've got no chance of getting there today.
The front is flecked with seaweed and other washed up flotsam. We grab a bench, and under the eager gaze of dozens of seagulls, El bravely breaks out the sausage rolls.
"Are you sure you don't want one, Gingerface?" she asks, knowing full well what the answer will be.
"I don't like them-uh." I grumble back, almost stomping my feet in the process.
"Suit yourself." She says, before tucking into the first one, which sends a cascade of flaky pastry remnants downwind, settling onto my coat like salty dandruff.
"Fine, I will. Can I just have a little bite, though…?"
With a tut, El offers me a nibble and I instantly wish I'd not bothered. It's claggy, greasy and pretty much the worst sausage roll I've ever had a jealous bite of.
"Well?" she asks.
"It's horrible." I reply, scrunching up my face and trying to scrape the remains off the roof of my mouth with my tongue.
"I knew you'd say that."
"Can I have another bite, please?"
In my defence, I'd had no breakfast and it's a long old slog on our next bus to Chester.