Route: 70a, Shrewsbury to Oswestry
Operator: Arriva
Timetable: Hourly (Mon-Sat); no Sunday service [the #70 is every 30 minutes on a similar route, also with no Sunday service]
Time: ~50m
Cost: £6.30 West Midlands Day Ticket
Date of Trip: 29/6/19
Face the Strange: Ian & Eleanor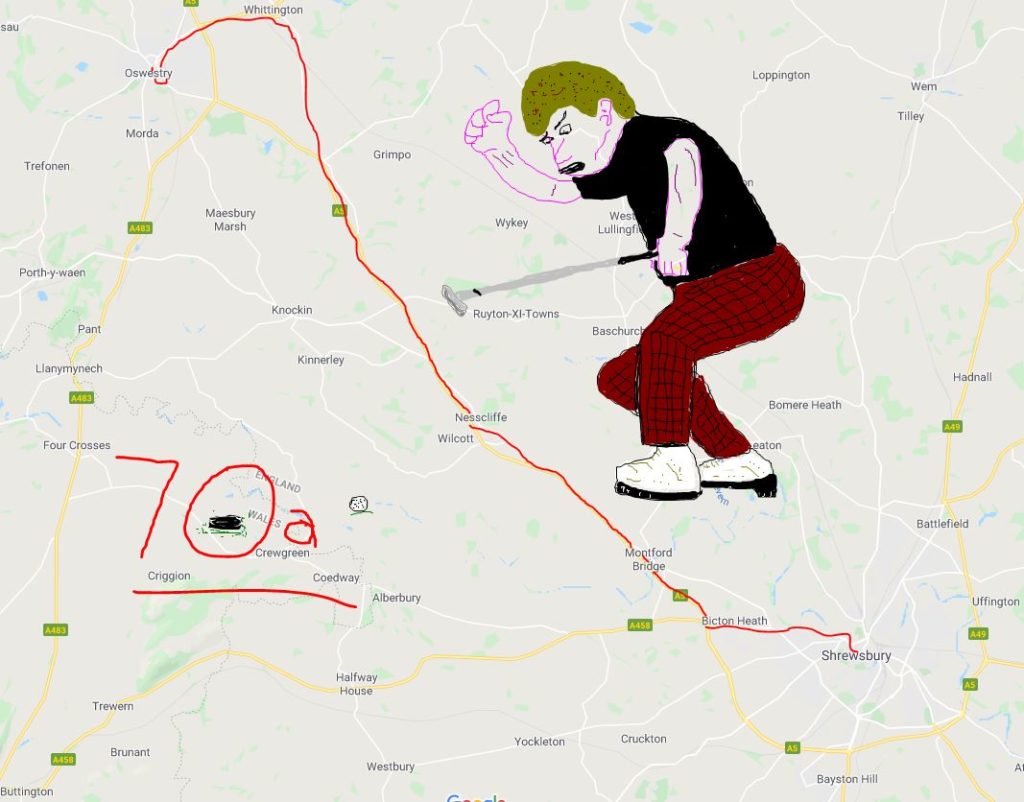 'C'mon, Gingerface.' Eleanor says, grabbing my arm while trying her best to gee me up.
Having withered on the vine after our sweltering trip on the 436 from Bridgnorth, I'm all too eager to admit defeat. We're in the shady back room of The Salopian pub, where moments earlier I realised that my t-shirt was so marinated in my own juices that I had slink off to change it.
'Can't we just get the train back home?' I ask with a whimper.
'Well, how long's this next bus gonna take?'
'About fifty minutes.'
'Fifty minutes, that's all, and you'll finally get to go to Oswestry.'
A micro-flicker of interest must've crossed my face, and Eleanor repeats 'Oswestry!' with added zest. It's quite the pep talk.
'Go on, then.' I reply, willing a second wind to come to my rescue. 'We'll have to sink these pints pretty quickly, though.'
It's true. Oswestry has always held a fascination for me. There's the peculiar name. There's the fact that until recently I'd always assumed it was in Wales because former world golf number one, Ian Woosnam (who plays under the Welsh flag), was born there. I've also had a wander around the town on Street View and spotted the curious Gibson's Night Club, whose signage looks like that of an old-fashioned sheet music shop, albeit with 'DISCO DANCE' writ large above one of the windows. I'm expecting Oswestry to either be weird or brilliant, isolated towns without a railway station usually are, and – spoiler alert – we find out that it's definitely one of them.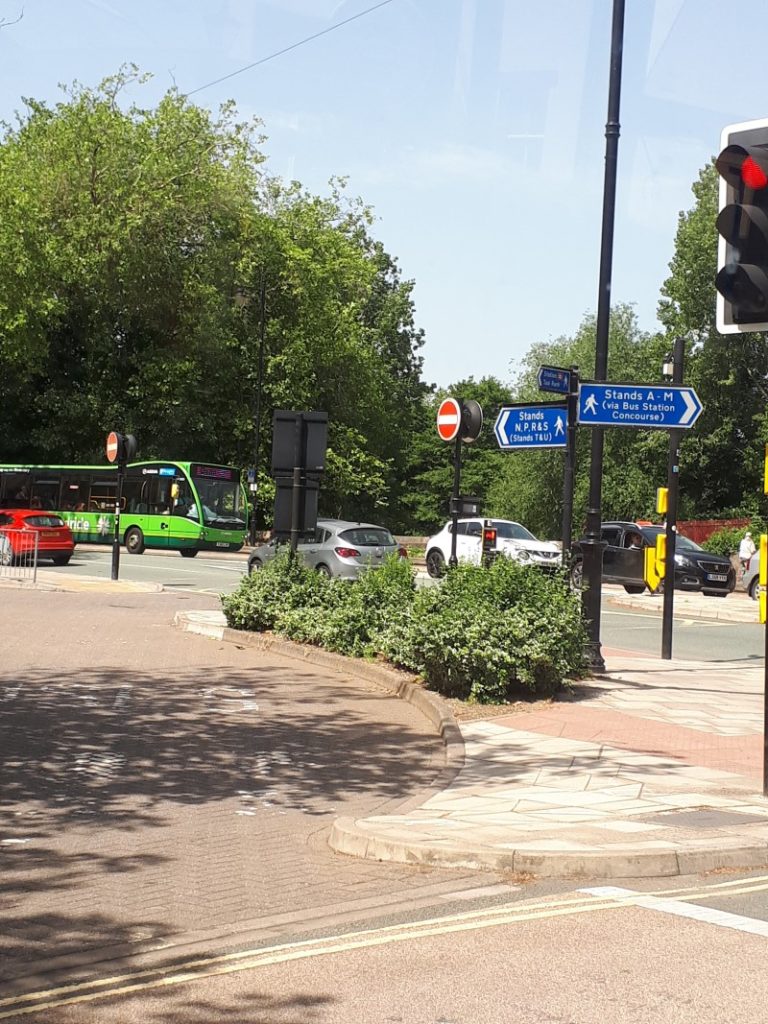 We're soon chugging back past The Salopian from the rear axle seats of the final 70a of the day. It's only just 3:15pm, but the more frequent 70 keeps ticking over for another few hours along much the same route. A group of hens are about to head into the pub dressed in paisley mini-skirts, knee-high socks and gold visors; it's almost as if they think that regular golfing gear isn't sexy enough to begin with.
'Why would a hen want to marry a stag, anyway?' Eleanor ponders with the kind of literalism she normally leaves to my malfunctioning brain.
'Antlers?'
'What?'
'Hens might be really into antlers.'
'What?'
'Well, they might be.'
The bus swings to the right and over the Welsh Bridge, the sister crossing of the English Bridge we passed over earlier, with the Severn glistening calmly fifteen feet or so beneath our perch. It's a cheerful run through the suburb of Frankwell on the opposite bank to the town centre, which is enveloped by the curving embrace of the river as we gain altitude up Shrewsbury's most appropriately named road, Massive Big Hill.
Massive Big Hill is lined with ancient and subtly magnificent terraced houses, which eventually give way to larger homes in various forms of detachment as we head towards open country on our march into Shropshire's furthest reaches.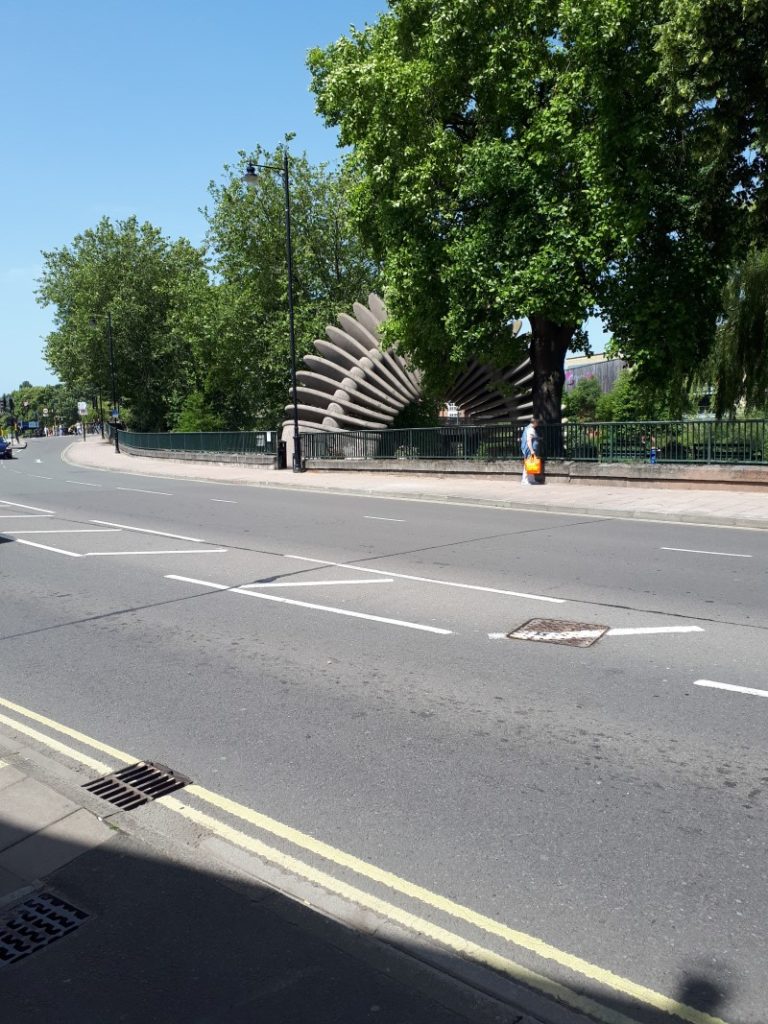 A steady breeze regulates the temperature on board, but any sudden gusts could be perilous for a tiny spider who has taken up residence behind the right ear of a man directly in front of us. The spider abseils from the man's lobe, descending past the tattoo of his son's name, and anchoring a thread of web to a skin tag at the base of his neck. The return journey upwards is made three times before the man, feeling a sudden tickle, accidentally scratches to spider to death all over the letter 'c' of the tattoo. It's a tragic end for the industrious arachnid.
We're soon onto to the A5, and signs for Welshpool remind us that we're within easy striking distance of the border. Shrewsbury is less then ten miles from Powys and was briefly held by Welsh forces for a couple of periods in the 13th century. Any Cambrian designs on eastward expansion were comprehensively snuffed out when the last ruler of an independent Wales, Dafydd ap Gruffydd, was executed in the town for high treason.
Breidden Hill and Moel y Golfa rise with quiet enthusiasm away to our left, bringing some much-needed elevation to an otherwise flat expanse as we progress north-west. A couple of minutes later and the Berwyn range comes into view, the pastoral expanse between us and the massif making it look grander than its peak height of 2,720ft.
'Hey,' Eleanor chuckles, 'there's a sign there for a place called Knockin.'
'Oh yeah. Do you reckon it's got a shop?' I add with a theatrical wink.
'It was a bit easy that joke, wasn't it?'
'Yeah, but you'd have been disappointed if I didn't say it.'
'That's true.'
Ruyton-XI-Towns is also pointed out on the same signpost, albeit a few miles in the opposite direction. It has the distinction of being the only place in the UK with Roman numerals in its name, and which Arthur Conan Doyle – who worked there as a medical assistant on placement during his studies at Edinburgh University – accurately described as being "not big enough to make one town, far less eleven." Local agitators suggest that it was during Doyle's four-month tenure here in 1878 that the seed which ultimately grew into Sherlock Holmes was nurtured, although it's not a view not shared by historians of the world's most famous fictional sleuth. With a bit of forward planning, we could've got on the 576. It goes through both Ruyton and Knockin, but that would've required us to be organised.
Fields of spuds, cabbages, corn and barley line either side of main road as we make our way towards West Felton, which judging by the vivacious red in its brick houses has extended significantly to the south in recent years. It was here at the 12th century St Michael's Church that Boris Johnson tied the knot for the first time, in 1987 to Allegra Mostyn-Owen. Her older brother is the rhythmically pleasing Owen Mostyn-Owen, a man who could single-handedly pass as a firm of chartered accountants.
With the sun still bombarding us with shards of ultra-violet, we pass a field of cows just outside Whittington who are less optimistic about the weather than we are. They're recumbent on the grass; their cud being chewed methodically as they shoot glances at a cloudless blue sky.
'There must be a storm a-brewing,' Eleanor growls piratically. 'Cows know the score.'
'Yeah, it'll be one-nil to us.' I fire back. 'There's no way it's raining today.'
'What's that ahead, then?'
'Aaaah.'
A diabolical charcoal spectre is assembling itself in the distance. Thanks to doglegging to the west we're not heading directly for it, but the demarcation line between a beautiful summer's day and a glowering wall of ashen doom is sharp. Plus, I've been outwitted by a cow.
We enter Oswestry by circumnavigating an estate secreted high above the town, with the usual 'let's just stick them there' trappings that come with such a lofty location: winding lanes to nowhere, bored teenagers in black tracksuits and a paucity of shops, although it does boast a chippy called Oh My Cod.
It's a circuitous route into the centre, taking us via a modest town square. Sat at one corner of it is the Oswestrian pub. Closed for now, it will soon undergo a renovation which will see it renamed as The Tankard later in the year. A former landlord from when it was called The Golden Tankard, Bob Denereaz, died in 2015 aged 101. Born in Switzerland, 'Bob The Tankard' was known for wearing a bow tie and, in his younger days, travelling the world taking part in oyster shucking competitions, a skill he picked up while working as a chef at The Savoy and Grosvenor Hotels in London. Entrance to The Golden Tankard was apparently limited to invited guests-only on his watch, a roster which occasionally included the local gentry.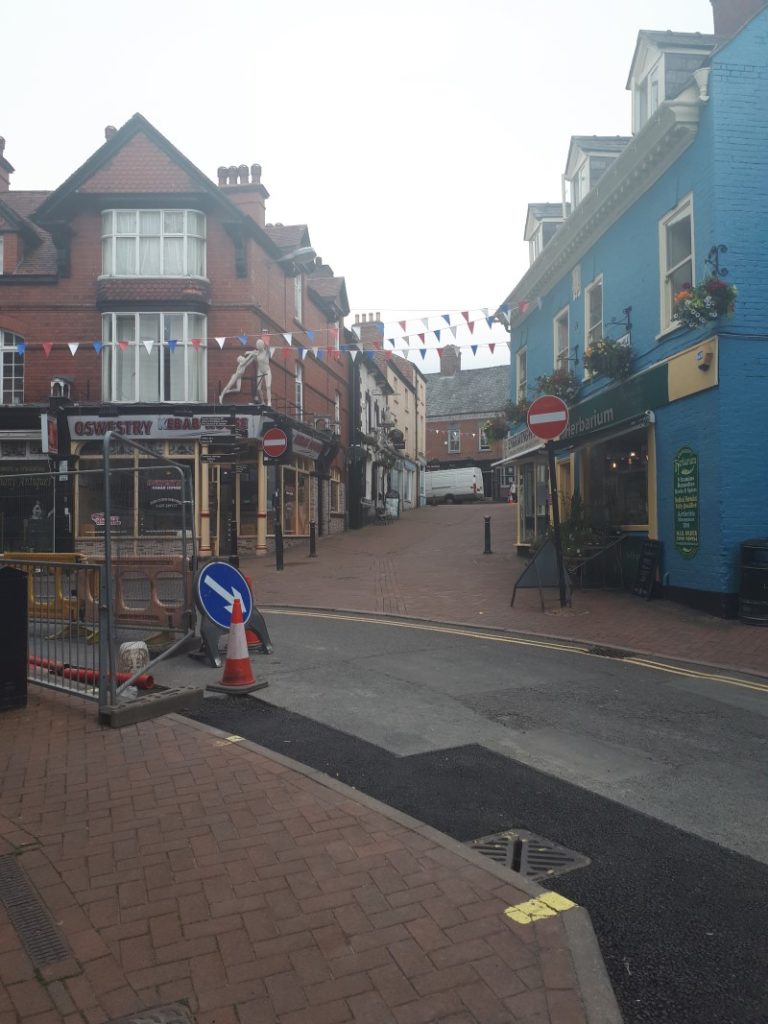 We creak our bones and set off from the bus station in search of what makes Oswestry tick, or in Eleanor's case, a bakery. It's barely four o'clock, but we find ourselves poking around deserted streets, the only signs of life being in the surfeit of butcher's shops this remote outpost has. Granted, we're almost antipodal from the Christmas rush and Boxing Day sales, but you'd expect to see someone knocking about. Instead, the first proof that we've not inadvertently broken a town-wide curfew comes courtesy of a piercing shriek from around the corner, on what turns out to be another square lined with pubs.
'AAAAAAAAAAAAAAAAAAAAAAAAAARRRRRRRRRGH!'
We stop in our tracks. This aggressive howl is followed by muffled shouting from one of the hostelries. The source of the screaming is a girl in her lower teens, in full-throated argument with her mother.
'Mum, shut up you fat piiiiiIIIIIIIIIIiiiiiiig! I hope you've put some deodorant on today cos there's loads of people aroooooUUUUUuuuund!'
With this, she stomps tempestuously down Bailey Street, gushing incendiary whispers to herself as she marches past us. She's wrong, though. There aren't loads of people around, not even on Bailey Street, which is one of Oswestry's main shopping thoroughfares. We do finally encounter some other people, even if it feels as though they've come straight from a dystopian sitcom. There's a leathery man in his 50s riding a BMX, a shirtless scally with a cig in his mouth tearing about on an off-road trike, and best of all, a succession of middle-aged 'boy' racers, once of whom manages to put a dent in his low-slung bodywork by snagging it on a speed bump.
Oswestry has the feel of a place where anything could happen, almost all of it bad.