Route: 41, Chester to Whitchurch
Operator: Aintree Coaches
Frequency: 5 per day (Mon-Sat); no Sunday service
Time: ~1 hour 20 minutes
Cost: £5.10 Single
Date of Trip: 29/4/22
Stuck in the Middle (of Nowhere) With You: Ian & El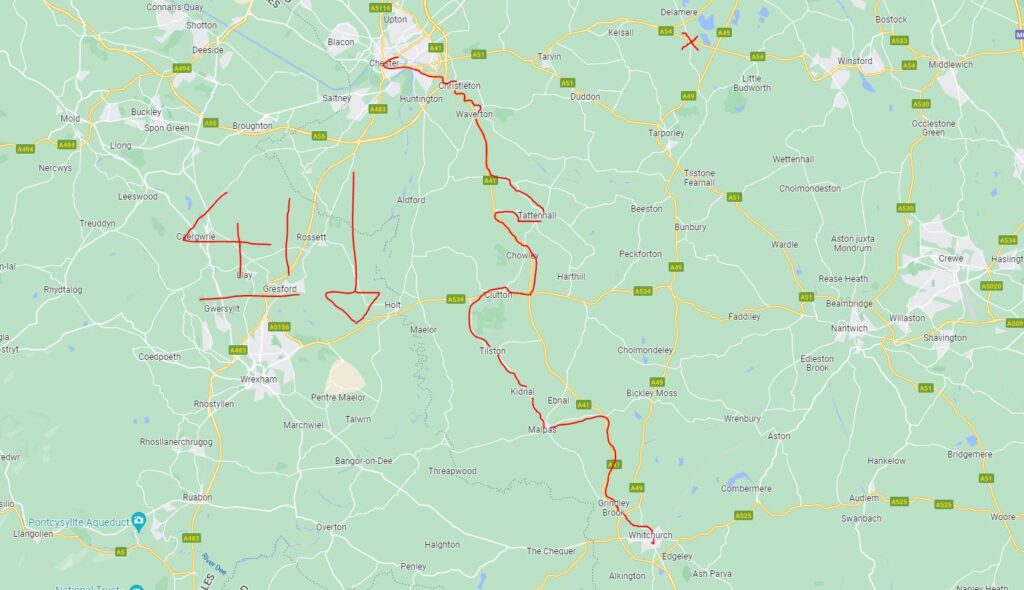 The eagle-eyed among you might have spotted that we're a journey down. A big 82 from Northwich to Chester-sized gap.
That's because the bus broke down in the middle of nowhere. Well, not quite nowhere. 25 minutes into its journey west, the 82 unleashed a piercing shriek, like a magpie the size of a pterodactyl. Lucky for us, it conked out by the Vale Royal Abbey Arms, a destination pub on the A556 with a car park bigger than Manchester Airport. The driver went to investigate and came back with the news that the engine had squirted oil all over the back wheels. For the second time is any many weeks, the bus would need a roadside mechanic.
The last connection of the day to Whitchurch would leave Chester at 3:30pm. We had over an hour until then, but once the stricken driver's HQ confirmed that there was 'absolutely no chance' of us arriving in time, there was only one thing for it. We'd have to ring a taxi from the pub.
'Ooooh, you might be struggling, love,' aren't the words you want to hear from a taxi despatcher when you're marooned. 'Most of our drivers have school contracts, y'see, but I'll see what I can do.'
She rang back after ten minutes, brimming with positivity. 'My husband's coming for you. Hold tight!'
Our rescuer arrived half an hour later. A full-time accountant and part-time cab driver for the family firm, Paul was optimistic about dropping us off at Chester railway station in time. 'As long as we don't hit any bad traffic, we should be alright. Just in case, though, where does your next bus go? Worse comes to worst, we can head it off.'
A quick scan of the timetable showed Christleton to be the first place outside Chester.
'Ooooooooh,' Paul said, momentarily turning into Frankie Howerd. 'It's nice there. Very swanky. The Sunday Times just named it as one of the best places to live in the country. It's as good a place to wait for a bus as any.'
Christleton would have its turn. We had a clear run and pulled up at Chester station with seven minutes left on the clock and £22 on the meter.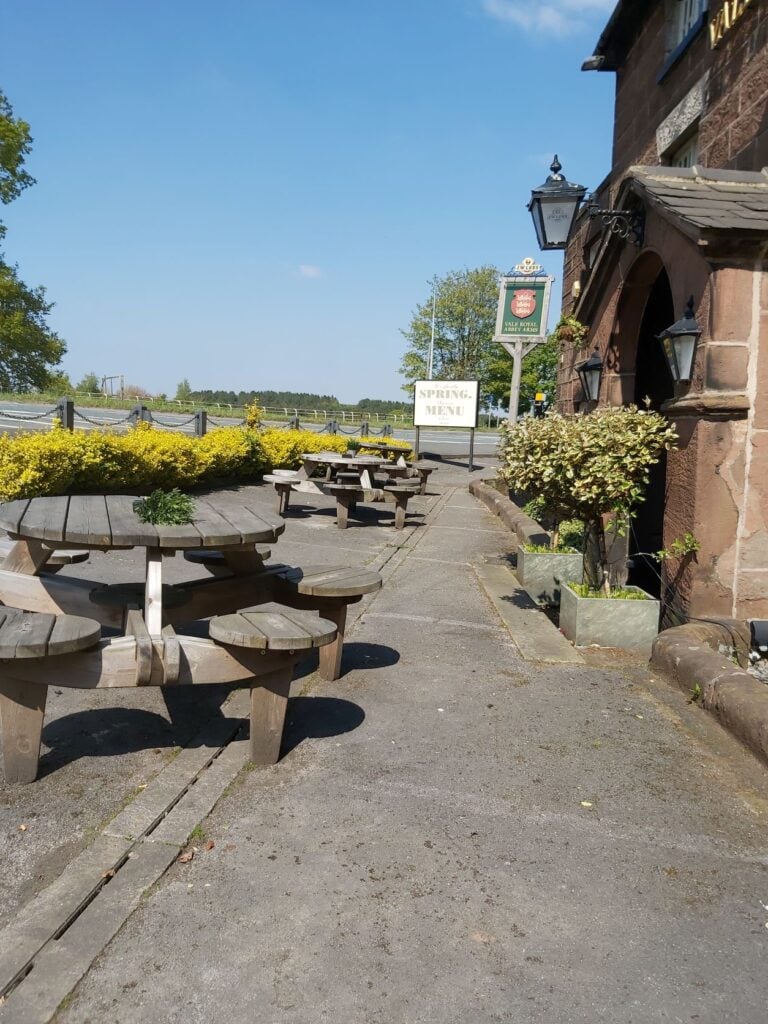 —
'£10.20 please,' the driver of the 41 says with a grin and a panto wink. 'That'd cost you loads more in a taxi.'
Off we set on the final trip of the day, but it's perhaps the first for a teenager on St Anne St, who goes flying from his scooter while mounting a curb outside a park. His two pals collapse in hysterics as he hobbles away with a full house of grazed joints.
Our first stop is at Chester's horseshoe-shaped bus station, whose green roof could do with a soaking after having the sun beat down on it unhindered for the past week. Tufts of sedum cling to its curved surface, browning like mince in a pan. Most of the commuters we pick up are making the most of the weather, too. Almost the only people covered up are those posing in mortarboards and red, white, and blue fringed gowns and their best party shoes for a University of Chester graduation ceremony.
There's also the last passenger on – a puce, middle-aged herbert who commentates on his every move as though he's broadcasting to millions. He has an enforced listener share of 100% on the bus.
'Fuck me, it's warm on here, eh? I'll open the window then.' A breeze circulates as we set off and he settles into a back row seat. 'No, I'll have to take my coat off, too. And my fucking jumper. Oh, this is ridiculous. Get a move on, driver, I'm roasting my sack off 'ere.'
There's not much the driver can do. We're taking the slow slalom down Frodsham St, beeping a few times at shoppers who aren't expecting a big red bus to pop up behind them in a pedestrian zone.
'Sometimes,' El says, keeping her lips as tight as a ventriloquist and totting her head towards our new companion. 'Slower Travel is a bit too slow. He's gonna be on the whole way to Whitchurch.'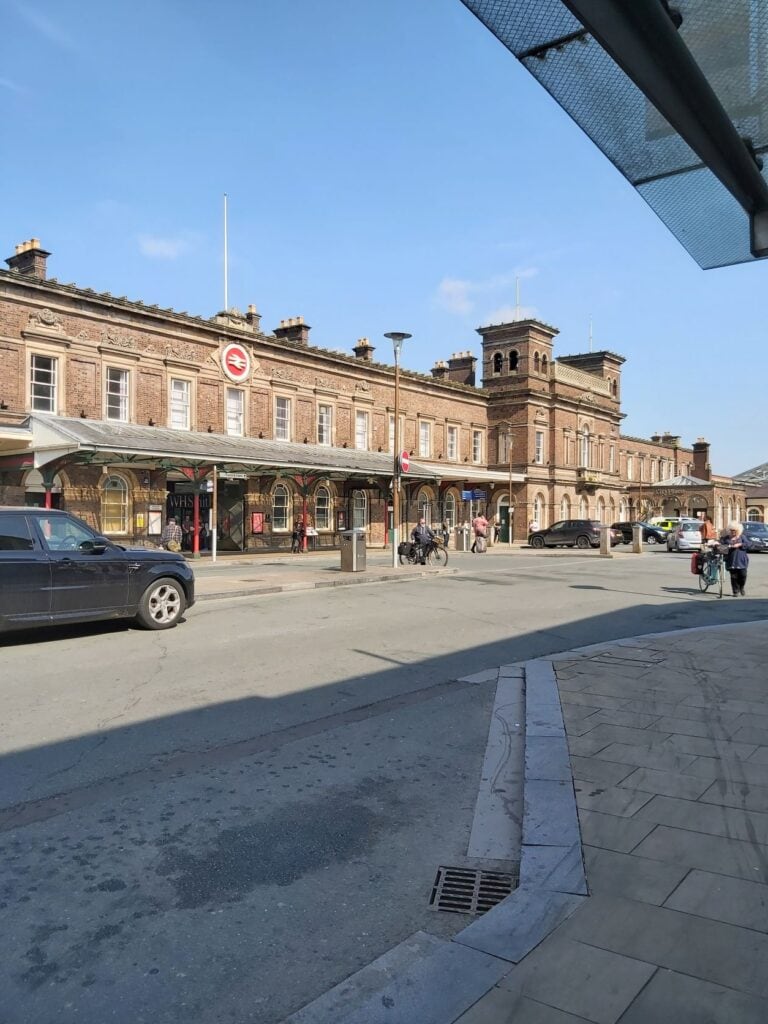 A few more college kids complete our passenger list, including one who, in an outstanding piece of individualism, has a trio of earrings dangling from the bottom of each side of his glasses. It's rare to see a unique piece of fashion, and even rarer that the wearer can pull it off, but we might just be sharing a bus with the coolest person in Cheshire.
A fellow student takes the seat in front of us and nibbles at a pouch of fries. She takes tiny, speedy bites that threaten to lop off her fingertips, as though she's feeding a Christmas tree into a shredder. She dispatches a McChicken Sandwich in the same efficient manner, her lips hoovering up any stray crumbs before they land back in the carton. It's quite the feat.
The lofty road through Boughton gives beautiful views over Chester Meadows, caught in a meander of the River Dee, and undevelopable thanks to it acting as a floodplain. Georgian townhouses and mansions straddle either side of the road that must give the finest vistas the city can offer, with wisps of heat haze mingling in the air.
The grandeur continues as we hop over a humpback bridge on Chester's periphery, our food from Charlie's Cafe threatening to leap back out of our bellies as we reach Christleton. You can see why it'd appeal to readers of The Sunday Times. They could take up an entire supplement with a photo essay on its narrow lanes, cutesy cottages and independent coffee shops with unpronounceable names. Even the walls in the village are interesting, with one example bearing a castellated miniature tower for the sake of whimsy.
Another wee bridge threads us between weeping willow branches stretching down to the waters of the Shropshire Union Canal below, where a troupe of ducks weaves its way past a narrow boat that's put-put-putting back towards Chester. A patchwork of green and yellow fields holds our hand down Whitchurch Road, with a pair of castles on distant outcrops dipping in and out of view between the hedges.
By far the most aged of the two is Beeston Castle, which has looked out over its bluff in one form or another for 4,000 years. The current tumbledown construction dates to the 1220s. Its red sandstone cousin on the facing hill is Peckforton Castle, a Victorian confection built as the country pile of local lord, John Tollemache. It was the last 'proper' castle built in the UK, and thanks to its relative modernity, now operates as a hotel and wedding venue rather than a relic.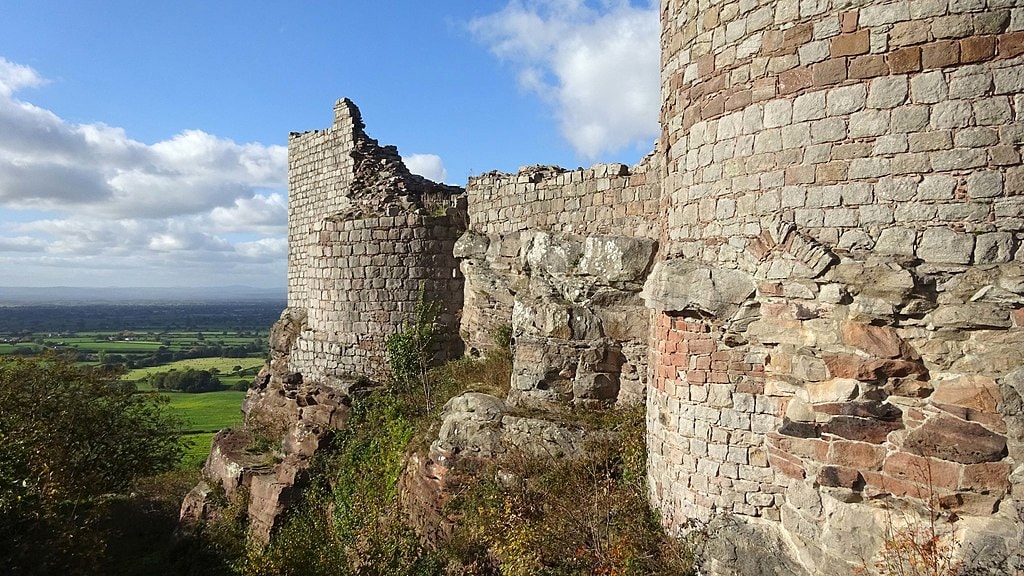 The grand piles keep coming. Tattenhall is full of them. Sturdy rows of cottages and micro-palaces with mullioned sash windows. All have spent their entire lifespan untouched by the blackening grime of industry. It's every inch as impressive as Christleton, but is less showy, more comfortable in its surroundings. I suppose you would be if you had the world's largest ice-cream shop in your village.
A couple of miles down the road is Bolesworth Castle. A few years statelier than Peckforton, its stern 'PRIVATE' sign by the gatehouse – itself bigger than most homes I've stepped in – commands the great unwashed to stay away. Apart from when they host equestrian competitions, fireworks displays, and car festivals, of course.
'It's getting fucking freezing now,' our pal on the backseat tells everyone. He's the last one to layer up, slinging his jumper and puffer jacket back on, and telling us all about how he's had too much to drink to zip it up. By the time we reach Clutton, he's started alternating between sniffing up and then blowing out of one of his nostrils with enough force to snuff out the candles on an octogenarian's birthday cake. Not that he can dislodge the blockage, so we're treated to intermittent nasal parps for the rest of the journey.
He throws in a few throaty hoicks as soon as an acquaintance of his joins the bus in Tilston, yet another picturesque village. His slurring increases in direct proportion to his volume, while his softly spoken friend tries to keep a lid on proceedings.
'Have you sheen Gary?' he says, channelling Steve McLaren during his tenure at FC Twente.
'Died, I'm afraid,' the other guy replies.
'Mark?'
'Not too good. Trouble with his chest.'
'Well, what about David? I've not seen him in ages.'
'He's lived in Texas for a year or two. Got his own business now.'
'Well, good for him, the big bastard.'
His companion excuses himself just down the road in Malpas, puffing out his cheeks as he goes. It's difficult to avoid people when you live out in the sticks. Hundreds of thousand of acres of space, yet everyone uses the same narrow channels to move about. You drink in the same pubs. Go to the same shops. The smaller the population, the smaller your world.
A city would absorb the guy on the backseat. Yet he's well enough known around this rural spur that he lets on to at least four of the other passengers by name. They meet him with a mixture of polite but hesitant small-talk and monosyllabic grunts, reluctant to engage. It's understandable. Where's the demarcation line between someone being a nuisance and being vulnerable? You can be both at the same time. Did he meet a few pals for dinner in a Chester boozer, or did he catch the last bus back after drinking himself daft on his own by mid-afternoon? When someone is hacking up an oyster from the back of their throat just behind your right shoulder, it's easy to lose perspective.
Malpas is similar to Lymm. An ancient cross in the middle of the village, surrounded by rickety brick houses, bulging at the belly with centuries' worth of stories. They're so old that there's half a chance some of their Tudor stylings might not be mock. It's small, home to fewer than 2,000 residents, but is where most of the people onboard disembark, and it feels alive as we approach tea-time.
Road signs hint at Whitchurch without letting us know how far away we are. After throttling through No Man's Heath and Grindley Brook, the latter taking us to within a few hundred yards of the Welsh border, and crawling in behind two tractors, we have arrived.
'It wasn't as quick as a taxi, mind you,' the driver says as we hop off in Whitchurch's bijou bus station. It's been a nine-hour slog of a day that has taken us from Stockport to this snicket of Shropshire via Altrincham, Warrington, Northwich and Chester.
A man on the ill-fated Northwich to Chester bus asked us where we were off to.
'Whitchurch,' we replied in unison.
'You should've got the train.'
Maybe we should, but we wouldn't have any stories to tell from that. No air-drummer in Lymm. No pigeon massacre in Northenden. No emergency taxi. Not even the rambling soliloquies and gruesome noises from the drunk guy, who disappears down a side street ahead of us and straight into what thorough investigation later that evening shows to be Whitchurch's worst pub.