Route: 2, Oswestry to Wrexham
Operator: Arriva
Timetable: Hourly (Mon-Sun)
Time: ~55m
Cost: £6.30 West Midlands Day Ticket
Date of Trip: 29/6/19
Worried Faces: Ian & Eleanor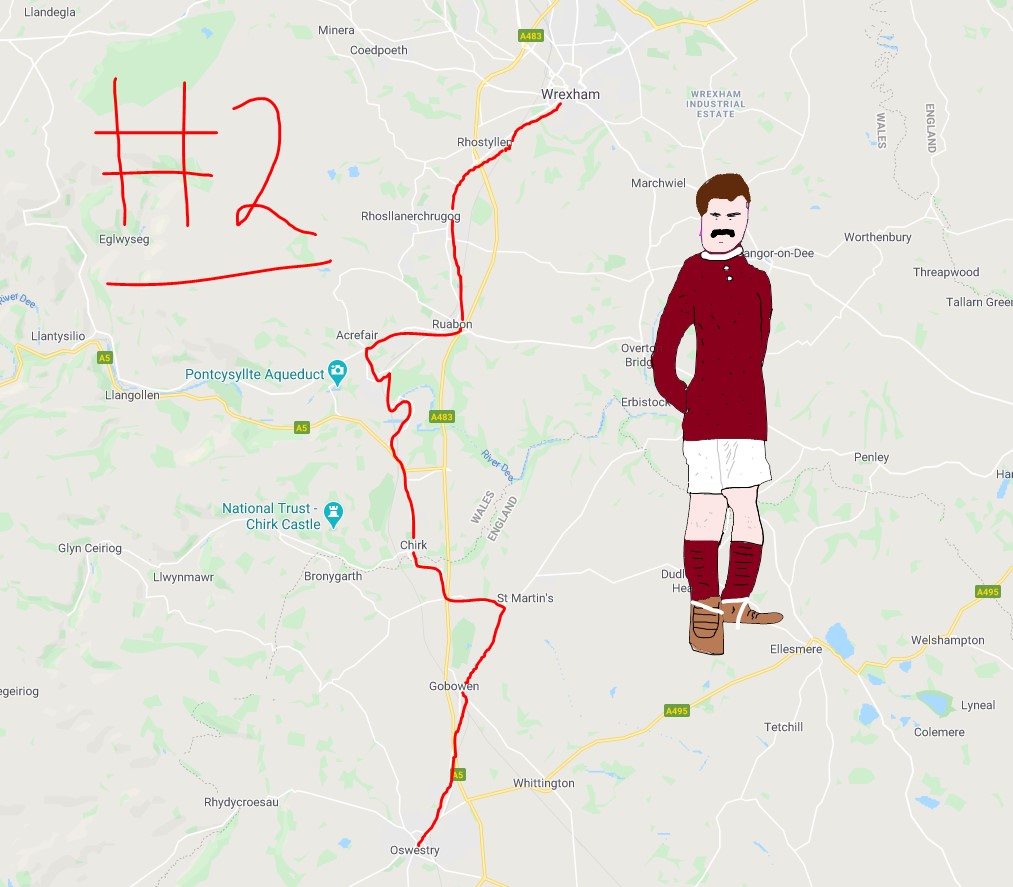 Half an hour is enough of anyone's time to give to Oswestry.
You might be desperate to escape, but the local authorities are determined to trick you into staying, as the timetables on the walls of the bus station are all for Gobowen, a village a few miles away. Eleanor wanders off in a daze, no doubt shaken to her very core by the shonky details meted out on the information boards, but still unwavering in her mission to find out when we'll be able to leave. She returns a couple of minutes later with incredulity gouged into her forehead.
'There's a girl just down there,' she whispers, her eyes darting to where mine should be looking. 'She's sat on the floor with four phones in front of her, and she's playing a game on all of them at once.'
'At the same time?'
'Yeah, all of them. Seriously, it's proper strange.'
Sure enough, there's a teenager with dayglo hair a few yards away sat cross-legged on the chewing gum-strewn paving. Both hands are splayed into Spock's Vulcan salute, drumming on the screens of four phones.
We gawp at the spectacle for a moment, in which two buses quickly arrive and depart at the stop she's sat next to, but she doesn't flinch from doing battle with her sprite-based foes. I happen to glance over my shoulder and clock a lad bashing away at three devices which are balanced on some railings.
'What's going on, El?' I ask, unsure if I'm hallucinating.
'I don't know, but look, here's the bus,' she says with a sigh of relief.
'I'm never coming here again.'
'Me neither.'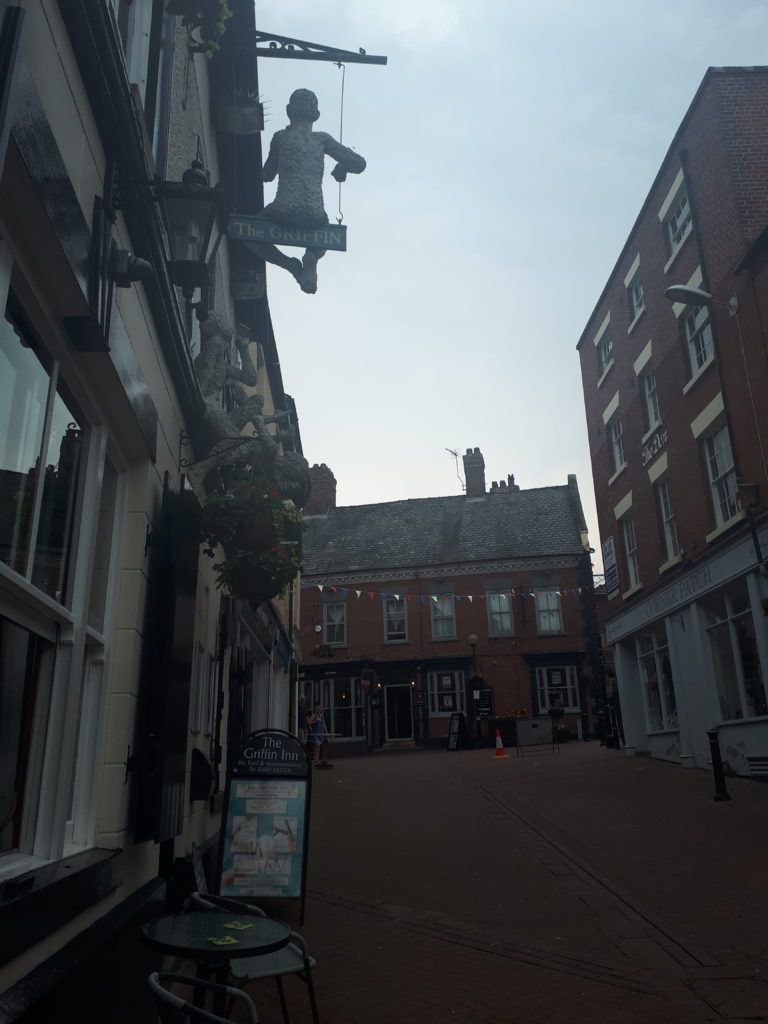 Brows are mopped and shirts billowed as the number 2 to Wrexham appears. The humidity has reached saturation point, and the cows' storm prediction from earlier is looking more prophetic by the second. Malevolent rumbles are heard in the distance as clouds descend above.
I'm terrified of thunder and lightning – specifically the lightning part – and the prospect of rattling along in a tin can during such perturbed weather brings on my tried and tested 'worried face'.
'C'mon, we'll be fine,' Eleanor says while squeezing my hand. 'The bus has got rubber tyres.'
Well, that's alright, then. If she'd have mentioned that the metal body of the bus acts as a Faraday cage during a lightning strike, and dissipates the electrical charge around the outside of the frame – as some subsequent research has since shown – perhaps I could have maintained my 'relaxed face'. Eleanor isn't the type of person who'll crane her neck from an upstairs window to watch a passing storm, but she does indulge me when I insist that everything in the house has to be switched off, and we have to take shelter by sitting on the stairs in darkness whenever the celestial sparks start to fly.
It only takes a couple of minutes to leave Oswestry behind, travelling along the B5069, where the flat-topped mound of an ancient hill fort looms large over the surrounding fields. Legend has it that it's where Queen Guinevere was born, if you ignore the likelihood that she and her husband, King Arthur, never existed.
Arthur supposedly had a penchant for Guineveres, as all three of his wives shared the same name, which translates from the original Welsh spelling of Gwenhwyfar: 'The White Ghost'. Or, depending on who you believe, 'The White Enchantress'. Neither are flattering.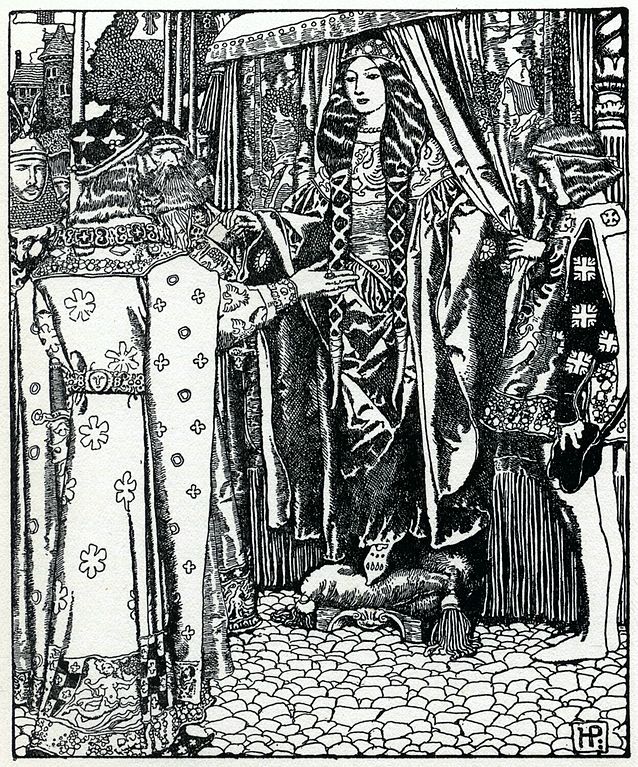 It's not much further on that we come across an Orthopaedic Hospital in the middle of nowhere, named in honour of Dr. Robert Jones and Dame Agnes Hunt.
It was founded by the latter in 1900 as a children's hospital in Baschurch, a few miles to the south, before moving to its present rural setting twenty-one years later. Enduring the effects of osteomyelitis of the hip for most of her life, she later became the world's first orthopaedic nurse. In an ironic twist, she was also the first cousin once removed of Jeremy Hunt, who clocked up a record breaking six-year stint as Health Secretary between 2012-18.
Dr. Jones, meanwhile, is best remembered by an eponymous break of the little toe, which he first recorded on himself after a dancing accident, as well as for a 1997 Europop banger by Aqua.
We pick up the scent of the 53, stalking it on the Gobowen leg of its route to Ellesmere, a small town off to the east, which due to the scarcity of its bus service (it's Oswestry, Shrewsbury or nowt for now), I expect will forever remain an unvisited corner of the map for us.
It's now that the heavens open, tipping what seems like the entire outflow of the Amazon onto us for two practically submarine minutes. As soon as we reach the main crossroads in Gobowen, though, the downpour stops, with our undulating course along St. Martin's Road being tinder dry. Spooky.
The bus forks left, past the disused, castellated gatehouse of the Brynkinalt Estate, where we hit soggy tarmac again, and make a decisive press to burst free of England. The recent drenching has kicked up the scent of petrichor and wild garlic as we cross the bridge over the River Ceiriog and into Wales. Someone really should make it into an aftershave.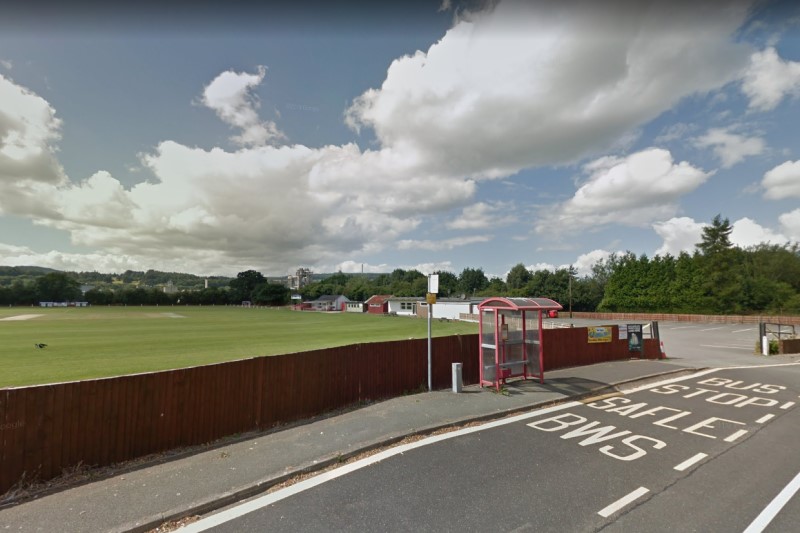 We're propelled into Chirk, a pintsized town with a special place in footballing history. Chirk AAA, whose sparse ground we pass on the main street, were one of the most successful teams of the Victorian era, winning the Welsh FA Cup five times between 1887 and 1894. That latter 2-0 victory over Wrexham-based Westminster Rovers would prove to be their last, but was notable for featuring a young Billy Meredith, the sport's first legitimate superstar.
His performances for Chirk, and for Northwich Victoria in their last final season in the Football League, earned him a move to Manchester City. Although he insisted on signing amateur forms, and continued to work at the Black Park Colliery for another year, he was soon persuaded to commit to the game full time.
Meredith made more than 300 appearances for the Blues, winning the Second Division and the FA Cup, before a bribery scandal in 1905 saw him suspended for a year. It came about because of a fight between City's Sandy Turnbull and Aston Villa captain, Alex Leake, during a final day defeat at Villa Park.
An investigation was launched, and as City's captain, it was revealed that Meredith was asked before the game to approach his opposite number with a £10 inducement to throw the match. The offer was refused and ultimately reported, and despite the orders coming from higher up the hierarchy, it was the Welshman alone who was punished.
He was adamant that bribery was part and parcel of life at Hyde Road, City's then home ground in Ardwick, and was transferred to Manchester United. He stayed on that side of town for a further fifteen years, winning the First Division in his first full season back, followed inside three years by the FA Cup and another league title. In between all this, astonished at his fall guy role, he set up the Players' Union, which would later go on to become the PFA.
Already assured of legendary status on both sides Manchester, he re-signed for City in 1921, and went on to play intermittently for another few years, hanging up his boots just shy of his 50th birthday in 1924.
That wasn't to be the last people saw from Billy Meredith, though. He starred as himself in the 1926 movie, The Ball of Fortune, and despite being a lifelong teetotaller, ran several pubs around Manchester before his death, aged 83, in 1958.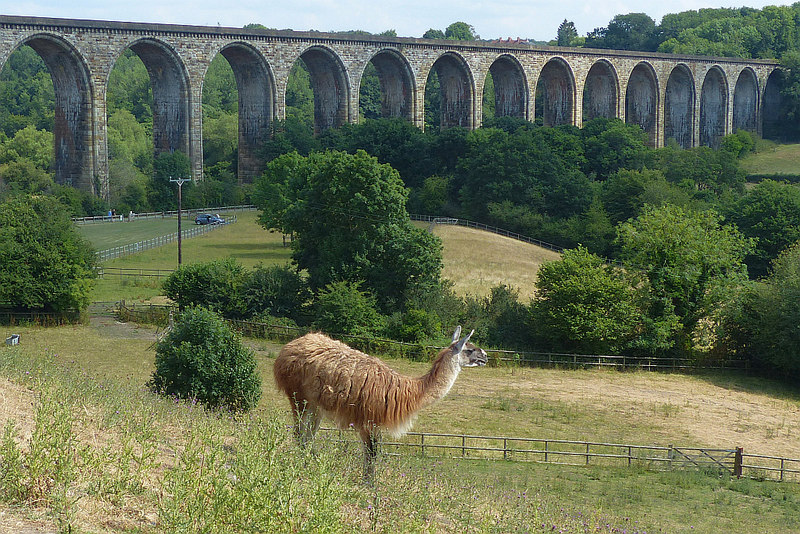 With our Bridgnorth strawberries a distant memory, my belly emits an ungodly rumble as well pass a field brimming with Welsh sheep. A coincidence, I'm sure. Swooping downhill, we emerge from the tree cover with an incredible view of the Cefn Mawr Viaduct and the Pontcysyllte Aqueduct a mile-or-so downstream. The latter is a World Heritage site designed by Thomas Telford and William Jessop, carrying the Llangollen Canal high above the Dee Valley, but is obscured by its less illustrious cousin in the foreground.
Not being connoisseurs of elevated structures, the Cefn Mawr Viaduct, which keeps the Shrewsbury-to-Chester railway line from getting wet, looks spectacular enough to us. Most of its nineteen arches are visible as we swivel our heads to elongate the seconds we have in its presence, before a thicket of trees conceal it for good behind a dense green drape.
The principal engineer behind the Viaduct was Thomas Brassey. A true pioneer, he oversaw the laying of around one-third of all the railway lines in the UK. Such was his expertise that he was dispatched to all points of the globe, and was eventually behind five per cent of all the tracks installed around the world, including ones in Nepal, Australia, Argentina and even Mauritius. He didn't exclusively have the Midas touch, however.
One of his builds, the spectacular Barentin Viaduct in Normandy, collapsed a few days after its completion, without any loss of life, amazingly enough. The leading theory as to why was because of inferior local lime mortar, so Brassey rebuilt it from his own pocket, using materials of his choice.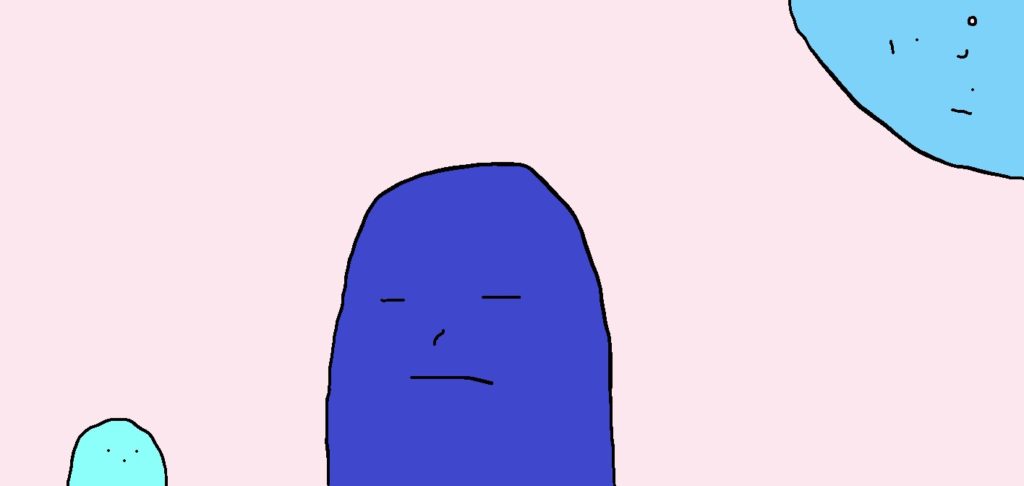 We're soon into Cefn Mawr itself, where a giddy gaggle of youths join the bus. The seven lads are all Wrexham-bound and make a beeline for the back seats, where they spend the rest of the trip giving each other dead arms and swearing prodigiously. Two girls, meanwhile, sit a couple of rows in front of us and communicate entirely in conspiratorial whispers and giggles. That is until they spot a young man with a scrum-half's physique and carefully trimmed beard stride onto the bus.
'Poppy! Poppy!' the brunette shrieks. 'Oh my god, I'm not sitting next to you now.'
Poppy waits in anticipation that the empty seat to her right will be filled, but she remains spurned as his eyes are transfixed by his phone.
'He could have sat next to me,' she mouths across the aisle to her pal, who, stifling a laugh crosses back over the floor while we wait briefly at a bus stop with 'Satan!' and 'Burn in Hell' graffiti scrawled onto it. The girls jump off a few minutes later in Ruabon, the lovelorn one unleashing a volley of invective as the number 2 pulls away, but her prospective love interest still hasn't spotted anything else outside the confines of his mobile's screen.
Although the temperature and humidity are finally receding, the day has taken its toll, and the final stretch into Wrexham, via Johnstown and Rhostyllen passes in a haze of weariness. Eleanor falls asleep on my shoulder, while my battle to stay awake is helped by spotting a medley of shipping containers and letting my Storage Wars fantasies run wild.
We arrive at our final stop, where people are packing away street food stalls and inflatable football nets after what must've been a good day's trading. Even so, Wrexham is difficult to fall in love with at first sight.
The convivial atmosphere around the burrito, pizza and samosa carts is restricted to one small run, and much like Crewe, the town centre is an overgrown shopping precinct with nefarious sorts lurking among the shop doorways.
We elect to head home, and power walk to Wrexham General Station, where we make it onto the platform with seconds to spare, only for the train to Chester to be cancelled out of the blue. It's then reinstated, moved platforms and cancelled again, before showing up completely unannounced half an hour later.
Home time at last.