Route: 9A, Warrington to Northwich
Operator: Warrington's Own Buses
Timetable: 6 per day, mostly every 2 hours (Mon-Sat); no Sunday service
Time: ~55 minutes
Cost: £5.95 Day Rider
Date of Trip: 29/4/22
Sympathy for the Breville: Ian & El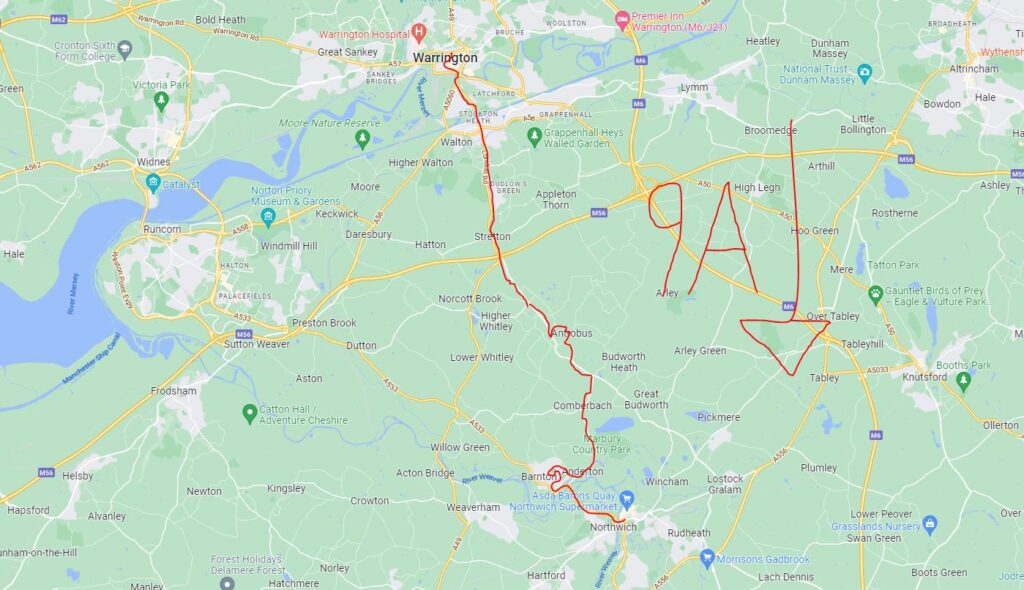 Penketh. Great Sankey. Westy.
These aren't the nicknames of a group of lads go-karting on a stag do. They're Warrington suburbs, places on the destination boards that run the length of the bus station. Every town and city has them. Anonymous satellites with curving roads of bungalows or council houses or showpiece family homes. Maybe there's a driveway with a fancy car. Maybe there's a proud piece of topiary in the garden. Maybe there's a settee in the front yard with holes in the side where rats have made a nest. Perhaps you live in one. Millions of us do.
Sunshine slices through the bus station's skylight, causing a beam of heat that any passing ants would do well to avoid for fear of being cooked in their own thorax. The hanging baskets, perched at the entrance to each bay, are brimming with colourful plants. Plastic ones, but the sun isn't to know it's wasting its energy on them, and they brighten what's already, as far as these things go, an accommodating hub.
'He's keeping us waiting,' an old lady with a Merseyside accent and the telltale puckered lips of a lifelong smoker says to us about our bus to Northwich. 'He came in early, now he's going out late. It's a bit of power, love.'
According to the screen above Stand 10, we're only a couple of minutes late in being allowed on. Then again, as we found on our way to Altrincham earlier, two minutes can make all the difference.
Onboard, the 9A doesn't have the razzmatazz of the Cat5. It's bereft of mod cons, but it passes one important test: El reckons the seat cover would make a good skirt. 'I'd get rid of the logo, but it's a good colour.'
The fluffy moquette is royal blue, with polka dots and an Ensign Bus logo woven through. It turns out our carriage has had a long journey to Warrington – Ensign are based in Essex.
The last passengers on are two of the driver's colleagues, cadging a lift back to the depot. Once they're safely ensconced on the back seats, the bus shuffles through Golden Square Shopping Centre's pallid service tunnel and emerges at the other end with a relieved toot.
Our first port of call is opposite the Town Hall. Commissioned by local industrialist Thomas Patten in the mid-18th century, it even impressed Pevsner, moving him enough to call it the 'finest house of its date in South Lancashire'. We don't get a proper shufty at its Grade-I listed exterior, as it's obscured by a set of golden wrought-iron gates so dazzling that Liberace might've dismissed them for being just a touch too flamboyant.
Intended as a gift for Queen Victoria, they should've been on display at Sandringham after the Great Exhibition in 1862. However, the unfortunate placement of an Oliver Cromwell statue nearby – not the most popular figure among the monarchy; Victoria refused to open Manchester Town Hall because of a Cromwell bronze outside the city's cathedral – meant that officials ushered royal eyes away from the indignity of gazing upon the regicidal republican, as well as the gates.
Ornate, unwanted, unsold, the golden gates remained in storage back at their fabricators in Ironbridge for more than thirty years. That's when Frederick Monks, Warrington councillor and owner of one of the UK's largest metalworks, got wind of their dusty existence and negotiated their move north. At the grand opening ceremony in 1895, he unlocked the gates with a golden key. I mean, of course he did.
Monks' nose for a bargain surpassed his urge to spare Queen Victoria's feelings, so he brought the Cromwell statue to the town by the end of the century, too. The 9A passes it a couple of minutes later. Three metres tall, dressed in armour, and carrying a long sword, it stands in the garden of a block of supported living flats overlooking the Mersey. It's what he would've wanted. Well, he'd have wanted it more than his ultimate fate. On January 30th, 1661, twelve years to the day after Cromwell put Charles I to death, an understandably vengeful Charles II ordered the exhumation of the Lord Protector's corpse, interred at Westminster Cathedral two years before. It was then hanged, the body thrown into a pit, and head wedged onto a spike outside Parliament as a putrefied gargoyle.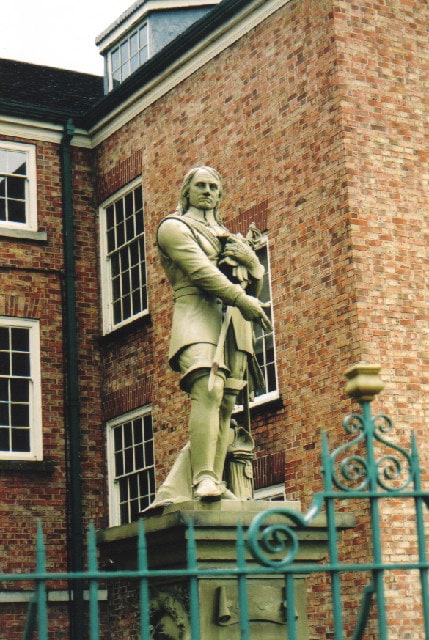 The bus sends us whence we came along Wilderspool Causeway and back into Stockton Heath. We were only here half an hour ago, but the middle-aged brunch crew is out in numbers now, with tables and chairs gobbling up any spare microns of space on the narrow pavement. Pushing south along London Road, a row of bay-fronted terraces has a distinctive zigzag pattern laid into the red brick running above the ground floor lintels, with bedroom windows separated by lavish flower motifs. At the risk of sounding like Fred Dibnah, they really don't build them like this anymore.
Crows bicker on a sports field facing the Cat & Lion pub as we leave Warrington behind and reacquaint ourselves with the Cheshire countryside. A blaze of rapeseed flowers greets us at Lower Stretton. It's as though someone asked them if they like butter before shining a billion buttercups beneath their collective chins.
Portents of what's coming later in the day emerge as we approach Antrobus. Throttling around a bend, a mystery contraption clunks right beneath us. Not the type of click you hear when you clip in a seatbelt, but more akin to the deep rattle of LeBron James slam dunking a basketball. It kicks up a scorched smell for a minute and throws our backsides into the air whenever the bus finds the tiniest of potholes. No wonder Ensign Bus wanted rid of it.
On the plus side, the greenery is unrelenting as the driver eases us through a succession of villages and hamlets. Cottages garlanded in whole rainforests of ivy strut their stuff between crops, while a striking tree trunk sculpture of a woman points the way to Marbury Country Park. Thanks to a burst pipe, an avenue of elms succumbed to saline poisoning – this part of Cheshire was famed for its salt production – but rather than grind them into sawdust, Simon O'Rourke came along to carve the Marbury Lady.
The legend goes that local dandy, James Hugh Smith-Barry, became smitten with an Egyptian woman on his five-year grand tour in the 1770s. Promising to send for her once he returned to Marbury Hall, his attentions instead turned to his housekeeper, Ann Tanner, with whom he sired five offspring. Somehow, his girlfriend from Egypt still rocked up, and they all lived happily ever after in an unconventional triumvirate. After her death, the family kept the unnamed mistress's wishes, embalming her and leaving her in the Hall's hallway. That's when the hauntings of a woman in a white veil began. Moving her mummified remains to the local chapel didn't help, and ethereal visions occur to this day.
The side that people see as they pass the carving shows a pretty, relaxed face in a long gossamer dress, rippling in a celestial breeze. You need to go around the other side of the figure to see the Marbury Lady in spectral, anguished form, wrapped up from the elements in a heavy cloak. It's a fantastic sight.
(Incidentally, there's a mischievous ghost in our bathroom that likes to spin the toilet roll while you're minding your own business. El says it's a natural phenomenon, something to do with momentum, but I'm pretty sure it's a poltergeist.)
Campion and a liberal dusting of bluebells lead downhill to Anderton, with a pair of goldfinches racing the bus to the banks of the Trent & Mersey Canal and on into Barnton. Judging by the number of speedboats dotted about, this offshoot to the northwest of Northwich must've had more Bullseye winners per capita than anywhere in the country. We're nowhere near the sea or the Lake District, and the River Weaver isn't suitable for high speed aquatic pursuits, but here they are, beached atop trailers, hulls poking out beneath protective covers. They're the aspirational middle-class equivalent of toastie machines.
We lose more altitude heading into Northwich along Runcorn Road. Scrubland and factories separate us from the main part of town. It's a dystopian, almost Soviet skyline, as rusting weeds tussle with rusting pipes, while the mock-Tudor cricket pavilion of the Winnington Park Recreation Club makes a jarring juxtaposition beneath the hiccupping metal chimneys of the Tata Chemicals plant next door.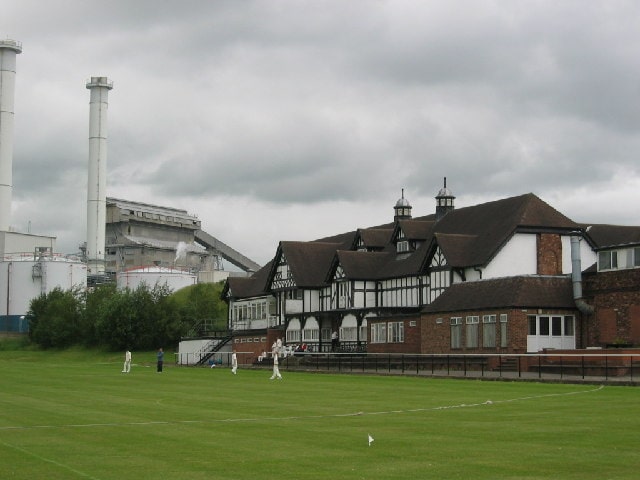 A couple of minutes later and we're here. Football grounds aside, my first time in Northwich. We bundle off the 9A and into the town's former market square. Covered in sandy shingle and fringed with poppies and cornflowers, it's a shame the stalls have vanished, but it's a pleasant enough spot to watch the world go by for a few minutes. Besides, we have a date.
'You're going to Charlie's Cafe?' my friend Andy asks with a zip of excitement in his voice. 'It's a proper Northwich institution. I used to go there all the time when I was a kid. You'll love it.'
We're welcomed in by the crackling force of an industrial boiling water tap that only old-skool cafes, or a million scousers simultaneously saying 'Burt Bacharach', can replicate. Sure, the machines in coffee shops know how to gurgle, but they don't have enough oomph. No charisma. They can't evoke anything more than the feeling of buying a brew. The sizzle of scalding water is the sound of going to the cafe on Gorton Market with my nana and guzzling down a massive bowl of custard. A happy memory tattooed.
We grab the only empty table and squidge up next to a pillar the colour of cartoon slime. Charlie's is a comfortable level of retro; not so old-fashioned that it trumpets honeycomb tripe, but modern enough to have chunky wooden tables instead of a mosaic of Formica. Adding to its allure, every customer has at least a limp. You'd expect the elderly patrons to have some sort of mobility issues, but even the handful of diners younger than us either swing through the aisles on crutches or hobble along with some sort of impediment. An ingrown toenail or curvature of the spine. Perhaps one of the waiting staff doubles up as a physio.
Our butties arrive with a cauldron of fries.
'We'll never manage all those,' El says.
We do. They're delicious. Maybe the limpers are just stuffed, their legs recalibrating under the weight of endless rounds of buttered toast. Our legs bow in sympathy as we waddle back along Witton Street to the bus stand.