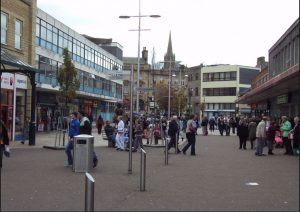 Route: 15, Accrington – Clitheroe
Operator: Pilkington Bus
Frequency: Roughly every 90 minutes (Mon-Fri), 5 journeys (Sat), no Sunday service
Time: ~40m
Cost: Part of £6.50 Day Ticket
Date Of Trip: 23/6/18
Accrington is forever damned to be the archetypal unglamorous Lancastrian town. Even if you'd never heard of it, its name alone couldn't conjour up anything other than imposing mills and thick layers of soot.
That, possibly combined with the infamous Milk Board advert with the scouse lads, outsiders instinctively think of it as depressed, depressing and generally the last place you'd want to find yourself on a sunny Saturday morning.
Except that none of it is true. There's St. Helens for that.
The Panopticons sculpture which was due to be erected here got the snip before it got past the drawing board, and while the sandstone side streets which spiral away from the centre are a little quiet at 10:30am, the main thoroughfare is packed with shoppers.
The 'Adopt A Cat' stall is doing a meowing trade, but unlike the similar gazebo I once saw in Conwy for taking an owl under your wing, there are no cute furballs for you to play with. There is a seven foot tall Minion posing for photos outside Poundland, though.
The usual adjunct of travel writers at this point is to make a well-meaning comment about the run down nature of shops in working class areas. Look, it's a couple of bookies! Look, it's pair of charity shops next door to each other! What they don't mention is that there's usually a Costa, an EE, and a Holland & Barrett all sitting in a row, too.
There are plenty of small, independent shops in Accrington just away from the pedestrianised high street, doing what small, independent shops have always done, ie, get by until the owner retires or dies.
It's more about what working class strongholds don't have; no Booths, no Waitrose, no sign of The White Company. They'd all probably be closed inside a month anyway, but then, that's the wonder of supply and demand for you.
Its a question of aesthetics, too. Working class places were usually built with practicality in mind rather than beauty, and those centres which weren't blown to smithereens in the war almost inevitably had town planners rip their hearts out and eat their livers in the 60s and 70s.
The fact is that there really wasn't much worth blowing up in pretty places.
Oooof! That was a bit ranty, wasn't it?
Jean vs Margaret
Now, if you're looking to get to Clitheroe from Accrington on a Sunday, you needn't bother trying. The bottom of the No.15's timetable on the Pilkington Bus website states in red Ubuntu Bold font: "Accrington Inter-urban Services do not operate on Sundays".
Fortunately, inter-urban routes are in partial swing on Saturdays, and after a quick chomp on a veggie bake from the Pound Bakery (a few door up from a Greggs, which has doubtless prompted a localised budget bakery war), we're the last of the 20-or-so people to board the bus.
Our driver sports a nifty Space Invaders t-shirt, which gets my firm seal of approval, although Eleanor is more into Asteroids. As we take our seats over the back wheel, we realise that we've entered onto the set of the long-awaited second sequel to Cocoon.
Absolutely everybody else on the single decker has been drawing their pension for a decade at the very least. After a bit of subtle ear-wigging, it turns out that the two old ladies in front of us are called Jean and Margaret, as remarkably, are the two across the aisle to our right.
A cheerful "See you later Jean, love." by a gent getting off the bus in Clayton-le-Moors with a couple of bags of shopping sees two other previously unidentified Jeans breaking off from their conversations to look up for a quick glance. This equates to 25% of the passengers being called Jean, which I think is wonderful.
Unsurprisingly, Jean was firmly ensconced in the Top 5 most popular names for girls in the 1930s and 40s, although it was presumably by far and away the top choice in this part of Lancashire. Tastes change, of course, and alongside other former mainstays such as Doreen, Maureen and Doris, it's all but extinct now for newborns.
That said, some names do storm back. After being a common choice at the beginning of the 20th century, you'd struggle to find an Emily born between 1930 and 1970. Simply, it had become an old ladies' name, but an unexpected renaissance saw it surge back up the rankings to become the most popular girls' name in anglophone countries by the start of the noughties.
Cake Jars A-go-go
Great Harwood is all go.
We're greeted at the bottom of the main road into town by a trio of ponies, who as soon as they see the bus approaching suddenly cease all movement, as though they're playing musical statues.
Another horse a few yards away sees what's going on and instantly spins around to stare at a tree. Very odd.
Heading up the hill, we see something I've not come across since I was a kid: people queuing up outside a cake shop. The main reason for the lines out of the door at Peggy's just off Abbey Hey Lane was that you could only fit four customers in at a squeeze, but this was different.
A local Great Harwood secret was revealing itself, with patient customers stretching back about 20 yards.
Poor old Townsend Records next door have to put up with their entrance being blocked all the time, as the twin sisters who run the Finch Bakery have brought cake jars to the masses.
A cake jar is exactly what you'd expect it to be. A cake, but….in a jar. Why a cake would taste any better imprisoned in a glass cage, I really don't know, but they look spectacular (particularly the Cookie Monster one) as a quick peek at their Instagram account will attest.
They've been baking cake jars since the end of 2016, and as they only seem to sell them at this one shop, demand doesn't look like waning any time soon. The beaming faces having a natter in the line help create an atmosphere more akin to people queueing up to see one of their favourite bands. You wouldn't even get this excited picking up your wedding cake. Or wedding dress, come to think of it.
The nattering in the queue may have something to do with the entire main square, just a few yards uphill, being cordoned off with police tape. A man has clambered onto the roof of a former pub and has been in a stand-off – or more accurately, a sit off – with police since dawn. Perhaps faltering in the midday sun, he's arrested an hour or so after we pass through.
The Cradle Of Pop
It's around this point that we realise that we're on the bumpiest bus outside the Andes. We'd been bouncing around a fair bit on our trip up from Rochdale, and the only logical explanation is that the ruts in the roads are because all the local councils are in cahoots with some conniving cabal of chiropractors. Or maybe a lack of funding, I'm not sure. Either way, my neck is knacking, and feels like I've got whiplash with a side order of soon-to-be-slipped discs.
None of the OAPs are grumbling, not about their necks at any rate.
We flirt with the tree-lined banks of the River Calder for a couple of miles, and near enough the first thing you come across when you enter Whalley (pron. Wor-ley) is a nightclub called Rendezvous. Rio's if you're a local.
Clubs in small towns are a rare enough sight these days, but Whalley is a village of around 3,500, so how this bijou disco keeps on pulling in enough punters on a weekend is a mystery. I suppose that it must just be great. Its sign reckons it opened in 1889, but The Bee Gees and ABBA didn't form until around 80 years later, so I'm not sure how that's possible unless Whalley is the cradle of pop.
It's a fancy place, with its proliferation of tearooms, fancy restaurants and Good Beer Guide approved pubs. It joins the ever-expanding List Of Places We Need To Stop And Have A Pint In At Some Point, and as the train runs hourly from Manchester, we've got no excuses not to have a closer look (yep, we don't use buses exclusively).
Half a mile or so outside the village we see a group of six walkers in matching mint green t-shirts and a variety of headgear. We round a kink in the road to see a few more, then a shedload more, then at least 100 people in the same garb taking up every available perch at The Eagle At Barrow.
We've stumbled across the Ribble Valley Pub Walk!
They really couldn't have picked a better day for it; blue sky, low 20s, a minor breeze, the World Cup being on. Perfect.
It's an early start to the session as we're still only on about half eleven, but we can practically feel the heat from the landlord of The Eagle rubbing his hands together in anticipation. They're also swinging a bucket for the East Lancashire Hospice, so it's an even better excuse to get slowly sozzled.
It's a short stretch towards Clitheroe, a town I had no idea was quite posh until a friend moved here a few years ago. It's got a Booths and everything.
I like Clitheroe a lot. Even the football club, where my beloved Hyde United have been on the receiving end of a couple of tonkings in the last two seasons, is full of friendly souls, a ski slope of a pitch and a rickety main stand with the best wooden seats you've ever seen. Although I daren't risk sitting on one of them for fear of splintering my arse.
We'll doubtless be back to Clitheroe soon enough as we've both got pals here, but in the meantime, there's the bus to Nelson pulling in outside the train station a few yards ahead of ours. We'd better get our ruddy skates on.