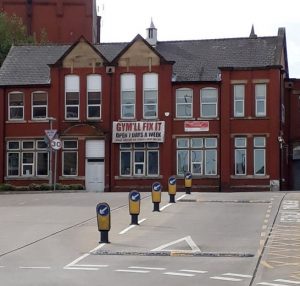 Route: 464, Rochdale – Accrington
Operator: Rosso Bus
Frequency: Every 15 mins (Mon-Sat), Every 30 mins (Sun)
Time: ~1h 20m
Cost: Part of £5.60 AnyBus System One Day Ticket
Date Of Trip: 23/6/18
I wasn't going to mention any of 'that' stuff about Rochdale, as the town has had nothing but a kicking recently. Sometimes, though, something so ridiculous, so monumentally lacking in self-awareness presents itself that you really can't ignore it.
You already know the ins and outs of Rochdale's well publicised problems over the past few decades, but having somewhere to work up a sweat right beside the new bus station called Gym'll Fix It is tasteless at best. When it opened, presumably before Savile's gruesome history was uncovered, its owner will doubtless have just seen it as a cheesy pun that people will remember. Nothing wrong with that at all.
However, they've had the best part of seven years to change its name, but chosen not to. Can you imagine joining a gym called Gym'll Fix It? In Rochdale of all places?
"Oooooh, you're just a big liberal hand-wringer!" I hear some of you cry, including the management and patrons of Gym'll Fix It, proudly waving their membership cards aloft. Maybe I am, but I'd have thought that avoiding any association with one of the UK's most reviled figures would make good moral and economic sense.
Not The World's Biggest Bridge
I've got a few friends from this neck of the woods, and one of them has a habit of mentioning the thing about Rochdale that he is prouder of than anything in the world. It's not the usual stuff about it being the home of the co-operative movement, Scott Hogan's brilliance down the wing, or even the first six series of Waterloo Road being filmed here.
No. It's because, Dave insists, that Rochdale is the biggest bridge in the world. Not that it has the biggest bridge, but that the entire town centre is the biggest bridge.
The River Roch was culverted beneath the town centre in the first few years of the 1900s, effectively turning seven existing bridges into one girthy crossing. Indeed, it was in the Guinness Book Of Records as being 446m wide, but as, y'know, it's not a proper bridge, it has been quite rightly shunted out of its hallowed pages. A good chunk of it running alongside the bus station and freshly-built library has been uncovered now as well, shortening the 'bridge' by a good few yards.
Our 464 shows up on time, and we're soon picking our way through the roadworks and rubble which are scattered throughout the centre, the visible signs that a huge scheme is underway to re-sculpt the layout of the town.
It's new territory for us for most of this trip as we leave Greater Manchester behind, and head up towards Whitworth across the Lancashire border. The bus stops change from bare metal posts along the edge of the road to proper shelters set back on the pavement, originally painted red but generally now in various shades of disrepaired pink due to years of sun exposure.
In Praise Of The Terrace
As the World Cup is on, you'd perhaps expect the village of Britannia further up the valley to be a patriotic heartland swaddled in England flags, but instead it's a mostly flagless, identikit new-build estate. I really don't know why developers have abandoned the construction of terraced houses; the image that some people have of poky, damp-ridden hovels couldn't be further from the truth. They were built to last, and unless the local area has crumbled around them, they mostly have.
It's true that they needed modernising along the way, but you can't help but be part of a community in one, and you will almost certainly know your neighbours, even if you can't stand the sight or sound of them. Plus, you can pretty much guarantee that sturdy Victorian terraces will last the test of time better than today's hastily thrown up starter homes.
Moving on from my ill-informed social commentary, we're soon in Bacup, and parked up outside Th'Owd Con Club, which never really recovered from an attack in 2011, where around 50 people went collectively mad and rampaged around their own town. Not that rampaging around someone else's town would be any better, but smashing windows and kicking people's heads in on your own doorstep takes a special kind of stupidity.
Bacup does have the eccentric genius of Brent Peters to rely on, though. He's the manager of Bacup Borough FC, and among a long list of examples of his creative musings, he changed the club's name – in the wake of Rossendale United's demise – to Bacup & Rossendale Borough in 2014.
However, things didn't go as well as he planned, and the club swiftly found themselves holding up the rest of the North West Counties Premier Division.
Rather than throwing teacups at his players, he claimed that poltergeists were doing it instead, and that the spirits were so unhappy about the name change, that they were physically stopping his strikers from shooting:
"The other week, one of the players went through on goal, but as he was about to shoot he felt a weight holding back his kicking foot!" he excitedly told the papers.
Exorcists were brought in and the name was changed as soon as the FA would allow, but the club were relegated to the First Division (six divisions below the Football League), where they remain to this day.
T'internet
The road west through Rossendale is a doozy. It's not spectacular, but has a string of villages full of independent shops, including more hardware stores per capita than surely anywhere else in the UK. All roads round here lead to Rawtenstall, home of one of the country's few dry ski slopes, and Mr. Fitzpatrick's, its last temperance bar.
Me and Eleanor went in there a few years ago for a swift half of Blood Tonic, and El got so affected by the olde worlde atmosphere in the shop that she unexpectedly started speaking in ancient Lancastrian to the younger Mr. Fitzpatrick behind the bar:
"Is shop on t'internet, like?"
"Aye, we've got website."
"Eeeeh, champion."
We press higher to Haslingden, whose war memorial has a striking statue of an injured soldier being guarded by his pal and his pal's very pointy bayonet. There's another sculpture above the town called The Halo, which looks like an upside down space ship, and apparently gets illuminated when the light fades. It's part of the Panopticons series of four pieces of artwork in East Lancs, with the Singing Ringing Tree overlooking Burnley being the most celebrated of the quartet, winning a RIBA award in 2007.
Chips In My Blood
Just as we reach Baxenden, which leads down into Accrington, we pass the Holland's Pies factory. A place of pilgrimage for us Northerners, they've been putting savoury slurry inside pastry casings since 1851, but before the Second World War they were as well known for their cakes as they were for their pies. Sugar rationing signalled the death knell for their confectionery arm and concentrated efforts on what is now their core range.
Holland's Pies aren't great by any stretch of the imagination, but you can't claim to be a chippy in the North West if you sell pies by any other outfit. Some people won't go into a place which sells Pukka Pies, as they believe that it betrays either the inferior tastes of the head fryer or a lack of attention to detail. Just for clarity, flaky pastry has absolutely no place on an sort of pie, and I'm fully with them.
Chips shops are in my blood. Cut me open, and alongside plasma, platelets and whatnot, you'll find a load of deep fried comestibles. My Nana Meg and Grandad Herbert used to have a chippy in Beswick, long since bulldozed in the slum clearances of the 60s. Eric Stewart, who would later go on to form 10cc, was a regular when he was a kid, although my grandad (actually, great-grandad) thought he was a ne'er do well who would never amount to anything.
A bit of a ducker and diver himself, Herbert did have a non-stop work ethic which I've definitely not inherited. He'd start his fruit and veg round at daft o'clock in the morning and be back at the chippy with Meg in time for the dinner shift. He'd also bring his cart horse back with him, who would apparently walk in through the kitchen, stick his head through the serving hatch and be fed a daily pickled egg as payment.
I never did ask, but I'd be astonished if they didn't sell Holland's.
It's a pleasant descent into Accrington, juddering past the Haworth Art Gallery which glazing fans will know houses the largest collection of Tiffany glass outside the US. It was gifted to the museum by local lad, Joseph Briggs, who'd emigrated and worked for the company for 40 years, and sent his collection (which he'd presumably sneaked out of the factory in his lunch box) home in 1933.
Accrington seems to have its fare share of shuttered shops and prorogued pubs, with even the promise of £2 pints on Monday to Thursday not being enough to rescue the Hope & Anchor. However, its streets are busy on the run to the bust station, and you suspect that it's a case of survival of the fittest rather than any terminal decline.
Anyway, grab your things, we're off to Clitheroe next…