Route: 62, Warrington to Widnes
Operator: Warrington's Own Buses
Timetable: Hourly (Mon-Sat; no Sunday service)
Time: ~1h 10m
Cost: £3.30 Single
Date of Trip: 17/2/20
Can I Get a Widnes: Ian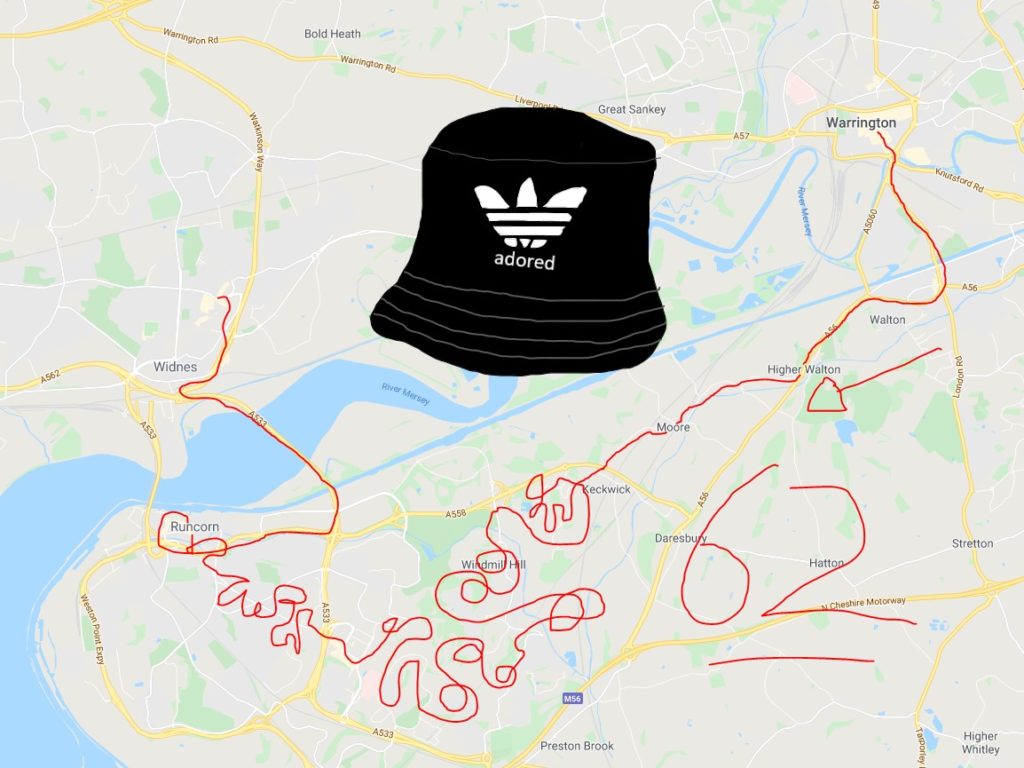 The remnants of Storm Dennis are still swirling around, which rules out filling my lungs with fresh air on a country walk. However, it frees the path for a day of bus-based chicanery.
There's a solid chance I'm the only person who has ever volunteered to go to Widnes. Dave, a friend of mine who lived there for several years, was incredulous when I told him of my plan to venture into his old neighbourhood: 'Burkey, don't bother, mate. It's a proper shithole.'
It might be, but even if I never head back, at least I can say I've been. Plus, it will remove the question mark hovering over this enigmatic nook of the atlas.
First, though, we've got to get out of Warrington, a city-sized town with its own detractors. Its old bus station was dark and miserable, with the ambience and paraphernalia of a crack den – albeit a crack den with outstanding transport links. Its high-ceilinged replacement is awash with natural light and has a much sunnier disposition. With plenty of time to fill before my connection arrives, I delve into a town centre that's in a constant cycle of regeneration.
Modern 21st century glass structures rub joists with Brutalist concrete fortresses. What it lacks in immediate charm it makes up for in its street art. This includes an avenue of greenery which leads up the middle of Horsemarket Street, where ten jade 'Guardians' stand on a raised circular podium. Locals have either forgiven or forgotten that they cost £1 million to install.
'Do you want anything from Greggs?' a mum asks her young daughter as I arrive back at the interchange.
'Who's Greg?' she replies, unaware she's about to walk into a choux pastry blizzard.
I hand my fare to the driver of the 62, who leaves the bus station via the adjacent shopping centre's service tunnel. The jaundiced light makes the grey day outside seem a few shades brighter on our re-emergence.
There's a lilac-haired lady sat two rows ahead, who can't figure out the volume control on her phone. She's playing a video of her grandkids singing nursery rhymes at decibel levels not heard since My Bloody Valentine's last tour. She panics as it loops back to the start, with her flapping hands turning the contraption off during the third play through.
We cross the River Mersey and nestle behind a long line of cars and lorries. The sluggish traffic gives us plenty of time to watch a pair of pied wagtails flit from bush to shrub, harvesting the twigs of any stray bugs unfortunate enough not to have taken shelter.
Blessed with distinctive, polychromatic brickwork terraces, Wilderspool Causeway's old housing stock mingles with new builds boasting windows that stretch from the ground floor all the way into the roof. They're opposite the converted Greenall's complex; once the largest brewery in the whole of the North West and Warrington's leading employer in Victorian times. Production fizzled out in 1990, but it remains an ornate, curved love letter to the town's industrial heritage.
Once over the Manchester Ship Canal, Stockton Heath announces itself out as one of the area's fanciest postcodes. Regular suburbs don't have brasseries, Japanese restaurants or Chinese tea rooms. A short bridge separates it from the rest of the Warrington, but Stockton Heath has far more in common with its leafy Cheshire cousins Wilmslow, Alderley Edge, and Tarporley, than its uncouth big brother just to the north.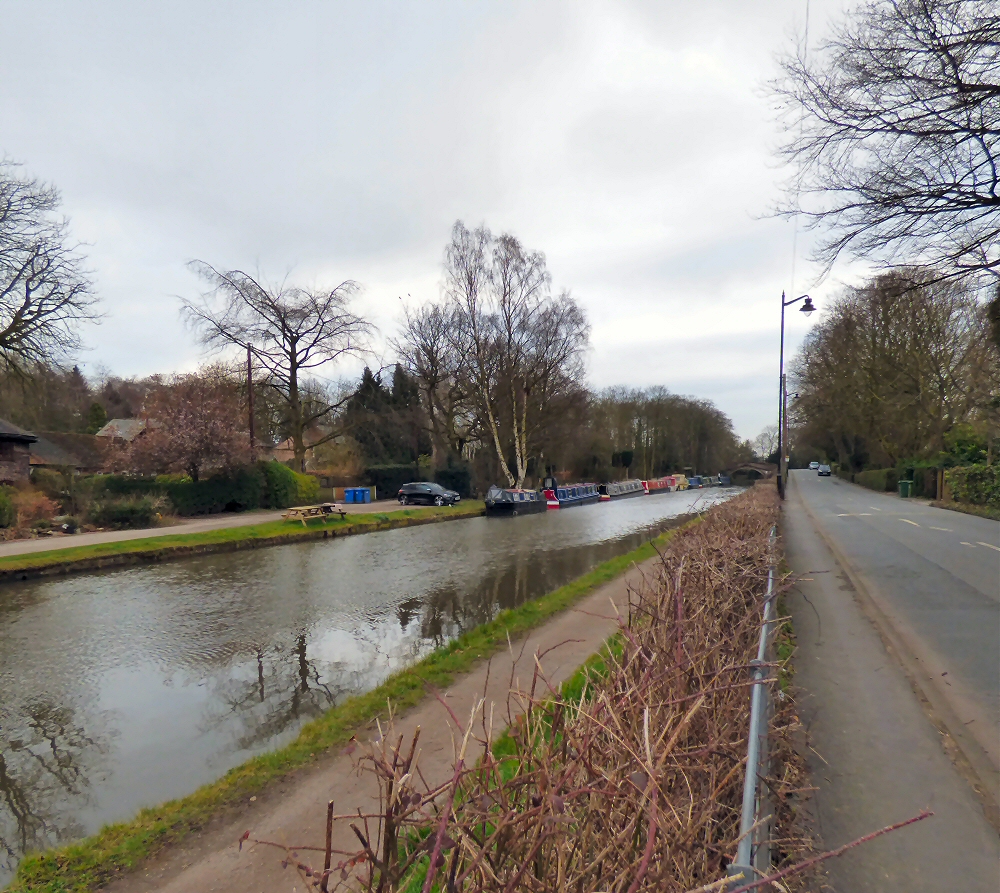 We pick up speed, hurrying past the gated communities and mansions of Walton in case their residents report us for loitering. Distant cooling towers burp their residue into the atmosphere as we bear down on Moore, a postcard village straddling the Bridgewater Canal. A line of narrow boats creates a de facto marina, making the most of the prettiest stretch of water before Lymm.
We're in Halton territory now, an idiosyncratic borough dominated by Runcorn and Widnes, which face each other across the Mersey. United against becoming part of either Greater Manchester or Merseyside after the 1974 boundary changes, the powers-that-be instead lumped them together. Thanks to being on former baronial land, the name Halton has existed for the thick end of one-thousand years. It's a better choice than Runnes or Widcorn.
The bus flits around the edge of Sandymoor. It has black and gold street signs set into grand brick plinths, rather than them being nailed onto the side of walls. Dogwood scrambles for attention along its borders, with small ponds splashed among the landscaped green spaces. It's by far the poshest housing estate I've ever seen, but despite the veneer of exclusivity, it's still an estate. Good luck finding a shop if you don't have a car, but then the whole makeup of this enclave is stacked against non-drivers.
Opened in 1971, the UK's first dedicated busway greases our passage beyond the lonely approaches of Runcorn East railway station and around the town's outer satellites. A switch flicks, and the fashionable new builds cede territory to more perfunctory post-war homes. Created during the New Town movement in the 1960s, Murdishaw and its surrounding districts were used to relocate Liverpudlians after the slum clearances bulldozed their old communities.
Better housing it may have been, but as with many estates across the country, these new schemes uprooted people miles from their home cities, friends, families and jobs.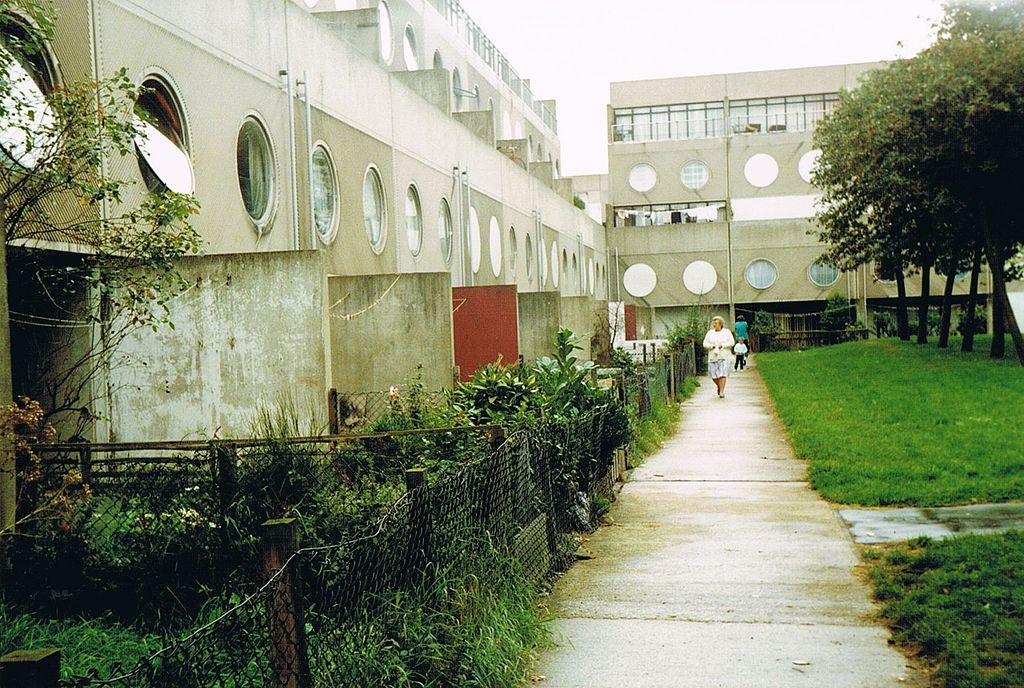 At least it is still standing, unlike the ill-fated modernist disaster that was the neighbouring Southgate Estate. International critics gushed over its washing machine-like dwellings; their porthole windows harking to Liverpool's maritime history, while their concrete exoskeletons pointed to the local Council's penny-pinching.
Its residents were soon gnashing their teeth at the expensive communal heating system, the parachuting in of disruptive families and tenants, and the subsequent lawlessness of the stairwells. The whole shebang returned to dust by the early 1990s after less than two decades of shambolic existence. The Warrington and Runcorn Development Corporation, the body which gave to go-ahead for both the build and the destruction, dissolved in ignominy.
Jonathan Meades summed it up best when talking about Southgate's creator, James Stirling: "His buildings, like their bombastic maker, looked tough but were perpetual invalids, basket cases."
Most of 'new' Runcorn uses Radburn design housing principles. In theory, there's nothing wrong with that. Radburn is in New Jersey and is full of enormous detached houses with gleaming white picket fences. Runcorn has regimented brick boxes and overgrown hedges. The municipal neglect is plain to see.
It wasn't supposed to be like this. Seen as progressive at the time, strict zoning meant that people lived here, worked over there, and spent their wages at Shopping City: the country's first American-style mall. Slapped at the geographical centre of the expanded Runcorn to a design by Fred Roche (who would later become the 'father' of Milton Keynes), it was such a landmark in British culture that the Queen herself cut its ribbon in 1972.
The fatal flaw of Shopping City is that it has assumed the mantle of Runcorn's heartbeat. It has the big-ticket stores you'd expect in most town centres, but this one is bereft of the bars, restaurants and takeaways which keep its denizens busy in the evening. A town centre without a night-time economy isn't a town centre at all, it's just a bunch of shops.
This is all compounded by glaring transport issues. Runcorn East station doesn't link up to anywhere else in the borough, and as a good portion of the estates don't have a bus service past 7pm, how are Runcornians meant to socialise? It smacks of an experiment designed to fail. People deserve better.
The driver steers around lanes as curved as damp spaghetti, with the Silver Jubilee bridge glinting from afar as we crest the brow of Picton Avenue and into old Runcorn. It's here, along Halton Road that we see our first antique building: Co-operative Terrace. It has a beautiful beehive carved into its front elevation, which overlooks the Bridgewater Canal and a morass of hibernating buddleia.
We're soon trundling into Runcorn's tidy bus station, in what feels like a real town centre, albeit one relegated to just a skinny strip around Church Street. Although its proximity to the River Mersey, Manchester Ship Canal and main Liverpool to London railway line meant that it took a comprehensive clobbering during World War II – even the Weatherspoon's is a flat-roof pub – it has the first signs of life since leaving Stockton Heath behind.
A celebratory mural on the side wall of a decomposing row of shops is a bold statement of civic pride, and although the area has seen better days, there's clear potential for revival.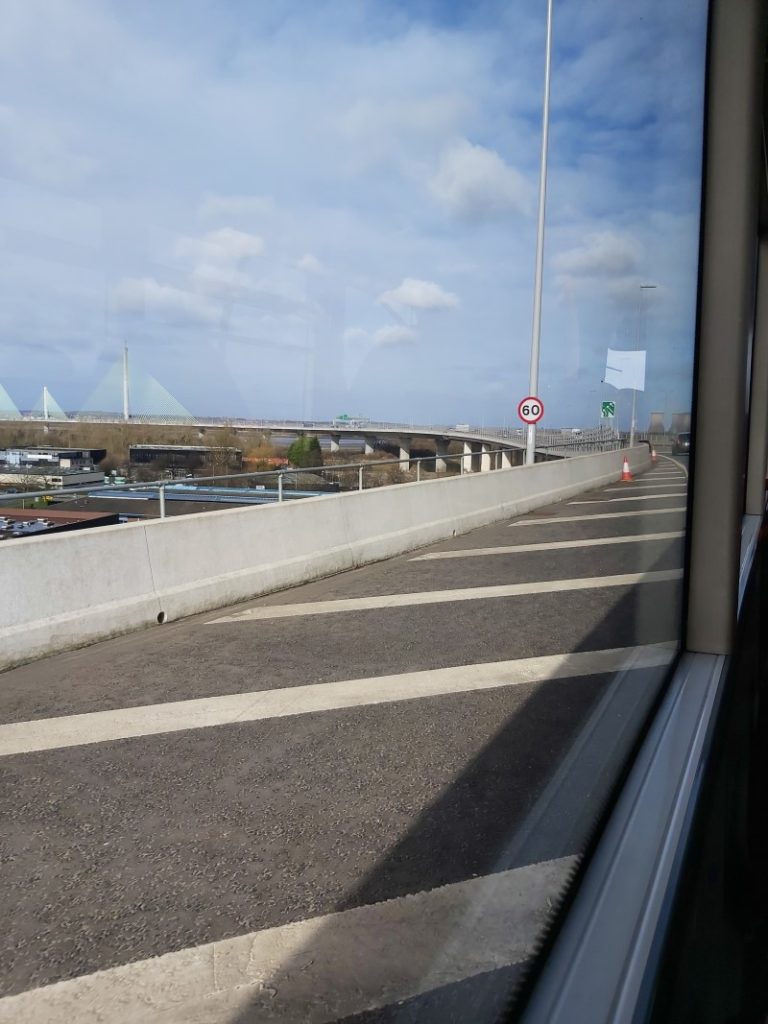 We double-back towards the new Mersey Gateway Bridge. Its trio of elegant, triangular sails makes it looks like we're heading into a steel cable reconstruction of the Valley of the Kings, with factories and warehouses waving us over the approaches. To my surprise, despite the river being a kilometre wide here, it appears unnavigable to any vessels larger than a pedalo. Mud flats and sand banks gather in hulking clumps below, stretching well beyond the Silver Jubilee Bridge a mile downstream, leaving a slender silt-free channel by the north bank and Spike Island.
Spike Island is a name that will cause palpitations among music fans of a certain age, as it's where The Stone Roses defined an era. Their gig here in 1990 has gone down in the annals of history as the baggy scene's high-water mark. That's despite the Roses being the only rock band on the bill (the rest were DJs, reggae singer/producer Gary Clail, and a Zimbabwean drum orchestra), and the sound being atrocious.
I know a few people who were among the 27,000-strong crowd, and they all go on about 'yeah, but it was the vibe'. This means they were trollied on beer and/or drugs. Spike Island hasn't hosted another show since, but a 30th anniversary festival will happen in May, headlined by The Clone Roses. A host of other Manchester tribute acts are also on, playing other people's tunes to middle-aged men in bucket hats.
It's here that the bridge spits us out into Widnes. I promised that couple in Parkgate that I'd make the pilgrimage at some point, so here we go.
The jigsaw of towns between Manchester and Liverpool are cauldrons of rugby league fanaticism. Widnes is no exception. People of all ages go about their business in black replica shirts, training tops and tracksuits of the Widnes Vikings, and for a somewhere with just 60,000 inhabitants, it's incredible that it can sustain a stadium seating 13,000. Even though it's half term, there are no kids showing their Liverpool or Everton colours, it's all Widnes, Widnes, Widnes. The love for their club is obvious, and unless you're a chemical industry enthusiast, the chances are it's the only reason most people will be familiar with the place.
It's not the most salubrious of paths into Widnes's core, and it has more supermarkets than is necessary, but I've been to worse places. One of them ten minutes ago. All this slinking around the edges has thrown my compass off balance, though, and I follow the remaining two passengers off the bus by a retail park. The realisation soon dawns that I've left my seat early and am doomed to using Halfords as a landmark. I set off in search of the elusive town centre, but lose my bearings within seconds. Psychogeography be damned, I need help.
'Dave, I'm lost,' I text my ex-Widnesser chum.
'Where are you, mate?' he responds.
'Near Buzz Bingo.'
'No, you're miles off.'
I need to get back on track. There's a bus to Liverpool on its way.