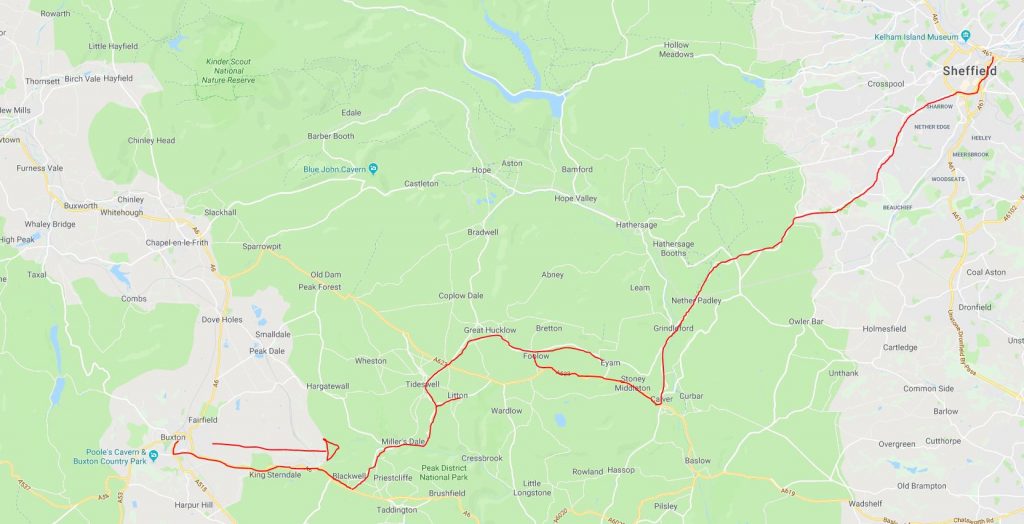 Route: 65, Buxton to Sheffield
Operator: Stagecoach Yorkshire
Frequency: Roughly every 2 hours (Mon-Sat), 2 per day (Sun)
Time: ~1h 30m
Cost: £6.50 Explorer Ticket
Date Of Trip: 11/8/18
Buxton is one of my favourite towns. As well as the regal setting of The Crescent and the immaculately kept park it looks over, another huge part of its appeal is that there's also definitely something a bit funny in its famous water.
A day which perfectly encapsulated this was back in March 2011.
Me and Ginger John had gone to watch Buxton v FC United in a crunch fixture in the Northern Premier League. Sam Ashton, FC United's goalkeeper was resting aghast on his haunches after Buxton took a 2-0 lead early in the second half, when a pig's head was propelled onto the pitch and came to rest beside him.
There was strange mixture of remonstration, amusement and repulsion from all sides of the ground. A hardy steward eventually grabbed the unfortunate porcine intruder by the ears, escorting it away in a Tesco carrier bag before stuffing its remains into an old-fashioned black dustbin.
Spurred on by the injustice of a local family missing out on some brawn for their tea, FCUM clawed their way back into the match and snatched an injury time equaliser to end proceedings with a 2-2 draw.
Without wanting to bring the town into too much disrepute, we later saw a giant pin a man to the wall of a pub by his throat, while a couple of babies got bladdered on cider with their parents just a couple of tables away. Parts of Buxton are stunning, but there's a crazed underbelly to be found if you stray off the main drag.
Stay off the moors, stick to the roads.
Shiny Fishy People
I wait for the bus with a guy in a blue-and-white check shirt who is on his way back to his parents in Peterborough for the weekend. I ask him how come he's not just getting the train.
"I'm getting one from Sheffield, but if I do the obvious thing and change trains at Stockport, well, that'll cost me £76."
"That's ridiculous." I reply. "How long does it take?"
"About three-and-a-half hours. That £76's with a pass as well."
"How much does it cost going from Sheffield, then?"
"About half that." He says, doing a spectacular eye roll in the process. "It takes an hour longer, but it saves a packet."
A kaleidoscope of town and village, field and moorland, with a great big city waiting at the end of it, the 65 keeps you on your toes, and is undoubtedly one of the UK's hidden bus route gems. Even if the particular one we catch one isn't a double decker any more.
We're on top of history almost as soon as we set off from the Sylvan Park stop, with the Devonshire Dome just past the railway station. While the 1779 building itself is fairly modest, its centrepiece was once the largest unsupported dome in the world, dwarfing its counterpart at St. Paul's Cathedral and even surpassing the dimensions of those at the Pantheon and St Peter's Basilica.
The bus picks up its main bulk of passengers at the Market Place, and we're soon motoring along a viciously twisting section of the A6 which always made me feel car sick when I was a nipper. I've conquered it now, but the tiny trickle of the River Wye alongside us doesn't look too clever.
Its soapiness shows evidence of detergents at work, presumably from one of the industrial plants or quarries on its banks, and just as you think it's starting to run clear, the stream will tumble over a few submerged rocks and kick up more dense bubbles.
At least the fish'll be clean.
We begin to climb and leave the Wye below. Forest encroaches from both sides, but between the trunks you can see a perilously steep valley to the left covered in shrubs and scree, with an impenetrable carpet of gunnera a couple of hundred feet below.
We reach the apex of the hill and onto a plateau, where the ancient fields are partitioned by ramshackle dry stone walls in various states of (dis)repair. The grass is mostly down to the nub after the recent heatwave, but spells of rain over the last couple of days have coaxed green shoots to the surface that the livestock are already eyeing up for their menu next week, day dreaming about all that tasty regurgitated cud. Mmmmmm.
Two people who don't have to wait that long are the middle-aged couple sat in front of me. They've cracked out a hedonistic picnic of stem ginger biscuits and a bottle of Dr. Pepper to fill a hole as we rise through Miller's Dale.
The lady is somehow even frecklier than I am, while the man has spidery eyebrows to rival Dennis Healey's. They're as ginger as his biscuits, albeit with grey flecks at the tip, and serve as a sad reminder that when I had my hair cut last month, Andy The Barber not only trimmed my eyebrows back for the first time ever, he also took his clippers to the fuzz gathering around the outer rim of my ears. I didn't even know you could grow a beard there.
Punch Drunk Action Man
It's not long before we're in Tideswell, whose Gothic 14th century St John The Baptist parish church revels in the grandiloquent 'Cathedral Of The Peaks' sobriquet. You can easily see why, though. It's unreasonably huge for a place with fewer than 2,000 souls, and is almost certainly larger than a few actual cathedrals in the UK, with the ones in St. Asaph and St. David's springing to mind.
It sits at the top of a village with an unusually wide high street, which splinters into several branches lined with limestone cottages. The only thing they seem to do by half in Tideswell are the chip shops, one of which only opens at dinner time, the other just for evening meals.
It's also the home of Judy Leden, multiple world hang gliding and paragliding champion. She may well be one of the dozen-or-so people who have taken to the sky at the Derbyshire Flying Centre, a few minutes up the road at Foolow.
It looks like crowded airspace from our initial angle, but the view broadens as we approach Eyam, and the participants are spiraling up, up and away on thermals without impinging on anyone else's aero-turf.
I was fully indoctrinated against paragliders when I was a youngster. My cousin Mark was given a radio controlled model glider for his birthday one year by my uncle, in one of those 'we know whose present it really is' deals. The whole extended family excitedly traipsed up Werneth Low to watch the winged beast swoop daringly above the back lanes of Hyde.
With Mark at the controls, my uncle took a run up and launched the glider over the precipice and into infinity. Three seconds later it stalled and nosedived onto a boulder, breaking into a million shards of balsa wood. The Action Man figure optimistically seated in the cockpit was thrown a few yards clear downhill, but apart from a couple of scuffs to his paintwork, he was mercifully unharmed.
That abortive mission ignited something in my dad and uncle, who patched up Mark's glider and took it – and an increasingly punch drunk and reluctant Action Man – for a spin every weekend until they eventually bought their own toys instead.
Their initial enthusiasm blossomed into something approaching obsession with RC powerless flight. They subscribed to Aviation Modeller magazine, clubbed together to buy more advanced gliders, and even set up a short-lived company designing the infernal contraptions.
If there was one thing which truly united them and the entire model glider community, though, it was their unguarded hatred of paragliders.
'Bedsheets', as they were disparagingly known, were the bane of their lives, hell bent on putting their fleshy bodies in the way of rapidly-moving carbon fibre wings and interrupting competitions with their flapping canopies.
There were no fatalities or even serious injuries that I know of, but both sides held the other in utter contempt, to the extent that they wouldn't even speak to each other in hillside car parks.
We All Fall Down
Who knew that bubonic plague could be a tourist attraction?
It will have been the last thing on the minds of the stricken villagers of Eyam in 1665, as infected fleas in a batch of cloth sent up from London caused an outbreak so severe that they put themselves into a self-imposed quarantine.
Lasting for more than a year, the disease claimed around 270 victims, with the inhabitants' resolve being celebrated at the end of each August on Plague Sunday.
Among the final resting places of those afflicted with plague, is the gravestone of cricketer Harry Bagshaw. A former lead miner whose prowess with bat and ball in the local leagues begat a 15 year career as an all-rounder for Derbyshire. He later became the most celebrated umpire of the early 1900s, and upon his death in 1927, was buried wearing his umpires' coat and a cricket ball nestling in one of his hands.
His towering tombstone depicts wickets and bales being skittled and an index finger pointing skywards to indicate that Bagshaw, H. has indeed faced his final unplayable delivery. The inscription reads "Well Played", followed by a verse from a poem by American sportswriter, Grantland Rice:
For when the One Great Scorer comes
To write against your name,
He writes – not that you won or lost –
But how you played the Game
Curiously enough, it's from a piece called Alumnus Football, but it's surely far more suited to cricket than the grunting of gridiron.
The normal route from here is undergoing maintenance, so we are sent back on a diversion from whence we came (ie, Foolow), with the driver not sparing the horsepower in order to make up time as we gallop on towards Stoney Middleton. We are met by a sheer inland cliff called Lovers Leap, where legend has it (ie, it's probably nonsense) that Hannah Baddeley clambered to the top of it after tumbling into a state of amorous despair in 1762.
Jilted by her beau, she leapt to her certain fate, only to be given a surprise reprieve by her petticoats billowing into the shape of a makeshift parachute, and easing her passage down the escarpment with nothing more than a few bumps and bruises. If she had attempted it these days, she'd have landed on the roof of Curry Cottage.
We go as fast as the bus driver dares, although there's no option other than to take a low gear on the long climb out of Grindleford, which has a typical Hope Valley Line train station, insomuch that it's inconveniently placed about a mile outside the main settlement.
The ascent takes us along Padley Gorge, dotted with footpaths and completely encased by trees until they disperse without warning, offering a sudden panorama of some spectacular moorland. Acres of heather are in full burst, jostling for dominance with deep green fronds of bracken all the way up to and beyond Longshaw Estate and the isolated Fox House Inn.
Brutal Deluxe
Thus begins the long drop into Sheffield. Hathersage Road has a quick change of clothing and re-emerges as Ecclesall Road, peeping down towards Dore below.
There's a definite evolution of housing: mansions with drives longer than my street hold sway on the upper approaches, soon making way for (in order of appearance) detached and semi-detached houses, hi-spec modern flats and eventually terraces as we lose altitude.
Endcliffe Park has welcomed a circus big top onto its fields, while the area surrounding the lower reaches of Eccy Road is a hotbed of student activity. With that comes the usual glut of MOR eateries such as Nando's, Papa John's and Taco Bell lining up for the expendable mainstream pound.
As mentioned on our London bus from a few weeks back, Sheffield didn't have as lucky an escape from the modernising town planners of the 1960s as St. Pancras station did. The city was at the behest of architects who were given free rein to pour an orgy of reinforced concrete all over the centre, with one of Britain's behemoths of Brutalism being the first example you see on your way in.
A nightmarish, windowless edifice which wouldn't look out of place in the pages of Waterboarding Today. The Moore Street Electricity Substation is now 50 years old and looks like a car park designed by a vindictive pedestrian, yet it was awarded Grade II listed status in 2003.
It's so oppressive that I've developed the early stages of architectural Stockholm Syndrome towards it. Sheffield Syndrome, I suppose.
Across the way, the peculiar red brick step pyramid of the Moorfoot Building is now council offices after its retirement as a devious level in 80s arcade classic, Q*Bert.
It's not all Brutalism, though. The HUBS student union at the university embodies the future as seen by people who expected us all be wearing tinfoil tracksuits by now, with its four circular structures looking like overgrown metallic curling stones.
We pull into the bus station ten minutes late, the man heading to Peterborough gives me a little wave, but all is surely lost, as our X17 to Matlock was due to leave two minutes ago. Will we have an hour's wait in Sheffield? Tune into the next exciting bus write-up to find out.