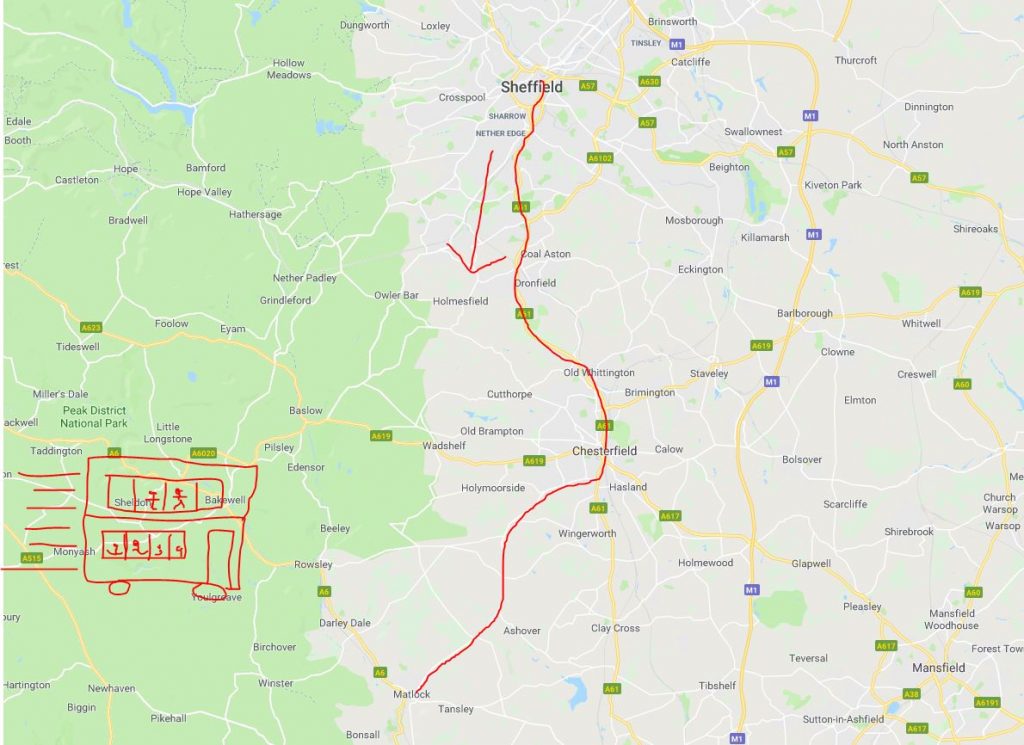 Route: X17, Sheffield to Matlock
Operator: Stagecoach Yorkshire
Timetable: Hourly at xx40 every day
Time: ~1h 30m
Cost: £6.50 Explorer Ticket
Date Of Trip: 11/8/18
After arriving in Sheffield 10 minutes later than planned, surely all hope was lost.
I will have just missed the X17 to Matlock, and be cast asunder to forlornly mooch around the Reinforced Concrete City until the long hand of the clock shuffles around another one of its steady revolutions. Worse still, my early evening rendez-vous with Eleanor in Buxton could be in jeopardy; she's fixing her allotment gate today, after vandals gormlessly took a hammer to it.
Despite the image that some people have of buses running as and when they fancy, routes do tend to stick pretty closely to their planned timetables. Fortunately for me, however, the X17 has suffered a similar fate to my 65 from Buxton and is running behind.
The deep huffs come thick and fast at the stand as the schedule is thrown to the wind, and while you couldn't use the tarmac as an effective makeshift frying pan today, the mercury is still threatening to reach 25° and it's hot enough inside the bus station for the odd whimper.
One of the cries comes from a beautiful black and white akita, who erupts into doggy tears when a chubby brown staffy waddles past.
The akita's owner, a middle aged man in a white vest and dark blue shorts, kneels down and puts him into a swaddling headlock to prevent the dogs' gazes from meeting. After the perceived threat has passed, he stands up and mimes a tut, with his head, eyes and eyebrows all darting briefly up and to the right as if to apologise for his pet being frightened.
He's replaying the whole scenario again a few moments later when a sausage dog yelps excitedly at the X17 as it pulls in, a full quarter of an hour late.
The bus is our first double-decker of the day and carries the promise of 'e-leather seats', whatever they're supposed to be. They're certainly not electric in any way, save for the USB chargers, but it's worth noting that putting 'e-' in front of a word doesn't make the object in any way more modern or desirable. Just as adding '2000' as a suffix to provincial club names in the 90s didn't make fights less likely to break out at their funky house nights.
Hello, Enthusiasts
As we pull away from our bay, I spy a couple of bus spotters snapping eagerly away at the far end of the interchange. As with my new llama pals in High Lane this morning, I flash them a quick thumbs-up as an Easter Egg for one of their photos as we swing around the corner and into the city.
We slingshot around the edge of where all the action is, touring the unlovely fringes of the centre, before a wide roundabout takes us onto Bramhall Lane and alongside Sheffield United's stadium. Although it's not right in the heart of town, it's certainly in the vicinity of the pancreas, and it's a rarity these days for a major ground to be within easy walking distance of the main sights.
That said, everyone I know from Sheffield, including my allergic-to-bananas grandad, is a Wednesday fan, so boo to the Blades.
We continue along Chesterfield Road, where traditionally named pubs come thick and fast. The White Lion, The Red Lion and The Crown flow smoothly past in quick succession, the latter of which has a plastic skeleton affixed to the roof of a smoking shelter, in what looks like a top class beer garden.
Taking after Rome, Sheffield was built across seven hills by twin brothers who were weaned by a kindly Yorkshire she-wolf, and as such, flat ground is at a premium. As the road snakes ever higher, the houses along it nearly all need a few steps – a dozen in some cases – leading up to their front doors, which must make moving house even more traumatic than usual in this part of the world.
The driver presses on through Woodseats, an amalgam of working and middle class homes not too dissimilar to Hazel Grove back in Stockport. There's a constant gradient to deal with, though, one which becomes as steep as a ski jump ramp as we head towards Meadowhead. A glance backwards gives a sweeping view due north over the city, with a surprising amount of deep green canopy flashing up between the black slate roofs.
You Can't Bochum For Trying
It's not long before we reach Sheffield's southern terminus and a dual carriageway called Bochum Parkway. Named for its twin town of Bochum in Germany, the sixth largest settlement in North Rhine-Westphalia has returned the favour by creating a Sheffield-Ring, which is also a featureless expanse of road on its outskirts. You get the feeling that neither place has got the hang of this twinning malarkey.
Bochum and Sheffield might seem like peculiar bedfellows, but it does make sense. Whereas Sheffield's expansion was largely due to its heralded steel industry, Bochum was more of a coal mining town before Opel opened up a car plant in 1952. Cars tend to need a lot of steel, so a long-distance friendship was forged.
Opel's most famous car is without doubt the Manta. Produced in several iterations between 1970 and 1988, it suffered from a reputation in Germany as the thoughtless man's sports car. It even had its own genre of joke devoted to it: the Mantawitz.
I wouldn't normally be one to cast aspersions on the German sense of humour, but this example from an early internet message board from way back in 1991 is pretty much as good as it gets:
Q: What is the smallest component of a Manta?
A: The brain of the driver of course!
I do have an enormous soft spot for the Manta. After my very last day of infant school, we didn't cross the road as usual with Jean the Lollipop Lady. Instead my mum made a beeline towards my nana's house, just a few yards up Abbey Hey Lane.
Parked up in the avenue outside her side gate was a gleaming white Manta GTE coupe, and leaning against it with his left arm on the roof was my dad. He mustn't have known about Mantawitz. I certainly didn't, and ran towards it with a shrill screech only matched by the tyres of the Fiesta which very nearly clobbered me as I sprinted across the street.
I couldn't have been any more agog if he'd have turned up with a Ferrari Testarossa. It was by far the coolest thing I'd ever seen in my seven years on the planet, although even I could tell that having a car phone with glow in the dark buttons was a bit too flash for the streets of Gorton.
D382 KHA. It's probably the only car number plate I'll ever remember.
Must Be A Rotherham Or Mansfield Fan
We leave Sheffield's city limits choking in our dust, and set off to tackle the six mile long twin-lane stretch to Chesterfield. Rather than the usual glum intercity route, this section of the A61 (the Unstone-Dronfield Bypass, to give it its Sunday name) feels as though we're driving through a forest. So unrelenting is the overgrowth that Unstone, Dronfield and even Old Whittington are masked completely out of view, with the constant hum of the traffic no doubt diffused for the residents behind the green curtain.
Chesterfield cascades down a hillside in the distance, but we chase it down swiftly, and in not much more than five minutes, we are safely in its confines.
"Chesterfield. Shit." comes a mutterance from the back of the top deck, which is repeated half a dozen times more in the space of a few seconds. This sudden profane outburst is because we are dropping fans off outside Chesterfield FC's ground, and it's all too much for one rider to take.
"Shit on the Chesterfield." he chants as we wait to pull away, ignoring the kind of trouble that could get you into at a stately home.
It's 1:30pm and punters are just starting to mill around for today's game against Braintree Town. Unlike Bramhall Lane, the Proact Stadium is right on the fringes of town and with its squeaky clean glass and red brick facade is cunningly disguised as a call centre.
On the other hand, this season's kit is outstanding. The shirts are Royal blue with a solitary white stripe down the left side of the chest, the same colours that Abbey Hey Junior School's squad of 1990/91 sported when we swept all before us and won the Manchester Under 11s Cup.
After propping up the rest of the Football League last season, Martin Allen's side have started life in non-league strongly. They won their opening two games without conceding a goal, and a 1-0 victory today sees them sandwiched between FC Halifax Town and Gateshead at the top of the fifth tier.
(It might be as good as this campaign gets, though, as between then and me writing this on September 2nd, they've gone and lost all five subsequent matches and are down in 16th place out of 24.)
Oooooh, nasty.
I only came to Chesterfield for the first time in my life last month. It was for a wedding. There was an amber weather warning due to the heat, and as I'm particularly susceptible to melting after a spot of heat stroke a few years back, I decided to wear shorts and my favourite t-shirt.
"Are you sure about this, Gingerface?" Eleanor asked the night before.
"Yeah, of course." I replied, "I'm sure they'd prefer me not to be sweltering. I'll just make sure that I hide at the back of the photos."
"And you don't think you'll feel daft? Your t-shirt has got a picture of a cat sat on a llama's head."
I did make sure to do my research prior to leaving the house. Checking an article on a weddings website to see if I'd be cast out as Social Pariah Of The Year 2018, it offered the advice that "you should not wear shorts to even a casual wedding. You can always find a lightweight linen skirt or slacks to wear on the big day."
I'd gladly wear a kilt if I had one, but slacks?
"The only exception to this rule" the blog continued "would be for young children who will become unruly if they become uncomfortable or overheated."
Admittedly, I'm not a young child these days, but my pals aren't the stuffy type, so after my expected sarcastic ticking off from the groom, that was the end of it.
We pull into the coach station, where looking down the line of passengers waiting to board the X17 for its final leg, it soon becomes apparent that there must be a desperate shortage of kitty litter in Matlock. Every fifth person is lugging a five litre sack of the super-absorbent pellets.
Two young girls sit down as their parents climb the stairs, none carrying cat supplies. The kids park on opposite sides of the aisle, prompting the dad to spin around, his arms pointing to each daughter and addressing the mum in his best wizard's voice: "Choooose your faaaavourite chiii-ild…."
"You can't say that!" says the mum, face reddening at her other half's uncanny Treguard from Knightmare impersonation.
"Choooose wisely, fair maiden."
"Stop it. I'm just gonna sit behind you all."
The girls think it's hilarious, and yes, I know that Treguard isn't a wizard.
Sorry If You Get That Wallpaper Song In Your Head
The way out of town is marked by a couple of miles of suburbia, with any extant shops and facilities secreted away from the semi-detached houses which make up almost every building on the main road.
There's barely a hamlet along the A632 from here to Matlock, and once the dwellings peter out, the countryside deservedly takes centre stage. We crest a hill past Slatepit Dale and are treated to a yellow and green panoramic duvet formed from buttercups and dozens of copses peeling away to the east.
A side road points to a short cut to Darley Dale, although you'd have to tip-toe down the sadistic 20% gradient of Sydnope Hill in order to get there. Instead, our bus has its own troubles to negotiate, including a lap of The Kelstedge pub, which has presumably been inserted because there's nowhere safe to stop directly outside it on this steep downward slope.
Ahead of us is the imposing Slack Hill. A 1 in 7 elevation which the X17 tackles gamely, its engine howling as it strains every mechanical sinew to haul its load to the far-off summit. It's a tortuous walking pace scramble, and just as it seems as though the driver is going to give the double-decker a rest, we somehow conquer the peak, and to celebrate, the two girls start doing a seated rendition of the Hokey Cokey.
I don't know if it was Sir Isaac Newton or Graham & Brown's Superfresco wallpaper adverts which coined the phrase, but 'what goes up, must come down', and after a brief jaunt along a mildly undulating section of road, we begin the precipitous drop into Matlock.
Riber Castle stands guard at the top of a hill on the opposite side of the Derwent Valley. A tessellated 19th century mock Gothic structure, it's best remembered these days as a former wildlife park. Although we went there a couple of times when I was a nipper, the only things I remember about it is that my parents bought a branded water spray bottle from the gift shop and I had my first run-in with an electric fence.
It may have been related to the latter as to why it eventually closed down in 2000. Animal welfare groups had serious misgivings about the conditions its animals were kept in, and while there was consternation among local sheep farmers when it was reported that up to 20 lynx has been liberated by activists, it turned out to be a handful of prairie marmots.
There aren't many prairies in Derbyshire, so it's anyone's guess as to how they got on, and much like Bob Holness playing the sax solo on Baker Street, the lynx rumours have been repeated so often that they now persist as fact.
More recently, Riber featured in the closing scenes of Dead Man's Shoes, a taut psychological thriller by Shane Meadows and Paddy Considine, which also happens to be right at the top of my favourite films list.
Being a bit of a saddo fanboy, I nearly rocket out of my seat when we freewheel past the entrance of the Hurst Farm estate, where Considine's character exorcises most of his vengeance. More nerdy fun is to be had in Matlock itself, of course, where the 172 bus to Bakewell awaits (albeit a few months later and in the opposite direction)!