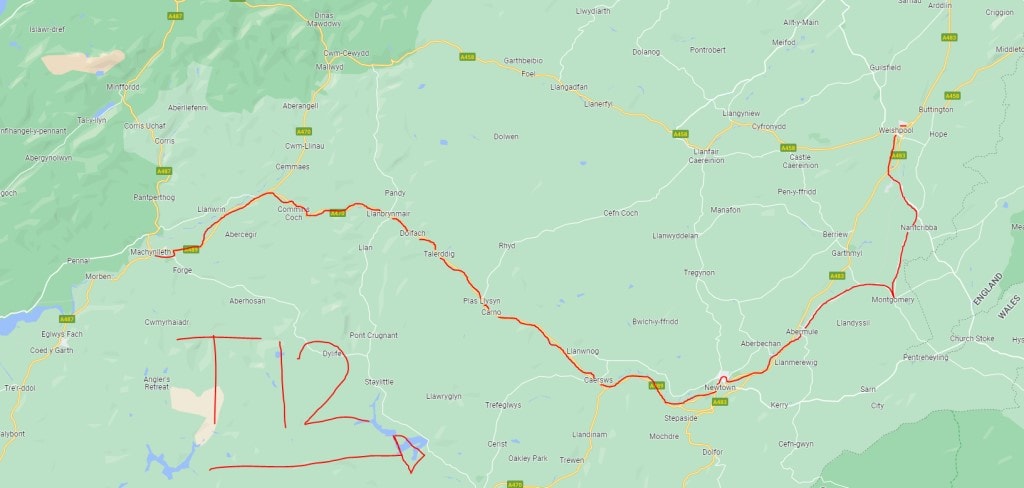 Route: T12, Machynlleth to Welshpool (continues to Wrexham)
Operator: Lloyds Coaches
Frequency: 4-6 per day (Mon-Sat); no Sunday service
Time: ~1 hour 50 minutes (3h 25m for the full route)
Cost: Part of £11 day ticket
Date of Trip: 6/7/22
Return of the Mach: Ian & Luke
Every time Luke pronounces the name of a Welsh town, a Cymraeg-speaking fairy dies. He's been on a killing spree this past couple of days. We're nearing the end of an adventure that has seen us hug the coast on buses from Chester to Aberystwyth, and he's butchered them all. Amlwch became 'Amyl-witch', the eternal Saesneg baffler, Pwllheli, morphed into 'Flew-elly', while he transliterated Dolgellau, the destination of the magnificent 39 bus from Porthmadog, as 'Dol-ga-loo'.
Machynlleth doesn't escape a linguistic pummelling, either. The sign outside a gloomy church just off the high street catches his eye.
'Just a minute,' he says, cocking his head at the lettering. 'How's that even a word? Are we in Mackay-nooth? Or is it more like Macky-loon-ith?'
'You were a bit closer the second time,' I reply. 'But Mach'll do.'
It's market day, and as we have the best part of an hour before our connection to Welshpool leaves at 9am, we watch the stall holders unpack their wares before the shoppers descend. There's someone selling two new books for a fiver, a bric-a-brac stand with a dehumidifier as its centrepiece, and a fish van by our bus stop that's attracted the delirious attention of every fly in Mid Wales. The star of the show is a baker with an array of pastries that out-dazzle the flair of every Brazilian playmaker combined.
Luke picks a pain au raisin. A chocolate cruffin finds its way into my paper bag, and in due course, my drooling maw. It's a muffin-shaped croissant, rolled in sugar and filled with gooey, rich chocolate. It's the unhealthiest breakfast I've ever eaten – and I've polished off the odd Belly Buster – but also the most delicious by far. Poets have broken into tears of joy over less.
An impeccably turned-out driver welcomes us onto the T12. He's an old-timer with a fuzz-free navy-blue jumper, and the top button of his shirt fastened behind a chunky tie knot. An inveterate whistler, he blows out a sequence of unknowable tunes with a minor-key vibrato so heavy that the notes fill the bus on waves of sorrow. He could whistle the Fraggle Rock theme and make it sound like a Paul Robeson lament. Still, whenever he sees an oncoming bus or coach, he doesn't just stretch out his fingers in half-hearted acknowledgement. No, he lifts his left hand aloft and gives a firm thumbs-up.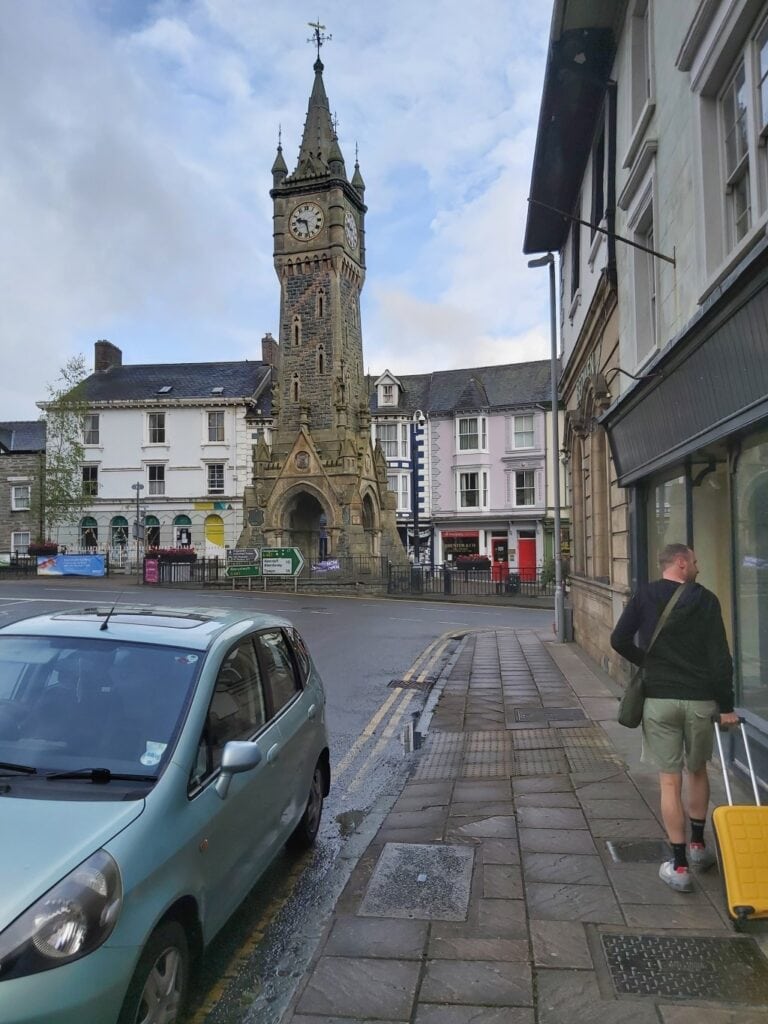 It's just me and Luke onboard for the few miles, the unused seatbelt clips digging into our backsides. When we pick up another passenger, it's a guy in his 50s with a baseball cap keeping headphones bigger than Princess Leia's side buns in place. There's no head-bobbing from him, no emotion, just a fixed gaze on the road ahead.
This means he misses a red kite, tail forked and fanned, yellow talons poised as it swoops into a field in the Dyfi Valley on our left. Then again, you can barely go an hour without seeing one around here. I spotted nine circling a field just north of Aberystwyth yesterday. It's an incredible comeback from a species that was on the brink of extinction in the UK. Seen as vermin for centuries, they became a prized target for hunters, farmers and egg collectors. Just two pairs remained in Wales by the 1930s.
Bolstered by the introduction of breeding populations from the continent, there are now so many red kites in the UK – and Mid Wales, in particular – that the RSPB no longer counts them. There are even a handful of red kite feeding stations, attracting hundreds of birds who keep their daily dinner appointment with butcher's offcuts.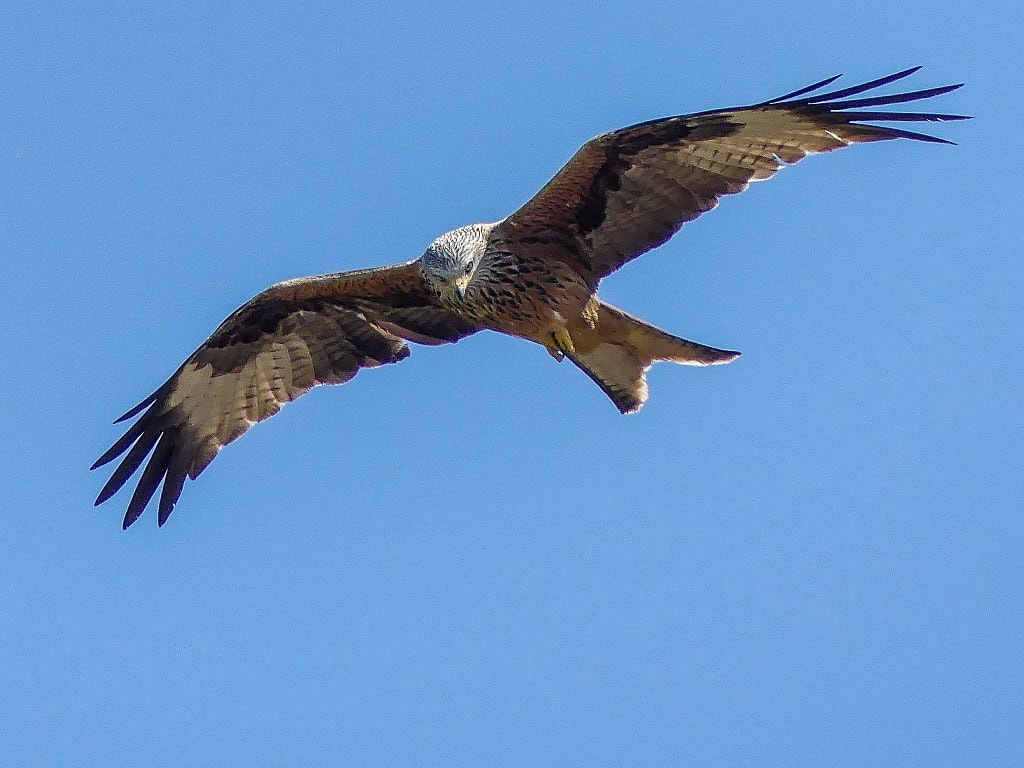 The village of Commins Coch has a spectacular hill, its spine studded with a thin line of trees, giving it the appearance of a stegosaurus made from broccoli. The canopy is denser to the right, forested slopes hugging the curves of the Afon Twymyn, while small pockets of sheep attack any patch of grass bigger than a basketball court. Their coats have taken a soaking in the morning drizzle, but the elements have eased off and are improving by the minute.
More green giants emerge as we approach Dolfach. They're calf-busters on the way up, but flatten out at the summit. It's not my calves I'm worried about, though. After 20 years of working hunched over a keyword, my dreadful posture is finally catching up with me. My back and neck creak like an abandoned shack, and the trip has seen me expand my repertoire of exciting spine clicking manoeuvres.
Joining the classic head roll and double shoulder blade press, sitting on buses all day has led to me to innovate the collarbone clonk and alternate shoulder gyration. The latter looks as though I'm doing intense in-seat Zumba, and even though it offers temporary relief, if I've not slipped a disc already, it'll no doubt help to dislodge one soon.The road progresses southeast and into territory where the hills bubble instead of jut. An octogenarian lady, her accent steeped in the local terroir, hails the T12 in the middle of nowhere. Well, not quite the middle of nowhere, as we're a couple of miles from Carno, the geographical centre of Wales.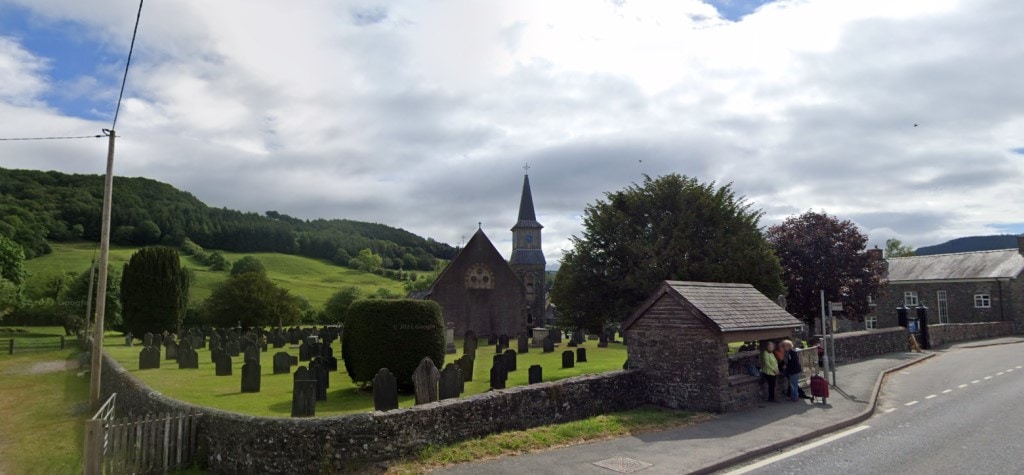 Swifts shaped like boomerangs perform switchbacks around the tower of St John's Church, its blue and gold clockface keeping watch over the final resting place of Laura Ashley. The progenitor of cottage-core fashion once lived in the village's old railway station house. The first shop in her twee empire was a few doors up from our bus stop in Machynlleth, too.
Carno was also central to one of the biggest drug busts in history. Richard Kemp, the chemist who first synthesised LSD at the end of the 1960s, found a willing accomplice in the owner of a mansion in the area. The location was part of a network that manufactured more than half of the world's supply of acid, and when Operation Julie – named after the first female cop to join the sting, as locals suspected the original undercover policemen of being part of a gay cult – cracked the organisation in 1977, they seized drugs with a 2022 street value of almost £700,000,000.
Rumours persist that there's a stash buried somewhere in the woods nearby, but as anybody who has had the misfortune of opening a soggy time capsule will know, if anyone finds the X on this particular map, the only thing they'll dig up are armfuls of paranoid moles and tripping earthworms.
The bus accelerates downhill from Carno, with the ticket machine and the driver's flask rattling on the dashboard as we march towards Caersws. It's a name familiar to football followers, as the village's team were founder members of the League of Wales, and spent 18 seasons in the top flight before relegation in 2010. They're so famous that Luke doesn't even mangle its pronunciation. Their tiny ground is on the right as we leave, a bridge taking us over the River Severn, a benign presence as the warming sun chips away at the clouds above.
It's a short run through the verdant countryside to Newtown. A place that lives up to its name, its mix of council houses and crumbling post-war semis are our only pieces of grit on the journey. It sparks some joy for our driver, though, who breaks into a whistled interpretation of 'My Way' as we pull into the bus station, rendered almost unrecognisable by his sat-on-a-washing-machine level of quavering.
'Am I alright to stretch my legs for a minute?' I ask him.
'A minute?' he replies. 'I'll give you seven. In fact, how's about eight?'

I take the offer with both feet, and walk around the block to a 1980s shopping centre. It's a chimera of awkward triangles in wrought iron, glass, and red and yellow brickwork. And that's just the back end of it. The front has a mock Tudor veranda. I'm no architect, but I know when one has paid too many visits to their friends in Carno.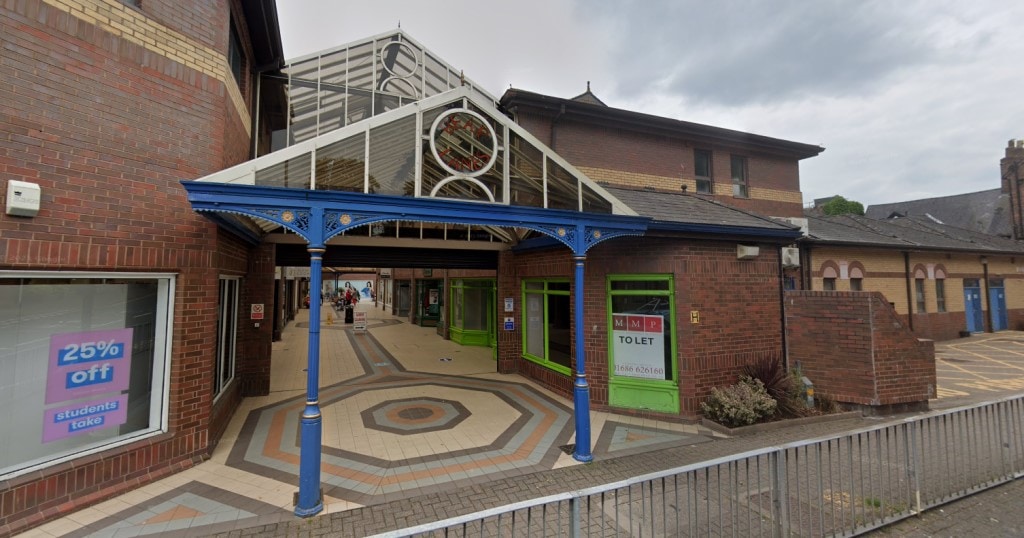 A horrendous pong lingers over the town, too. Not dissimilar to the erstwhile Kingston Stink back in Hyde, its acrid tang is midway between a farmyard and an abattoir. Half living, half dead.
Back on board, the rising mercury has seen the driver cast aside his jumper, exposing the epaulettes on his creaseless white shirt. Make no mistake, he's the captain of this bus. The headphones guy doesn't rejoin, so it's just me, Luke and a woman with a yoga mat as we embark on our final leg to Welshpool. The smell follows us to the discount stores on Newtown's outskirts and past the Penarth Vineyard, one of around 40 grape-growers in Wales.
It subsides by the time we reach Abermule, where yet more swifts swoosh above new detached houses, built using either reclaimed bricks or convincing pre-weathered facsimiles. Their front gardens all take a low maintenance approach; swirls of stone chippings dominate, with dainty semi-circles of lawn relegated to make extra room for cars. Apart from one voluminous rose bush, flowers are notable by their absence. It all feels a little clinical.
The narrow route towards Montgomery sways and undulates our carriage like a ship in a bottle. Hedges, some surely as old as this byway itself, are so lofty that they reach higher than the bus, hemming us away from the sunlight that has prompted Luke to dig his shades out. Crops have supplanted sheep, the livestock pushed to the margins where it's too steep to turn a tractor without tipping over.
Montgomery is a serene hilltop town. It feels French; an obscurity you'd stumble across in the Massif Central, which when the Tour de France piles through, the director pans out for a panoramic shot of its castle. Its compact Georgian heart is atypical of anywhere else we've seen today, with smart three-storey townhouses gathering around the aptly named Broad Street. The Tourist Information Centre is in a phone box painted sky blue, while even the local Spar has had to drop its corporate colours to fit in with the grand setting. It's Ludlow in miniature.
Montgomery Castle, or what remains of it, celebrates its 800th birthday next year. It's easy to see why Henry III would want a fort here. Perched with clear views over the surrounding countryside, with what is now England just a few hundred yards to the east, it's an ideal defensive position. Not so perfect that Owain Glyndŵr couldn't take it into Welsh hands at the turn of the 15th century, of course, and despite its proximity to the border, it has mostly stayed that way ever since. Well, apart from the whole annexation thing, which meant that Wales was technically, and ludicrously, a part of England for more than 400 years until 1967.
It's an all-too fleeting visit, and the bus doubles back to follow the oscillating contours of the road north. A patchwork of green and yellow fields paves the way, rural Shropshire a javelin throw to the right. Giant hogweed is in full umbriferous bloom on the banks of the Severn as we recross the river at Cilcewydd on the last knockings of the journey.
A steeple announces Welshpool's location a few minutes before we arrive. The T12 continues to Oswestry and Wrexham, but not wanting to repeat those experiences, and Luke having a train to catch from Shrewsbury, we take our leave. With us off, the driver's carrying fresh air. I give him a nod as he pulls away. He responds with a grin and a cheery left-handed thumbs-up.