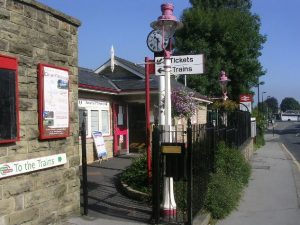 Route: 66, Clitheroe – Nelson
Operator: Pilkington Bus
Frequency: Every 2 hours (Mon-Sat); no Sunday service; 67 mostly the same route on alternate hours
Time: ~1 hour
Cost: Part of £6.50 Day Ticket
Date Of Trip: 23/6/18
We were due to have the best part of an hour mooching around Clitheroe. As despite being run by the same operator, the bus to Nelson was timetabled to leave a couple of minutes before our No.15 from Accrington got in. Seems a bit daft, that.
As it happens, we spy an onwards carriage pulling up outside the train station just as we arrive, a handy couple of minutes ahead of schedule. We disembark right at the far end of the interchange, but as an hour in Clitheroe is never time badly spent, we choose to walk towards to day-glo orange No.66, instead of getting out of puff by pegging it for a bus we're not particularly pinning our hopes on getting.
The driver pulls out as soon as we get to within a decent leap of the dinky bus, but a half-hearted waft of my ticket gets him to stop.
"What's that?" he asks, squinting his eyes to get a better look at the crumpled piece of paper, "I've never seen one of them before."
"It's a day ticket." I reply.
"Yeah, but it's not one of ours."
It wasn't, either. I'd gone and pulled out the Greater Manchester one from the trip to Rochdale by mistake, but quickly swapped it for the one we bought in Accrington, and we were soon on our way. Let me tell you right now, it was hilarious!
The route takes us in a clockwise semi-circle around the northern half of Pendle Hill, dipping into a series of fantastic little villages. The first is Waddington, a couple of miles into the journey. We'd been primed about what to expect by a couple of friends of ours who love it to bits around here, and although we didn't get to see the menacing peacock which apparently prowls the lanes, we did see a group of noisy ducks splashing around in the stream which zigzags down the main street.
Living in the city, you can easily forget that places as stupidly picturesque as this exist. Stone is a utilitarian material, but left in the sympathetic hands of long-gone cottage builders, it turns into something as cute and tactile as a giddy gang of puppies. It's no surprise to learn that Waddington is a perennial contender for Lancashire's Best Kept Village award, but we soon learn that pretty much everywhere around here could also put in a legitimate challenge.
Spunky Scenery
I remember getting giddy when I first read that the SNES would have 32,768 colours compared to my Atari ST's puny palette of 512, but the countryside around here has at least double the former's capabilities in shades of green alone. It's helped by the uninterrupted sunshine, but it's still ludicrous.
"You don't appreciate it round here until you get days like this, do you?" sighs an old lady with a hefty local accent to her friend over on our left.
With the Lakes to the north and Yorkshire's myriad of spunky scenery to the east, Lancashire often gets overlooked by tourists who expect a soggy and smoggy wasteland of derelict factories. As the bus zips down tight and twisting lanes that skirt the River Ribble and Forest Of Bowland to West Bradford, Grindleton and Chatburn, it quickly becomes obvious that we're on an undeniable worldy of a route.
Downham ups the ante with more than 40 listed buildings or monuments, including the 19th century Downham Hall, the Assheton Arms pub which juts into an off-camber corner on the through road, and of course, the village's stocks (disused). Not bad for a place with barely 200 inhabitants.
After Downham, we're propelled deep into the wilds, with the imposing Pendle Hill to our right and barely a dwelling for miles on end. Once on the upper slopes, the view opens up and we're treated – genuinely treated – to a vista which go on for miles. There are no towns, villages or even roads in sight, just a long and shallow valley with a couple of decorative reservoirs vanishing off into the ether.
As we break around the head of the hill, there's an enormous '08' on it's southern side, presumably made from stones and for reasons we can't ascertain. It might be part of the sculpture trail around here, but I really don't know. A couple of dozen tiny figures are making their way towards the summit, with one fell-running maniac seemingly sprinting the final couple of hundred yards.
Collarbone Capers
"Ooooh, it's cheating this!" our old lady from earlier huffs, motioning to a long row of cars parked on the already narrow road downhill, "You're meant to walk up the hill from the village and through the churchyard."
She's got a point again, the village in question being Barley, and it's where she hobbles off. The window she was partially blocking reveals that the management at the Barley Mow pub have got their heads screwed on; there's an outdoor bar with a few real ales flowing and a fire pit in full blaze. Me and Eleanor look at each other, but as soon as the "Should we…?" starts to form on our lips – we're an hour early, after all – the driver puts his foot down, and we make a solemn oath to come back soon.
This is where the 66 and 67 buses diverge, the latter heading through a place called Roughlee, which I'm glad we avoid because I had my collar bone broken by a lad called Lee. He was a bit too rough while we were toy fighting during the 1986 World Cup. I also managed to split my head open on a toolbox a couple of weeks later, but that was thanks to my friend Paul. You'll be pleased to know that I've since been to the village of Paul in Cornwall a couple of times and suffered no ill effects, so maybe Roughlee would've been fine.
The other pensioner is joined by a leathery old timer in a vest and baggy shorts, and they soon get into conversation about 'these days'. I think you can guess where this is going…
"My husband, Eric, he was a speedway rider. Rode for England, he did."
"Oooh, did he?"
"He did, yiss. He saw what was coming with all these bloody foreigners. Moved to Australia he did."
"Oooh, did he?"
"He did, yiss."
Why she didn't go with him never becomes clear, but he obviously wasn't too bothered about being classed a foreigner himself in his new life down under.
The rest of the run tones down the prettiness a notch or two, but until we cross Pendle Water and into Nelson city limits, there's nothing to stop smiling about. Well, apart from the odd bout of casual xenophobia, obviously.
The 66/67 is comfortably one of the most scenic bus routes in the country, no question about it. They only run until around 4pm from Clitheroe on Saturdays (a bit earlier midweek), with the final return trip getting back just after 6, so if you're doing a pub crawl, make sure you go from the Nelson end and get your timings right.
Any road up, we've got another bus to catch. To Burnley!